Accuride Furniture Hardware and Slides
Accuride Furniture Cabinet Hardware from Eclectic-ware
Accuride makes some pretty snazzy products, most with greater reference to the 20th Century.
We offer the
Accuride TV swivel and pull out, deluxe keyboard tray, and flipper door hardware.
The heavy duty TV swivel was designed in the era when 35-36" CRT TV sets did weigh around 200 pounds each. Yet it can also be used for larger computer monitors in commercial applications, and today's flat panel TV's. A wood platform can be mounted onto the steel plate allowing you to create a slide out shelf of whatever size you require. The swivel can rotate 360 degrees. Need to create a small room divider where you would like to turn an object from one room into the other room? (Kind of like the Indiana Jones fireplace trick when they were held prisoners and kept turning from one room to the other.)
The model 123 flipper doors slides, also called pocket doors or retracting doors, are great for entertainment centers as well as for kitchen cabinets. They can be used for vertical or horizontally mounted doors. The slide mechanism allows you to open a hinged door and then push it back into your cabinet and out of the way.
And the deluxe keyboard slide out tray is the Cadillac of keyboard pull out drawers. For those of us who will never give up our PC's and would like an elegant smooth operating, push it out of the way when not needed keyboard drawer, this is the one to choose. Free up desk space by mounting the keyboard pullout to the underside of your desk top.
225 pound capacity, full 360 degree rotation either direction, 14" full extension slides with hold in detent, a 16x16 steel plate with pre-drilled holes, and supported by 4 strong roller wheels beneath the swivel plate.
For vertical door sizes up to 24" wide and 42" tall. Can be used for up to the same size doors for horizontal door operation, invert the measurements. For doors 30 pounds or less. Smooth steel ball bearing slides. Slide lengths from 12" up to 28" in two inch increments.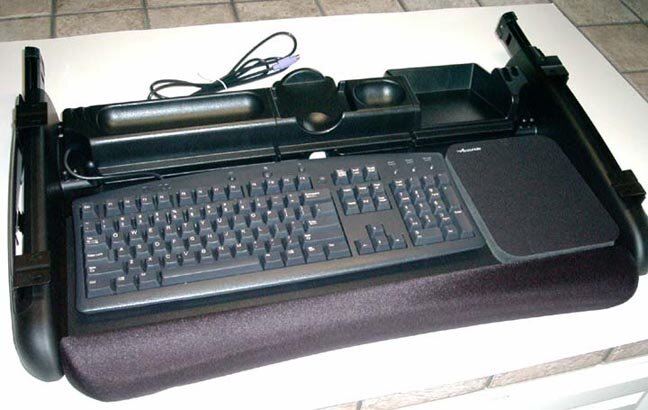 The king of keyboard slide out trays with designer compartments to hold other destop items, a large surface for the keyboard itself, gel wrist / plam rest, and a mouse pad that you can position on the right or left side. Undermount to your desk, built in brackets for mounting.
When on the individual Accuride pages, we will have a link toward the bottom of each page that will allow you to open a PDF file of the actual installation directions for each product. These products take a little bit of planning if you are creating some custom furniture to use them within. This is why we are presenting the directions ahead of purchasing anything so you can determine if the products will be right for you. And also so you will know what you are getting into.
Installing the TV Swivels and Keyboard Trays is very easy, but there are some precautions to consider with the TV swivel. And then with the Flipper Door Slides, they too, are an easy installation, but there are some measuring guidelines to consider in your designs. We can help with your questions about these products. E-mail is preferred, but you can call us also.