8 Things to Know Before Buying a Ceramic Towel Bar
Eclectic-ware
It's not as simple as saying, I need a ceramic towel bar.
Before you jump out and grab any ceramic towel bar, ask yourself these questions:
Am I looking to repair one or do a new install?

If a new install, is it a bathroom remodel or completely new construction?

Is the towel bar mounting in the shower stall or bathtub, or just on the bathroom wall?

Will I need more than one towel bar?

What mounting method(s) should I choose?

How do I know what color to pick?

What length of bar should I use?

Who makes a quality product?

1. Repair or new install
All too often, a towel bar in someone's bathroom becomes broken. Either just the bar, or one of the ceramic posts. We fall into them, bump our head on them, or blame the grandchildren for doing chin ups. Whatever the reason, it is broken and we need to fix it. Finding the exact same thing that is in the bathroom has very limited odds. Because over the last 80 years or so, there were a lot of companies in the United States that made ceramic bathroom hardware. Bathroom walls were covered with ceramic tiles, made sense that the accessories should be ceramic too. And over the last 30 years, many of these ceramic companies have disappeared. So finding the exact same thing, and same color, let's just not get our hopes too high. Now of course if you are just adding a towel bar, thus a new install, if matching to one already in the room, again, you might not have that kind of luck. But you can at least try.
2. Is your new install a small or large remodel, or a brand new bathroom
When remodeling an existing bathroom, and in an older house, have fun. You may have no clue in the beginning what you can run into. Sure enough, you may find rotten wood, you might even find the termite trails. There could be plumbing pipes in areas of the walls where they are unexpected. There could be electrical wires, cut into your walls with caution. And you may run into surprises such as assuming you could place a recessed soap dish or shower caddy into a wall, only to find out what is behind the sheetrock is the exterior block wall that you cannot chissel into. So if remodeling, be prepared to have plan B or C ready. When a brand new bathroom in new home construction, up until the plumbing is in place, you have some room for adjustment. Turn the shower this direction, fit the toilet in there, where will I hang the toilet paper holder? And, will there be enough wall space for one or two towel bars? Do I have pocketing doors or just hinged doors? That may determine which walls you can use.
3. Where is the towel bar going, in the shower or on a dry area location
Seems like a trend in more modern homes is to have a towel bar on the back ceramic tile wall of the tub and shower area. Whether you use it for washcloths or towels, it has become very popular. And the 24" size is by far the most popular on the wall opposite the shower head. The towel can rest folded up on the bar while you take a shower, then hang there afterward to dry before the next shower. Generally, you will find only one 24" towel bar mounted within the bathtub area. In just a standing shower stall, there usually is not enough room, nor is there any way to keep a towel dry while showering. The majority of bathroom towel bars you will just find on the painted drywall surface of the bathroom, and quite often more than one. Two towel bars side by side for his and hers, or one high and one mid height on the wall, or on different walls. Many people will use a towel bar for decorative display towels, and then one closer to the shower or sinks for functional towel bars. When you have more than one person using a bathroom, a second towel bar is very nice to have. No fighting over space, no excuses for not hanging up the towels.
4. Thus, do I need more than one towel bar
All depends on the number of users in that bathroom. Husband and wife generally will prefer a towel bar of their own. And a good idea to have matching towels to make the bathroom look more presentable. In childrens bathrooms, or shared bathrooms, definitely try to place two if you can. Not all bathrooms have the wall space to accommodate it. So you have to do the best that you can. In a guest bathroom, one will generally suffice. But sometimes you will add a second, a smaller one to be used for hand towels by the sink. And when the posts match the main towel bar for bath towels, your bathroom comes together. So for the most part, available wall space may define whether you can have one or two. Having three or more might start to look a little odd, unless one is solely for decorative towels that aren't really used. Bigger bathrooms will have that presentation look to them.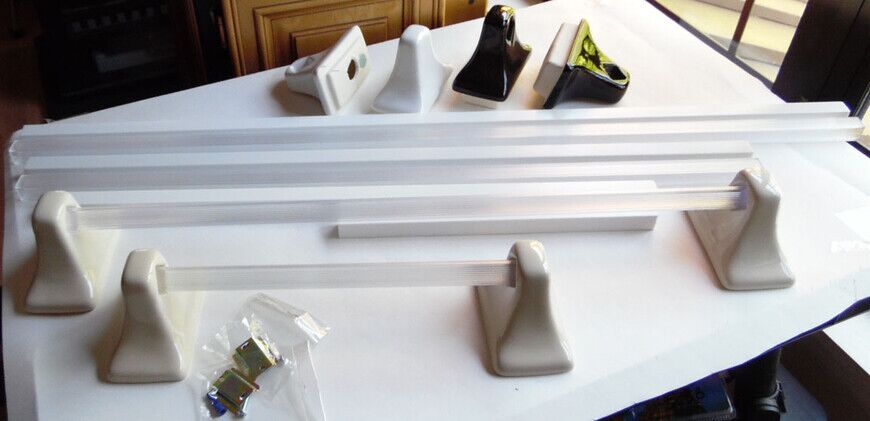 5. The mounting method question, by far very important
After you know if you are doing a repair or new install, and if it is a major remodel or new construction, and where you are planning on mounting them, you must know
how
you will be mounting them. We have a page set up in the AC Products section of our web site called:
Mounting Methods Ceramic Bathroom Hardware
This page has pictures and many explanations about the various choices from AC Products. For the
Stylish 700 Series towel bars
, there are 4 mounting options.
A) Thin-set mount. This by far is the more traditional method on ceramic tile walls. The towel bar post has a shallow projection on the back. It is smaller than the overall size of the towel bar post so the overall dimension can overlap the cut tile edges and hide them. The recess part is just 1/4" to 5/16" deep which easily sits in the tile space of tiles that are 3/8" thick. Thus the backer of the towel bar is gluing onto the same wall surface that the tiles are. You just have two "partial" pieces of tile left out so the towel bar posts can sit in-line with the tile. By far the method the majority of towel bar manufacturers agreed upon.
B) Mud set mount. Very similar to the thin-set, but deeper. You must have a real hole in the wall, at least 1-1/4" deep. The backer of the towel bar is generally around one inch deep. Meant to be adhered into the opeing using a mud pack. And by mud, that generally refers to a polymer concrete. A compound that dries hard and holds it shape with some adhesion ability. These compounds are available at the giant warehouse stores. Normally mud set mounting is done by tile setting pros. Not your normal DIY person.
C) Flat back mount. This is not common, not common in the sense that we do not know of any other companies besides AC Products who have ever made it. Flat back is a marvelous invention. It has no protrusion on the back. It does not have to fit inside of a restricted size hole. It can be used right on top of existing tile or any flat wall surface without cutting any holes or divots. Flat back is incredible for repairs or adding a towel bar after tile has gone in and you think about it later. You do not have to chisel into the tile to create two openings as you would with the thin-set mount. Flat back can allow you to cover over a rough opening or hide an old hole in the wall. A small hole. These towel bar posts tend to measure about 2-5/8" wide by 4-3/4" tall.
D) Clip on mount. This is what you should select for drywall, greenboard, or wood wall surfaces. They can be used on sheetrock or tiled walls too, but when drilling into ceramic tile to mount the mounting clips, you need a ceramic tile drill bit. When going directly on drywall, painted or wallpaper surfaces, the mounting clips are secured to the walls with drywall anchors and screws. Then the towel bar posts slide down onto the mounting clips. This is probably the most common selection when adding a towel bar to your bathroom and planning on mounting on just the drywall. (Good idea to make sure the posts slide down snug on the mounting clips so they do not jump off the wall with aggressive towel grabbers.)
6. Picking a color
When repairing or adding a towel bar, this can get tricky. When doing a new install and you have some colorful tile, still tricky. When you have a more mainstream color already, you will have more luck. Here is how we can outline our ceramic towel bar choices:
Within the AC Products section of our website, we have 3 pages set up to help you with the available colors. One is colors shown one at a time, pictures we have taken ourselves. The second is the color cross reference charts from AC Products, showing which colors correspond to tile manufacturer colors. Remember, they make about 80 colors, and amongst all the tile manfucturers, there are more than 1000 colors. So choices are limited in the broad scope. And our third pages shows similar colors photographed together so you can see how the shades change on the browns, greys, light colors, and others.
*Note: Lenape's white in the Pro Series is a greyish white, not a true white.
For additional color matching help, customers can mail us pieces of tiles or pieces of broken towel bars and we will "compare" that to the available choices. Something may match or compliment well. Our address is shown in the copyright notice at the bottom of every web page.
7. Bar length to choose
What size towels are you planning on putting on the towel bar? Are you considering putting two bath towels on one bar? Is it for a hand towel? On the 3/4" plastic bars from both AC Products and Lenape, you can cut them down in length. If a 24" is too wide and you need 22", cut it down. If you select the 36" bar and it fits, great, you have a nice large towel bar on your wall. But if your wall tells you only 31-1/2" will fit, cut it down. Any of the towel bar sets mentioned in paragraph 6 have bars that you can cut shorter. And with AC Products: near your shopping cart selection for the towel bar set, we have a BAR EXCHANGE part number where you can change to a white or clear bar, or black bar, and then pick a 12", 30", or 36" from the default size of 24". When you decide to create a hand towel bar next to your sink, if 12" is a little too long, cut it down to 9 or 10". You have flexibility in your choices.
8. Who Makes a Quality Product?
AC Products
and
Lenape
. Both companies have been in business for decades. Lenape once produced most of their products in New Jersey. Now they have cut back to their factory in Thailand. This is why their collections are restricted to white, or white and bone for the choices. BUT BUT BUT, AC Products is made right here in Ohio, USA. Yes, Made in America. A high quality ceramic product and available in a lot of colors.
Eclectic-ware
has been offering Lenape since 2001, and AC Products since 2009.
Conclusion:
Many of our conversations with customers begin with: I need a towel bar. Then we ask, Which one? There is definitely much more than just one choice. Many shapes, a few different sizes, square bars and round bars, color options, mounting method options, even a nice shell shape design. A choice of limited options from Thailand, and then a choice of glamorous options from a US Manufacturer. And AC Products makes a lot more than just towel bars. You will find corner shelves, soap dishes, TP holders, recessed shower caddies and other fully recessed items. Many items to enhance your bathrooms. Use them on tile walls, marble, sheetrock, and other wall surfaces. Great products for great bathrooms.