Cabinet Lighting Fixtures in Wimauma Florida
Eclectic-ware
Interested in New Lighting? Look for Hafele's LOOX LED!
2021 comes next week, which means you might be in the market for some new home fixtures. Many people set resolutions to redecorate their home with new and updated technology, and their lighting fixtures are no exception.
If you are looking for lighting fixtures that are sure to shine, look no further than LOOX. The Hafele LOOX LED cabinet lighting fixtures are a great choice for any home improvement project.
Hafele LOOX LED Fixtures at Eclectic-ware
Here at Eclectic-ware, we understand the importance of being able to properly see where everything is in your cabinets. That is why having spotlight lighting fixtures installed can be a great help for you and your family. If you are looking to install lights in your cabinetry, check out the Hafele LOOX LED fixtures.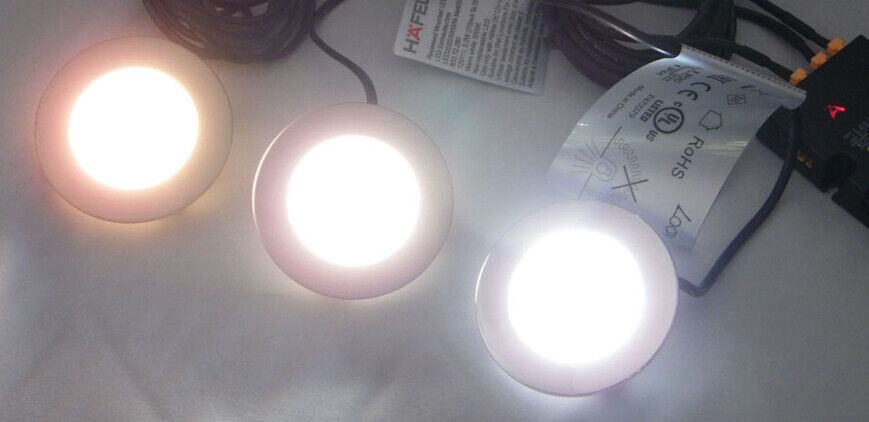 One of our most popular options is the
LOOX 2020 spotlight
. This is a 12 volt fixture that can be installed into your cabinetry with ease. It fits in a 2-⅛" hole which means it can take the place of old halogen lights that fit into that extremely popular size hole. Not only that, it carries an IP44 rating which provides a water resistant that normal cabinet lighting fixtures do not. The light is entirely sealed.
Of course, all cabinets are different, which means that cabinet lighting fixtures are not one-size-fits-all. We have a number of different spotlights that can be used to illuminate your cabinetry, such as the LOOX 2027. The lighting in this fixture actually forms a ring around the spotlight's center. This results in a beautiful yet subtle translucent glow.
Loox LED lighting has some large choices, some flexible arm choices for headboard and desk lighting, and various linear lighting that we will be adding to our website soon. There is an assortment of LED power driver choices to help you set up your zones of lights. There are set choices, but the installation and design can become very custom to fit your needs.
Cabinet Lighting Fixtures in Wimauma, Florida
Get done with your 2021 home improvement resolutions early! Want to learn more about the Hafele LOOX LED cabinet lighting fixtures, or any of the other fixtures we have in stock? Contact the team here at Eclectic-ware today! You can call us at 813-633-7544 or
e-mail us
. We look forward to providing you with the best cabinet lighting fixtures around.