Easy and Inexpensive Ways to Upgrade Your Laundry Room
Eclectic-ware
Thinking of taking on a new 'room refresh?' The laundry room may be a great and inexpensive room to update. Just a few touches to a laundry room can make a big difference not only aesthetically but organizationally. We are going to go over a few inexpensive makeover ideas to improve your everyday laundry experience. Hey, maybe it will motivate you to fold and put away your laundry after taking it out of the dryer? Here are a few ideas:
Add a butcher block

Add cabinets

Add shelving with a drying rack

Use peel & stick tiles

Upgrade with decor and organization hacks

Update your laundry hardware
Pick one, pick two, or pick them all. Even the smallest changes can make a difference in your laundry room makeover.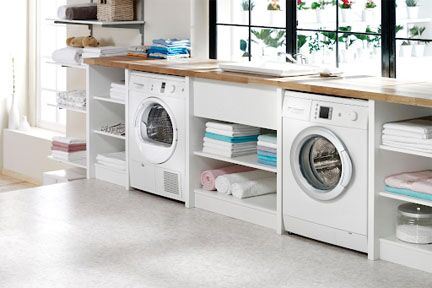 Butcher Block
Adding a butcher block on top of your laundry machines can add much needed counter space, which can be an excellent spot for folding. Butcher blocks can be extremely cost-effective and can instantly makeover a laundry room with little to no effort. Keep an eye out for clearance deals when shopping around! However, this butcher block idea only really can be accomplished if you have a front loading washer and dryer. Alternatively, you can add a small table if your laundry space allows.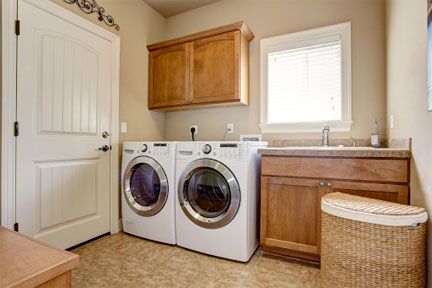 Laundry Room Cabinets
Laundry room cabinets are a great addition to your space if you have used wall space. Most people utilize wall cabinets or upper cabinets in their laundry room to create a clutter-free environment adding more storage space for laundry products. If your current laundry room has a sink, adding base cabinets is a great way to 'hide' an unflattering utility sink and add more storage space. You could save some money by installing cabinets yourself! At Eclectic-ware, we offer
custom cabinet doors
from Woodmont, Brushy Creek, and Walzcraft. Feel free to check them out in our cabinet doors section!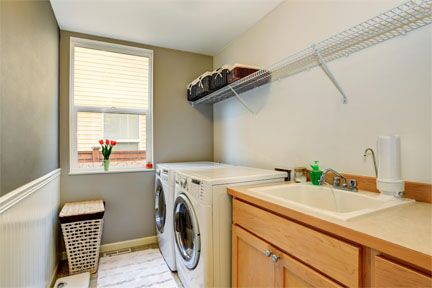 Shelving For Your Laundry Room
A great way to upgrade your space is by adding shelving. If you're looking to add storage space and you're not all that interested in looks, adding inexpensive wire shelving can do wonders. Using
wood
or
glass shelving
can add a touch of flair and provide you with great organizational space. To create a more efficient space, try adding a bar or drying rack under your shelves. If you choose to build DIY wooden shelves, Pinterest offers a wide variety of unique shelving ideas that can include a drying rack!
Decorating Your Laundry Room
Decorating your laundry room can be more about the organization than looks. Try adding large glass jars for laundry pods or dryer sheets. Additionally, you could purchase wicker baskets to organize extra linens. Decorating can add charm to your space. Use house plants, paintings, photos, and signs to create a dramatic difference in your laundry room.
Peel & Stick Backsplash Tile For Your Laundry Room
Although this is specifically a cosmetic update, it can significantly improve your laundry room look. Peel & stick backsplash tile comes in a wide variety of styles and is extremely easy to use. This project can take less than half of a day and create an elegant look to your space.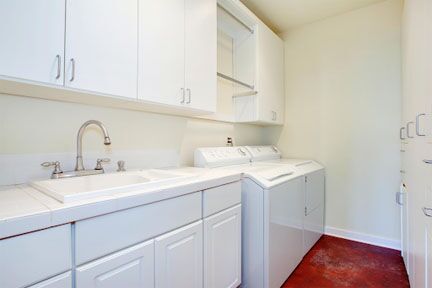 Laundry Room Hardware
Another great way to add to your laundry room makeover is to update any hardware. Replacing a whole sink can be a bit pricey, but replacing the faucet and handles can be a cost-effective way to update your laundry room sink. Cabinet knobs and drawer pulls can also be upgraded to match your sink hardware to add design flow.
An Inexpensive Laundry Room Makeover
These small projects done over time can add up to a complete laundry room makeover. Now you know how much additional space and organization can be added to your laundry room without making a considerable dent in your wallet. It's easy to take these projects one weekend at a time because it won't take your laundry room out of commission for an extended time. Let us know if you have any inexpensive laundry room updates on your radar. We'd love to hear!
Shop all of
Eclectic-ware
for your
home improvement needs online
or call us at 813-633-7544, and we'd be happy to answer any questions about your home improvement or product questions