Remodeling my Kitchen with New Cabinet Doors
Eclectic-ware
Originally Posted on January 13, 2014, now updated for current content.
So, you are thinking about a new look for your kitchen. Some people take the simplest approach and just replace cabinet handles and knobs with something new. Some may paint their kitchen cabinets. And if you do take that route, make sure you use a quality brand enamel that will withstand some light scuffing over the years. And prep your doors and cabinets properly for good adhesion for the paint.
And then there will be some who really remodel....
New cabinet doors and drawer fronts, possibly a new appliance or all new appliances, new countertop surfaces, and maybe adding on to some of the cabinetry. Eclectic-ware has solutions for many of your kitchen and bathroom remodeling needs. And one of the big solutions is custom made cabinet doors and drawer fronts. By far the best way to give an existing kitchen a great facelift! For cabinet boxes that are solid and strong, there is no need to rip them out and start with all new cabinets. That's what a total expensive redesign would be, or if you are building a house and are starting fresh with new cabinets. If you are not planning a total redesign, which is what 80% or more people avoid doing, then just REFACE.
Refacing existing cabinet boxes
There are a few ways to proceed with refacing your cabinets. And ultimately, it depends upon which doors and drawer fronts you choose. Make up your mind on that first, then tackle the prep work on your cabinet boxes. If you wish to order prefinished wood doors, you can also get self-adhesive veneer and cut to size plywood to reface your cabinet boxes. The veneer and plywood, when ordered with the doors and drawer fronts, will be finished at the same time with the same stain lot. So you will have matching pieces. Veneer is something you cut to size yourself as you are applying it, generally for face frame cabinets and "smaller" areas. For larger areas such as the side walls of end cabinets, it is advised to use 1/4" plywood for refacing. It is stronger, has less chance of bubbling if air is caught underneath when applying it, and it can cover any minor or major blemishes in an existing cabinet. You would apply all your plywood refacing first as it will increase the end size of your cabinets, then go over those edges with the veneer as being a small extension of your face frame. If you have frameless cabinets, also called Euro-box, you most likely would not go through the effort of refacing the front edges of them as your doors will typically cover them over completely. We have definitions and illustrations of
face frame and frameless cabinets
in the Woodmont Doors section of our web site.
Adding veneer and plywood is one way to reface. And both, as well as the wood doors can be ordered prefinished in one of Woodmont's offered
wood stains
, or unfinished. If you have a certain color that you are going for and have your own stain, spray on or wipe on, then please, order everything unfinished and create that special color that you are going for. Wood choices are maple for most designs, and some are available in red oak and cherry. All can come finished or unfinished. Paint Grade is also an unfinished wood choice when you plan to paint a solid color instead of staining.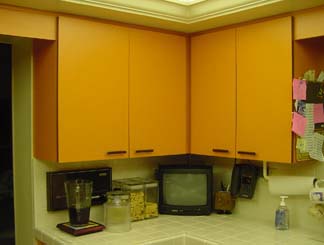 Depending upon what your cabinet boxes are made from and how they look on the outside, you might have the option of sanding them down, removing all the old finish, and then clear coating them, staining them, or painting them. If they are a nice woodgrain plywood box, and you want the natural beauty of wood to show, clear coating them is a nice option. Minwax makes a Polyclear, which does not seem to alter the color of the wood. On light woods, it will start to amber over time. There are some products on the market that can stay clear over time, but most will tend to yellow as light reflects upon them over the years. Now if staining your wood cabinets, you have hundreds of color choices in lacquers. Actually millions of choices with custom lacquers, but we are not going to get that crazy today. If you are not choosing to have a woodgrain look to your cabinets, and your plan is a solid paint color, the work you have to do to prep your existing boxes can be minimalized. Paint for the most part can go over any surface. But you do want it to adhere well to that surface. So you may not have to strip off the entire old finish when painting, BUT, you do want your surface to be sanded smooth, free of dents, and free of oil and debris. Wood fillers can be used to cover over dents. Sandpaper can take off most debris and oils. Cleaning solvents are usually not needed. It is definitely a good idea to always prime first, then use your top coat paint. Some paints have a self primer and can save you time. For light color paint covering darker wood, two coats of paint will most likely be necessary. Enamel paints hold up better over time. Semi-gloss paints are easier to clean than Satin or Flat paints. Think through your paint choices, because once it is done – well, it could be done again, but who wants to spend that kind of time. Doing it right once is always desired.
Hanging your new cabinet doors
After you have completed refinishing your cabinets, you can mount your new cabinets doors and drawer fronts, and even include some accessories like
slide out trash containers
,
glass shelves
, and more. If you were also installing a new countertop, you most certainly would want to install that before hanging any cabinet doors. It would be advisable to install a countertop before refinishing your cabinets.
Why?
Potential damage. The countertop is huge. Big, clunky, heavy. It needs maneuvering room to set it in place. It entails someone climbing inside the cabinets to fasten it down. There is a lot of room for error for someone scraping or kicking a cabinet face. So if you are redoing the countertop, or laying new tile on the floor, don't take chances with scratching up your new doors or the work you just did in refacing your cabinets. (This second photo is the same set of corner cabinets as the orange melamine picture shown just before it.)
Once your kitchen is finished with its new look, you will be amazed as to what a difference it makes. Sometimes it feels like a whole new house. Now we just briefly went over cabinet doors and drawer fronts and a few refacing options. When updating your kitchen, you will want to plan a little
under cabinet lighting
. Or even lighting in your cabinets behind glass front doors. People do like to display some things in the kitchen … and hide others. We have
wine rack lattice
and
wood stemware holders
. Display your wine bottles and your glasses. And we have
appliance garages
. Hide your mixer or George Foreman grill. We offer a ton of selections in
cabinet handles and drawer pulls
. We have Corian custom made switchplates. There is so much that you can do in a kitchen remodel that you can be busy for a few months. And doing it yourself is quite rewarding. There are things like new countertops and flooring that you might not want to do yourself or are unable to do. That is okay. Take on however much of the project you want to do yourself. We can answer questions about the products that we offer and give some how to advice. We are not just about selling products. We get involved … but we don't make house calls. We can help you from our Florida location, and have done so for thousands of customers over the last 19 years.
-- Add on to this post. We now offer
Brushy Creek Custom Doors
. 3D Laminate doors in raised panel and flat panel designs. 3D Laminate is Thermal Foil. There are selections in solid colors, woodgrain colors, and very realistic textured woodgrain colors. Some have wood knots in them. All doors and drawer fronts are custom where you can create your own profile combinations, and of course all are made to the sixteenth of an inch. You have choices for plain or matching woodgrain backs to the doors. There are refacing accessories, moldings, and other goodies. Well worth the look in the Brushy Creek Custom Doors section of our website.