Replacement Spring Loaded Towel Bars
Eclectic-ware
Originally Posted on March 5, 2015. All info still current.
Something that seems to happen in ceramic tile showers and bathtubs all across America is finding one with a broken towel bar. The plastic bar between the non-removable ceramic posts snapped. We hear all kinds of stories. My grandson was doing chin ups. My husband fell into it and broke it. My son hit his head on it. I moved into a new house and it did not have one. Of course we never hear any stories about the lady of the house breaking one. Guess that doesn't happen.
If you contacted a tile setter, most of them will offer to chip out one of the posts, put a new bar between them, put the one post back on, and hand you the $150 bill. But, Ta Da! Some of them are aware of an ingenious solution: The Lenape Re-Place-A-Bar.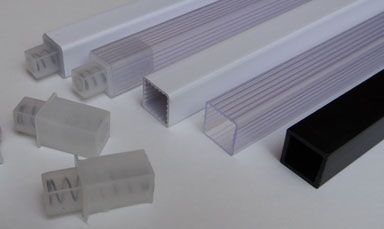 The
Re-Place-A-Bar
is a white, clear, or black plastic bar. We stock the white and clear in 12", 24", and 36" lengths. The black comes only in 24". You will need to cut it down to the exact size to fit your ceramic post separation. 24" is by far the most popular size and spacing, but we do hear about all kinds of sizes. The bars are easy to cut. A hack saw works well. Most any other fine tooth saw can work also. When fitting the bar to your space, the length of the replacement towel rod will be: the distance between your posts plus half the recess depth of both of the post holes. When cut like this, you will be able to place one end of the bar with the spring loaded end compressed into one post (while firmly holding the post so you do not push it off the wall). The other end, you will hold the spring loaded plunger in, slide the bar to the inside of the other post, and release the end. Now the spring loaded ends self-center the bar. And the bar now rests halfway in to each post hole, AND IT RESTS ON THE BAR. The spring loaded ends are a function to keep the bar centered. The bar still takes the weight of your towels and holds firmly between the posts.
We do keep these in stock and generally ship them via Priority Mail, or international mail for orders outside the US.
This is a very cost effective way to fix a broken towel bar.
And most everyone can do it himself or herself. There is much more information on it in the Lenape section of our web site, on the
Re-Place-A-Bars page
.
Ceramic towel bar posts - available in approx. 80 colors
Now, to offer another solution. Sometimes a ceramic post gets broken. And sometimes you have a very odd color. We have offered AC Products ceramic bathroom hardware since 2009. AC Products is made in Apple Creek, Ohio. A wonderful
Made in the USA
product. And they make their ceramic bath accessories in over 80 colors. If you have a broken towel bar post, odds are fair that we can get a close matching color, or even the exact matching color.
Posts are offered as pairs only. And more info on them is shown on our 700 Series
ceramic towel bars
web page. As you can see from one of our photos showing the colors, there are a lot.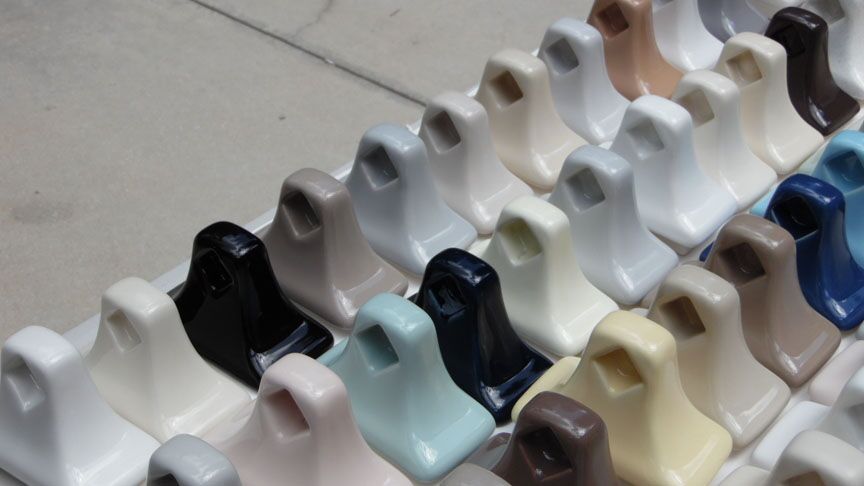 Another note about these colorful towel bar posts: we stock them in white, bone, biscuit, black, and a few other popular colors. And then they come as thin-set mount, flat back mount, clip on, and mud set mount. Yep, you have a lot of choices....
Color selection page
|
Mounting methods explained
AC Products
makes much more than just towel bars. They produce a full array of ceramic bathroom accessories. Several styles, and their biggest collection comes in multiple mounting methods with a lot of color options for each piece. Ceramic bathroom hardware does mount to ceramic tile wall surfaces, but also drywall surfaces. You commonly see a towel bar or TP holder mounted directly on drywall. And they make a few recessed items too.