Where can I find Interior Replacement Lights for my Carver Yacht
Eclectic-ware
"I just found another light ring and broken glass lens on the floor of my boat."
Prior to 2015, when we still had ample replacement parts for Hera halogen lights, we use to have a quick and easy solution to just replace decor rings and glass lenses. Well, halogen has steadily faded away. Parts are gone. Lights are sold out. And we have no idea if any cabinet lighting manufacturers are even considering making halogen lights ever again. LED has quickly taken over the market.
And because of that, we want to inform all Carver Yacht and Formula Boats owners about LED lights that you can use to replace the 12 volt halogen lights in your cabins. Since we are a Hera Lighting distributor, and also a Hafele Loox LED lighting distributor, our focus here will be about the old Hera halogen lights. There were other brands such as Tresco and Mepla, and others that we are not familiar with. The Loox LED lights can work in lieu of those brands also.
The History: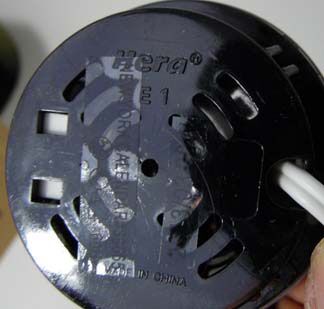 The Hera E1 halogen light (you will see an E1 under the Hera logo on the back of the light), probably the most popular cabin light used in boats, is no more. All gone. Doubtful that you will find any anywhere. We have even purchased old inventory from other Hera distributors, and then quickly sold it out. There was, and still is, a reasonably high demand for replacement lights for the 12 volt halogens. Thus, we found a solution.
First, a few tidbits about this light. The front decor ring did come in white, black, chrome, gold, and stainless steel finishes. And there was an exclusive tan color that Hera made for Carver Yachts and Formula Boats. The tan color was never made available to retail cabinet makers. It was exclusive for these two boat manufacturers. The rings were plastic only, even in the metallic finishes. The glass lenses were mainly frosted, but clear lenses did exist too. And the lights were designed to not need venting for the heat. Thus the heat was designed to exit the light from its face. This is why the decor rings would age, and eventually crack and fall off. Then the glass lenses break on counters and floors. It is a common condition with this light. Yet, there are customers with 25-year-old E1 lights that are still working, but with no rings or lenses on them. It was a great 'economy' halogen light.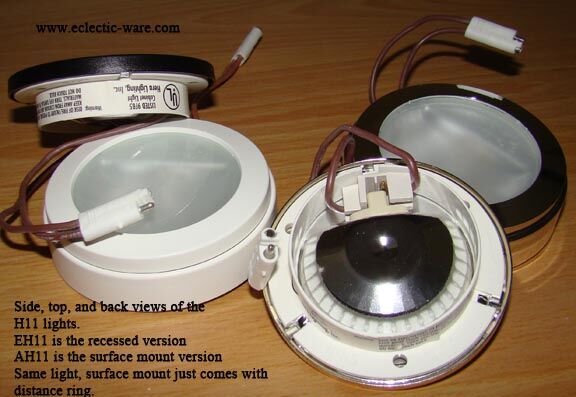 Another popular light used on Carver Yachts and Formula Boats was the Hera H11 light. Most boats would have the EH11, but the light may be stamped with only H11 on it. Same light. EH11 just represented the recessed version, AH11 was the surface mount version. Boats will predominately have a recessed light. Thus a hole is cut in your headliners or wood ceilings, and the lights mount into the holes and stick down just a small amount, approx. 3/16". The EH11 light came in white, black, chrome, or gold finishes only. It was larger than the E1. The E1 is approx. 2-9/16" in overall diameter. The EH11 was 2-15/16" in diameter. But both lights were designed to fit into a 2-1/8" hole. And that is where we are headed with our solution.
The Solution: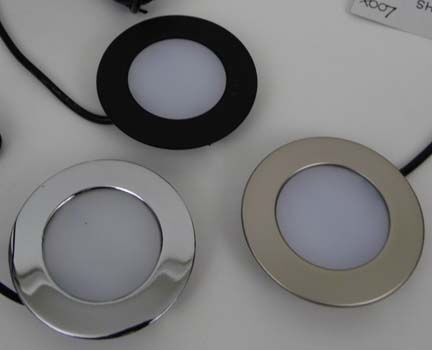 The Hera E1, EH11, and even the KB12 halogen lights recess into a 2-1/8" hole. The
Hafele Loox LED model 2020 light
will fit into the 2-1/8" hole. And it is a 12 volt LED light. So it can be powered the exact same way that your halogen lights are powered on your boat. Most likely directly from your 12 volt batteries. Each light has an attached lead wire on it which is a twin wire. You can cut the coupler off the end and then wire it directly into the twin wire on your old halogen lights. It will be a very easy retrofit.
Highlights about the Loox LED 2020 light:
12 volt LED

50,000 hour estimated lifespan

Comes in 3000K, 4000K, 5000K light color outputs

All metal construction and sealed, no rings to ever fall off again

IP44 rating, thus excellent for water resistance

The Loox 2020 LED light comes in three finishes: polished chrome, matte nickel, and matte black. White and Gold finishes are not an option. You will need to work with one of those 3 finishes when changing out your lights. Another benefit of LED is far lower power consumption. Each 2020 LED light is 3.2 watts. Your halogen lights were either 10 or 20 watt, most likely the 20 watt. So LED lights can stay on a lot longer and not kill your boat batteries at night. If you have a lot, like 30 to 80 lights as some larger boats do, that is a heck of a lot less electricity used to keep the lights on.
Additional Solutions:
There are two other models of Loox LED lights that we would like to mention.
Loox model 2039
and
Loox model 2047
. Both are also 12 volt, so you can install them on your boat running 12 volt DC without power converters, LED drivers, or any major complications or headaches. Model 2039 are 2.5 watts each, thus a better choice if you were running 10 watt halogen lights. The brightness will be near equal and not overpowering. The model 2039 also has an IP65 water resistance rating, thus better resistance than the model 2020. If in an area of your boat that can get wet, or is exposed to vapor or steam, you may want to consider this light. Just a tiny bit more expensive, but sometimes that stronger IP rating is needed.
And then the
Loox LED model 2047
light is more economically priced. It is still high quality, but that IP rating is an IP20, which means it does not have a water resistance. If your cabins stay dry and are pretty much just like a living room or kitchen in your house, no reason why you cannot use the 2047 light. It is pretty much just light your halogens that had no water resistance rating. But it is priced less, and then the "white" finish becomes an option. The model 2047 light comes in white, black, polished chrome, silver-tone (brushed silver), and then stainless steel finishes. Five choices, and all five available in 3000K, 4000K, and 5000K. So when you need a lot, like dozens of lights, and the water resistance rating is not a concern, the model 2047 is a great way to go.
Conclusion:
Products change. They come and go. None are meant to be available forever. Look at the smartphone market. A new model comes out every year, and models from 5 or more years ago somehow go out of date fast. And trying to find tech support on an old phone, or old anything goes away too. Under cabinet lighting has had its changes. Hera and others started out with halogen lighting. That's what was available in the 1990's and early 2000's. And then LED technology came into light, and continued to glow. Hera predominately has 24 volt LED lighting. Not a lot of help on boats running on 12 volt. So we are grateful that we found this exceptional
Hafele Loox LED lighting
. The 12 volt is a big plus. Hafele also produces the Loox lighting in 24 volt. We do show additional Loox LED light choices in that section of our website. They are great for home or office use, as well as on marine vessels.
If you have any lighting questions about what may be best for your boat, please use the
Contact Us
links at the top or bottom of any of our web pages. Or you can call us also.