Where can I get Adjustable CTC cabinet pulls
Eclectic-ware
I'm trying to find cabinet handles to fit my 3-1/4" screw holes. Or my 2-3/4" screw holes. Or 5-1/16", etc. etc.
In 19 years time, if we had a nickel for every time we heard this phrase, we probably would have about $200 by now. It is a common question, generally related to customers who want to spruce up their existing kitchen cabinets with a minimal effort. Cabinet handles are a preference. When you purchase an existing house or condo, and one of the first things you say is yuk to the old handles on all the doors and drawer fronts, your first thought is to change them.
If you have one of the two most common sizes, 3" and 96mm (3-3/4"), you will have a multitude of choices. 3" ctc WAS one of the most common American sizes. And 96mm by far has been the most common European size. But before Americans started growing larger, the 2-3/4" CTC size was the most popular American size. And very very few handles today are made in that size. But we have some! Several in fact.
For a quick reference of what we do have in 2-3/4" if you are looking for that particular size, please see our
Center to Center Drawer Pulls Options Page
. We have outlined many measurement sizes on that page to get you to what you need. 2-3/4" is one of the star attractions.
Another star attraction is the Adjustable Center to Center handle option. On the
Siro Designs stainless steel handles
page, there will be three sizes to choose from. Each has its own range of screw hole centers it accommodates. The smallest works great for screw holes spaced from about 1-1/2" ctc to 3" ctc. Also called CC on the Siro pages. The next size works great for holes up to 4-1/4" ctc, and the largest for up to 5-1/2". These are two-piece cabinet pulls. The handles can be set at any size from where they look good as a minimum size up to the max. size allowed for each. So if you had screw holes that measured 4-7/8" apart or 5-1/32", you can make these handles
work with ease
. When the screws are tightened down, the handles lock in place, nice and tight. These three handles are made from solid stainless steel and come in a brushed stainless steel finish only. The smallest of the three is one of our most popular retrofit handle selections for that 2-3/4" size. Note how the narrow handle portion slides into the thicker barrel and leaves a tail to one side. The tails can be positioned to the left or right, or downward for a vertical mount. When used in pairs, you can alternate them. The handle size you select and your hole spacing pretty much are going to dictate the length of the tail. This is a great handle when faced with an existing screw hole size dilemma.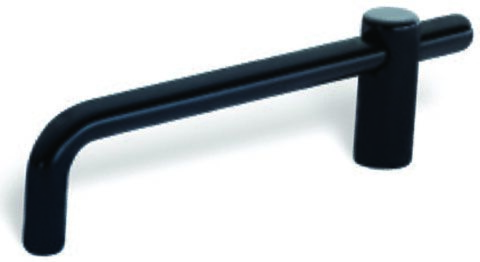 If the stainless steel finish is not right for you, then Siro Designs does have 3 additional finish options shown on the
Metro Collection
page. These three choices will have a size limit. You can set them anywhere between 2-1/2" up to 4". They come in just the one size. But they are available in black, polished chrome, and matte nickel finishes. A great choice for the smaller range center to center measurements. Same concept, handle portion slides into a round barrel, and you have a short tail. Handle and sleeve will come as a set, just as the stainless steel adjustable handles do.
Two piece handle not for you? Check this out.
We offer the incredible line of
Arthur Harris stainless steel handles
. These are not considered an adjustable CTC handle, but worth honorable mention here because Arthur Harris
will make them in whatever size you need!
Yes, you heard that right. Arthur Harris technically makes one style of handle in one finish. Theirs are solid 303 premium grade stainless steel, brought to an elegant brushed finish. It is the European Railing style handle, round bar above two round legs. BUT! Arthur Harris will make the handles from 2" up to 96" long in increments of a sixteenth of an inch. Longer handles will have 3 legs, possibly 4 if very long. The bar diameter comes in 6 sizes, from sleek up to 1" dia. for those huge heavy glass doors. They also offer a back to back mouting option, you can have a handle on opposite sides of a door. This has become popular in hotel renovation on closet doors. There are other parameters that are custom also such as length to CTC ratio, the height of the handles, even the positioning of the legs for special applications. And Arthur Harris handles, and their stainless steel knobs, are
Made in the USA!
Finding new handles in a specific size is not always easy. There are popular sizes that many manufactures are agreeing upon such as 128mm CTC, 160mm CTC, 192mm and others. But when you have an oddball, something that potentially is not made any more, the adjustable CTC handles for the smaller range sizes is a good way to go. Arthur Harris is also a good choice. And in a completely brand new kitchen where you would like your rail handles to vary in size to coordinated with your doors and drawer fronts, Arthur Harris is awesome!
Whenver you have questions about your cabinet hardware needs, do let us know. The search bar on our site can help, but it finds only words and phrases we have entered into the site. It doesn't think on its own. We are happy to help however we can.