Eclectic-ware
The Eclectic-ware website offers a lot of help and instruction pertaining to our products. On our ceramic bathroom hardware, we do list measurements on the pieces. But visual aids sometimes help even more. Thus the various ceramic TP holders form AC Products are going to put on a picture show here.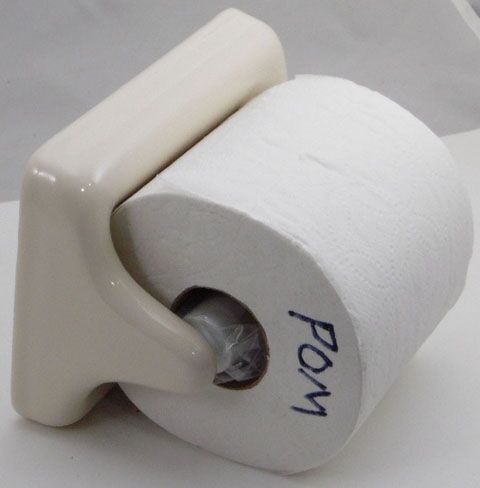 First, model 777 TP holder.
Rectangular with rounded corners. Shown in this picture is the BC777-C3, this is the clip on version in the gloss bone color. Model 777 comes in 4 mounting methods: thin-set, flat back, clip on, and mud set. The front of the holder does not change with the mounting method, only the back changes. To view the various choices for
model 777 TP holder
, select that link.
Model 977 TP holder is the same holder, but in the 900 series. Thus the 7 changed to a 9 in the part number.
Model 977 TP holder
comes in 3 mounting methods: thin-set, clip on, and flat back.
The roll of POM toilet paper in this holder fits well, rolls well. The POM roll measures 4-5/8" in dia. and 4" in width. POM is a brand available from Sam's Club. It is a double roll, a normal double roll. The 3X Charmin, triple Northern, and other fat rolls are NOT going to fit on this TP holder.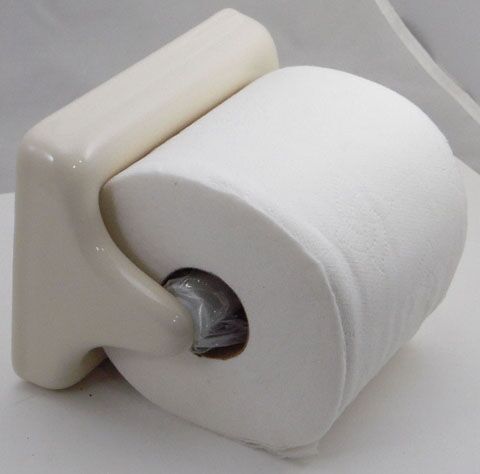 Now, the same TP holder with a lager roll in it. This roll measure 4-15/16" in diameter and 4-1/4" wide. It is the Members Mark brand, also from Sam's Club. It fits, it is snug when a fresh roll, but not tight, it does spin. So for model 777 TP holder, we will say rolls up to 4-15/16" in dia do fit. And you can probably go up to 4-1/2" wide. The width and dia. work in conjunction with each other. We will elaborate more on that when we get up to the recessed TP holder.
This is model BA778
, also from the
Stylish 700 Series
. Shown in color C1 gloss white. And shown with the bigger of the two TP rolls we are using for our pictures. Big brother to the 777, BUT, only comes in a thin-set mount. It has a 4x4 protrusion on its back and is meant to be laid in tile where you omit a tile. Can be mounted to sheetrock by cutting a 4x4 hole in the sheetrock or a 4x4 divot at least 5/16" deep. Can also be mounted on drywall or wood wall surfaces, but you need to cut a hole for the protrusion on the back to set into. Then there is plenty of adhesive surface on the right or left for the TP holder to adhere to your surface.
As you can see by this picture, the 4-15/16" dia roll still has room to spare. The arms on the BA778 protrude farther out. We believe rolls up to 6-3/4" dia. will work just fine on this TP holder.
Model BA778 TP holder
can be seen at that link.
Model BR796 Recessed TP holder.
Popular in the fact that it doesn't stick out from the wall. You do need about 3-5/8" of wall depth for it to "recess" into. This is the true definition of a recessed TP holder. Thin-set mount is not recessed. True that thin-set will recess into the depth of the tile, but recessed means it goes a long way into the wall.
Here's where the dia. and width ratios start to limit your options. Our POM roll is shown in this picture. It spins freely with a new roll. So rolls 4-5/8" in dia. and 4" wide WORK in this holder. Thus if your roll is a spec less in width, it could be a spec more in dia. If it is a spec more in width, then it needs to be a spec less in dia. to roll freely. On the inside of the TP holder, the back starts to curve inward on the left and right, limiting the width of the roll that can fit.
Many more picutures for the
BR796 TP holder
can be seen at that link. We will show various angles, without the roll in the way, so you can see more. It is available in approx. 80 colors including the
stoneware colors as model BR996
.
This is our larger roll shown in the BR796. It fit in the holder, but it is tight. The paper will tear, it WILL NOT unroll easily with this large of a roll in it. So we can tell you, the Sam's Club POM rolls work in this holder, as will other brands of near same dimensions. Customer feedback has told us that the Costco brand TP paper does drag in this holder. We have not bought any, but obviously Costco makes larger rolls. So if you do choose to install the BR796 because you have less room in your bathroom, or you just want that recessed look, you may have to hunt for the PROPER size TP to use in it. If you like jumbo rolls, they are NOT going to work. Please keep that in mind. All of this applies to the BR996 too.
This is model 820 elliptical shape TP holder
from the
AC Products 800 Series
. And we are showing it with the larger roll on it. There is still room to spare.
You can view it and many more pictures on the 800 Series page. This TP holder comes in approx. 14 colors, a few of them being the stoneware colors. So it is more limited on colors then the previous 3 TP holders on this blog page. It does come in three mounting methods: thin-set, clip on, and flat back. This picture is showing the C12 gloss sterling silver color.
The arms on this TP holder are longer, similar to the BA778 higher on this page. So you can fit larger rolls in it, probably up to 6-3/4" in dia. before they start to drag. And it is wider. So if your roll happens to be 5" in width or even a little more, this TP holder will hold it. The shape is different from the traditional rectangular style. There are other matching bath accessoies in that collection. Towel bars, soap dishes, robe hooks, toothbrush holders and corner shelves, all in the curved-like shapes.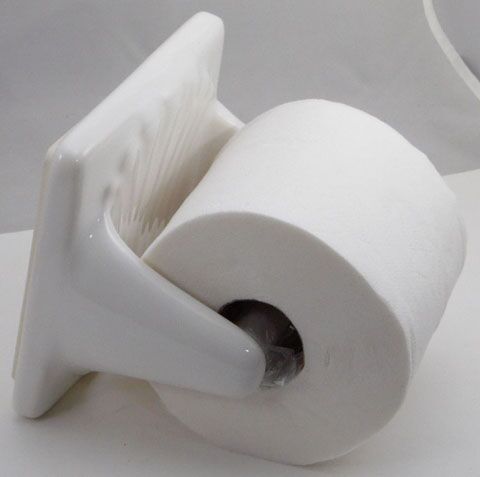 And last, the CA577 shell shaped TP holder.
From the
Inspired 500 Series
. Shown in C1 gloss white. Model CA577 come in only one mounting method: thin-set.
We do suggest going to the
Inspired 500 Series web page
to see many more pictures, dimensions, and the dimension for the thin-set inlay needed. This is a larger TP holder, over 6" x 6" in overall size.
We are showing it with our larger roll in it and you can see there is more room to spare. So it also will hold some larger rolls approx. up to 6-3/4" in dia. Maybe up to 7", but we do not have a roll to test in it.
The 500 Series is limited in its color choices, under a dozen colors. There is a complimenting soap dish to go with this TP holder, and a shell shaped towel bar too. Nice if this is the theme you are going for, or if you require larger items. For new construction or renovating.
This concludes our AC Products selections of ceramic TP holders. With one exception of the
600 Series TP holder
which we forgot to include. But you can view that 2-piece TP holder on that web page. The 600 Series is nice for smaller bathrooms or when you need the tiny square 2-post TP holder. A matching towel bar is also available on that page.
Then, we also have the
Lenape line of ceramic bath hardware
. All of Lenape's collections have a TP holder choice: rectangular, oval, round, and the small square 2-piece holders. Go to our Lenape page to see their selections. Very limited on colors and mounting methods. This is why we promote AC Product because of the vast selections and colors.
Whenever you need our help with answers on our products, give us a call or
write us an e-mail
.