Cabinet Door Design Charleston Maple
Woodmont Doors section index
(And links to all pages, including individual door design pages, are in all Woodmont Doors page footers.)
Charleston Maple raised panel door from Woodmont Doors
In April of 2022, Woodmont Doors stopped offering cabinet doors to the public. We still have cabinet doors available.
Use these links to jump to something appropriate:
This is the square top design to coincide with the Charleston Arch Maple door. You would want to use these on your base cabinets, but also on your upper cabinets as you see fit. Mixing arch top doors on top is an option, yet it is not for every kitchen. The Charleston Maple doors are a great choice for bathrooms too, especially those with extensive cabinetry in them. Drawer front choice is slab only, no matching raised panel drawer fronts.
This is a raised panel door. Option of a flat panel, the RRP panel, is not an option. BUT, the option of frame only or mullion doors is an option. On the quotation and ordering form, there is a check box to note GL or DL. GL means glass door option, or frame only. You will have one large opening, no panel. Then you get to fit the door for glass yourself. You would need to have that done with a local glass supplier. The DL means, divided lites, thus a mullion door. You normally would have only 2 columns of lites. And then the height of the door will determine if you have 2, 3, or even 4 rows of lites. A typical upper cabinet door of 24 to 30" tall, you may want to make it only a 4-lite mullion door (DL4). But if you have really tall upper cabinet doors, well over 30", a 6-lite (DL6) mullion design would look very nice. Cabinet doors used on furniture, such as a living room entertainment center, could have many tall glass mullion doors. If you have doors in the 48 to 60" height range, an 8-lite (DL8) mullion design would look good. Each mullion lite should be a square at a minimum, or taller than they are wide to look good. A mullion lite that is actually wider than it is tall is going to look way wrong. That might work on a Shoji screen, but not on your upper cabinet doors. And if by chance you are building a Shoji screen, then do as you like. Yes, several tall mullion cabinet doors connected with butt hinges would make a very nice custom size Shoji panel. Think in sets of 3. Most folding Shoji panels have 3 panels. You can fit them with a nice fabric from the backside. Cabinet doors aren't just for the kitchen.
The
Charleston Arch Maple door
is the complimentary arch top raised panel door that you can use on your upper cabinets. Add a mixed look. Profile combination is identical.
Charleston Maple
Minimum door size 7" w x 7" h
Minimum drawer front size 6" w x 3-1/2" h
3/4" thick 2-1/8" frame with plywood panel
Was referred to as the old Woodmont 200-W-1-CLB door.
The CLB edge is square on the side and back, but has a drop and wave on the front.
Available in all 15 maple colors shown below.
There is not a RRP option for this door design. Raised panel only.
Profiles: W frame 2-1/8", P1 raised panel, CLB edge.
Then you can tap or click the colors after that to see the full size Charleston Maple doors with their color names.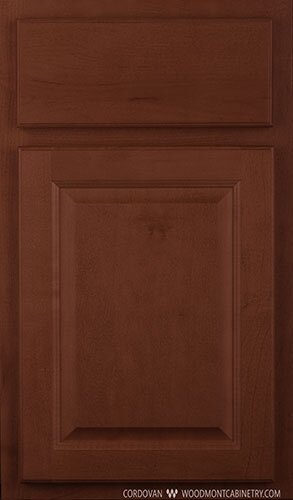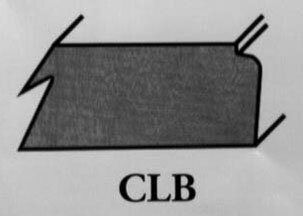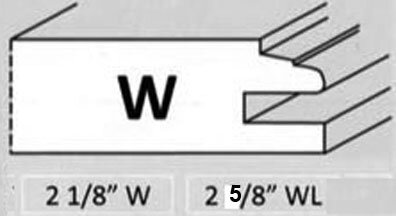 The Charleston Arch Maple door comes only as a raised panel door. There is not option of the RRP. Complimentary drawer front will be shown on the
Charleston Maple page
. Slab front only. There isn't a 5-piece raised panel front. This is the only door style that Woodmont offers in an arch top door.
If requesting hinge boring, very important to state Left or Right side boring.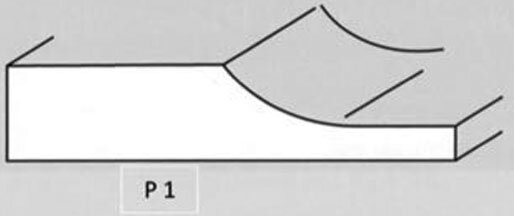 How to order:
To start an order or to request a no-obligation quote, select the Charleston Maple design choice on our
on-line quotation and ordering form
. That link will open it in a new window so you can keep this window open if you need to. Enter all your data, then the door quantities and sizes, drawer fronts, finish color, hinge boring if needed, all pertinent data. All quotes are done on-line or via FAX. We have a
FAX form
you can fill out for those who still like FAX machines.
For matching eyebrow arch top raised panel doors, you would select the Charleston Arch Maple design.
Extras like cut to size matching plywood, self-adhesive veneer, and decorative moldings can be requested on the ordering / quotation form also.
Then the quote / order is taken care of by a person. It is not automated from our website. Allow a day or two for someone to get back to you.
Woodmont cabinet door designs by web page:
Modern Door Designs

Woodmont Doors website section pages: