Closeout Loox 2027 12volt LED Spotlight
Click or Tap the orange menu button to view all Hafele page links
Loox 2027 Cloud style LED light
Cloud style? We weren't sure what else to call it. When it is on, it kind of looks like a cloud puff. This light is styled a bit different from most LED lights. It has a full circumference ring that glows, kind of resembles fluorescent lighting. The center of the light is a aluminum finished round disc that does not light up. But when the light is lit, it does not look overly dull in the center. It reflects so well, that the entire face appears to be glowing.
We thought it was a bit different and would be nice to offer it. The light is 2.6 watts with a lumen output of 190-218 depending upon if you select the 3000K, 4000K, or 5000K. The one in our picture is the 3000K warm white, which was quite bright. The 2027 has a 79" attached lead wire which connects into the 12 volt power drivers. It is surface mount only and will stick down just 9mm (3/8").
Can be used for under cabinet lighting in kitchens and bathrooms, or as a display light. Instead of projecting all of its light output just downward, it seems to promote it outward also. So a nice light to light up wider areas instead of just directional lighting.
Manufacturer: Hafele
Hafele 833.72.050 Loox LED model 2027, 12V, 2.6 watts warm white 3000K, 190 lumen, surface mount 65x9mm, matte silver
ALSO:
HAF-833.72.051 (4000K cool white, 208 lumen)
HAF-833.72.052 (5000K cool white, 218 lumen)
Add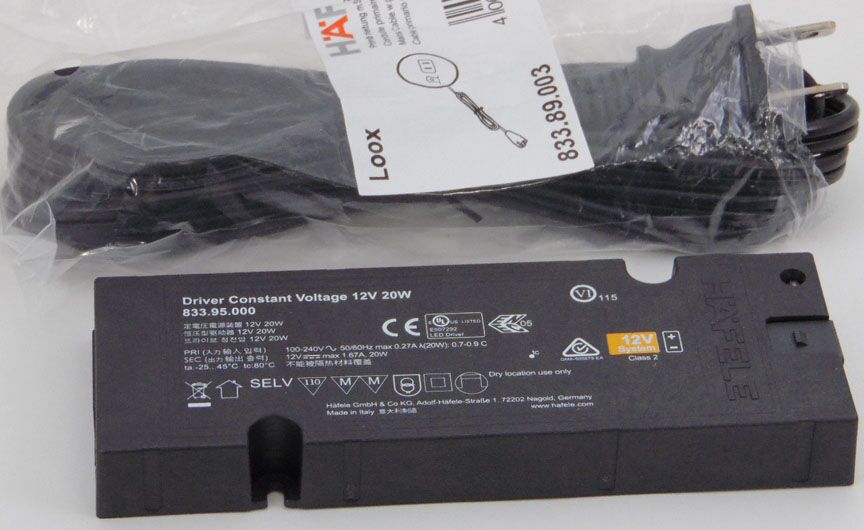 Hafele Loox5 Drivers and Distributors
Hafele 833.95.000 Loox5 LED 12V DC class 2 driver, 0-20 watts, 100-240 V, light-yellow port, 140x50x16mm, overload protection, black plastic casing, 70,000 hour life rating, requires distributor
Add
Hafele Loox5 Drivers and Distributors
Hafele 833.95.749 Loox5/Loox 12v 6-way distributor with switching function, but for connection of older Loox lights to the ports. Used with Loox5 12v drivers, can connect additonal units in series, orange ports, 120mm x 50mm x 16mm.
DIMMABLE AND USED FOR OLDER LIGHTS
Add
For our customer who were use to finding the Loox 833.74.960 20 watt 12 volt driver on this page, our overstock is finally gone. You will now use the HAF-833.95.000 driver with the HAF-833.95.749 distributor. Found on the
12v Loox5 LED Drivers
page.
Ordering Note:
Lights are 2.6 watts each. You can easily connect up to 6 on the 20 watt driver utilizing all 6 ports. Or up to 7 with use of a terminal block extender. Higher drivers available for applications requiring more lights.
LED Power Drivers
|
Loox5 12V LED Drivers and Distributors
Lights are dimmable. Each has a 79" attached lead wire. Full ring shield on light is a milky white color with an aluminum colored center. Meant to be screw mounted.
Hafele Loox5 and Loox4 LED Lighting web page links:
Older Loox4 24v spotlights:
Model 3038