Modern Style Wood Custom Cabinet Doors
Guide Me:
Click or tap the 'orange' button for the index of all Woodmont Doors pages

Modern Style wood kitchen cabinet doors and drawer fronts
This is how Woodmont Doors defines their Modern Style:
Sleek, clean lines

Minimal Design without ornamentation

Thus, there is not going to be too much to say on this page. The Modern Style consists of veneer covered slab doors and drawer fronts. It will be very limited. One door design, one drawer front design, your choice of Maple or Cherry. Then the doors can be ordered finished or unfinished. You can opt for hinge boring if you like. And doors and drawer fronts can be ordered separately. If you just need a few doors and no drawer fronts, that is fine. And if you only need a few drawer fronts and no doors, that is okay too.
Door are a solid core with real wood veneer wrap on the face and back and four edges. There are no profile selections, these are just simple slab doors.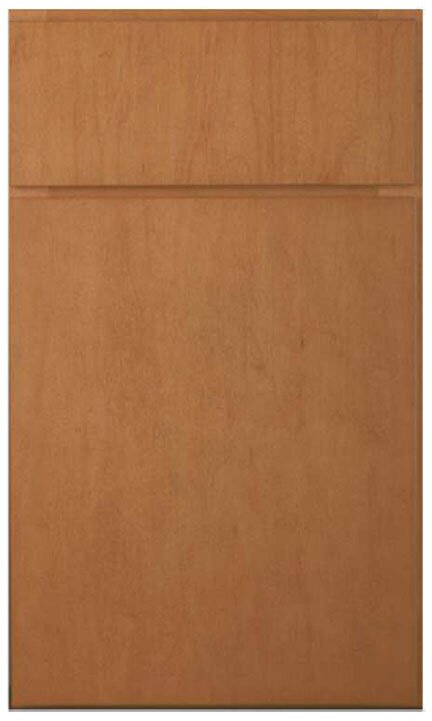 Bristol Maple
Available in any of the Maple finishes or unfinished.
Door min. size 6" wide x 6" high.
DF min. size 6" wide x 3" high.
Bristol Cherry
Available in any of the Cherry finishes or unfinished.
Door min. size 6" wide x 6" high.
DF min. size 6" wide x 3" high.
How to order or get a quoation:
On the
On-line Ordering form
(ordering and quotation form), note one of the two choices above as your Door Style Name. Enter your finish choice. If you need hinge boring, note B1 or B2. If you need hinges, let us know which also. Then of course give us all your quantities and sizes, for both doors and drawer fronts if you need each. Not very much to this simple style of door. If you need to order some veneer or cut to size plywood also, please list your needs on the form.
Woodmont Doors website section pages: