Modern Style Wood Custom Cabinet Doors
Woodmont Doors section index
Modern Style wood kitchen cabinet doors and drawer fronts (reference)
This is now a reference page. As of 4-4-22, we learned that Woodmont Doors is going to solely focus cabinet door production for their cabinet division, known as Woodmont Cabinetry. We are not part of their cabinet division. Thus, we will no longer be able to offer Woodmont wood doors and accessories. We have added
wood doors from Brushy Creek
. Web pages are up and ready for the Brushy Creek wood line. It is a bit simplier, just doors and drawer fronts, but still custom. Mix up profiles the way you would like, choose from 11 wood species. We announced on 4-23-22 that our web pages for
Brushy Creek wood doors
are ready.
This is how Woodmont Doors had defined their Modern Style:
Sleek, clean lines

Minimal Design without any ornamentation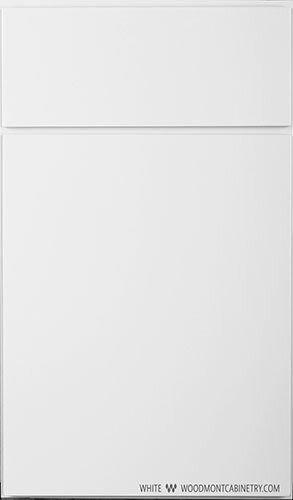 Slab doors are so easy. Most every door company has made them. Thus, in the Brushy Creek section of our website, we do have a
3-D Laminate Slab Door
page. Brushy Creek had a few specialty slab designs with fancy edges, then they have normal slab designs where you select an edge. Both doors and drawer fronts can be made.
Then in the
wood door selections from Brushy Creek
, they will come unfinished only. Slab drawer fronts are show as compliments to the raised panel and flat panel doors. But a larger drawer front WITH INVERTED MEASUREMENTS, can be made as a door. What are inverted measurements? Well, say you needed a drawer front 21" wide and 5" tall. The woodgrain will run left to right. And now you need a cabinet door 21" wide and 23-13/16" tall. If ordered as a drawer front that way, the grain still runs left to right, and that would be wrong. So you would order it as a drawer front 23-13/16" wide by 21" tall. Then when you mount it, you turn it 90 degrees, and Wa La, the woodgrain is running up and down, like a normal door does. Even if you are painting your doors, this is a good trick to do. And if you need hinge boring, let's get on the phone and go over this....
Woodmont Doors remaining website section pages: