Mullion Kitchen Cabinet Doors information
Woodmont Doors section index
(And links to all pages, including individual door design pages, are in all Woodmont Doors page footers.)
What are Frame Only or Mullion cabinet doors?
*UPSETTING NOTE:
As of 4-4-22, we just learned that Woodmont Doors is going to solely focus cabinet door production for their cabinet division, known as Woodmont Cabinetry. We are not part of their cabinet division. Thus, we will no longer be able to offer Woodmont wood doors and accessories. We have added
wood doors from Brushy Creek
. Web pages are up and ready for the Brushy Creek wood line. It is a bit simplier, just doors and drawer fronts, but still custom. Mix up profiles the way you would like, choose from 11 wood species. We are excited to announce that on 4-23-22, our web pages for
Brushy Creek wood doors
are ready.
Frame Only Doors
The doors high up in the picture above are called frame only. Basically, you have the 4 frame pieces of a normal cabinet door to match the profiles of your solid panel cabinet doors. With frame only, the panel in the middle is omitted and generally replaced with a piece of clear glass or decorative glass. Sometimes wire grille and other materials can be used for the panel.
This is done for upper cabinet doors. Not all kitchens have them, but they are a nice touch for any cabinet that you want to see through. Thus they are really for the cabinets that you keep your boxes of cereal in. Usually some nice plates or vases would be kept in cabinets used as 'display cabinets.' Most will have interior cabinet lighting to help show off what is inside. And if they do not have cabinet lighting, then please visit the
Hera Lighting
and
Hafele Loox LED Lighting
sections of our website and put some interior cabinet lighting behind those frame only doors.
Frame only doors are not used on your base cabinets with the exception of some specialty designs that you might add some beautiful copper grille to. You would be creating a focal point in the kitchen when doing that. Something that stands out for a reason.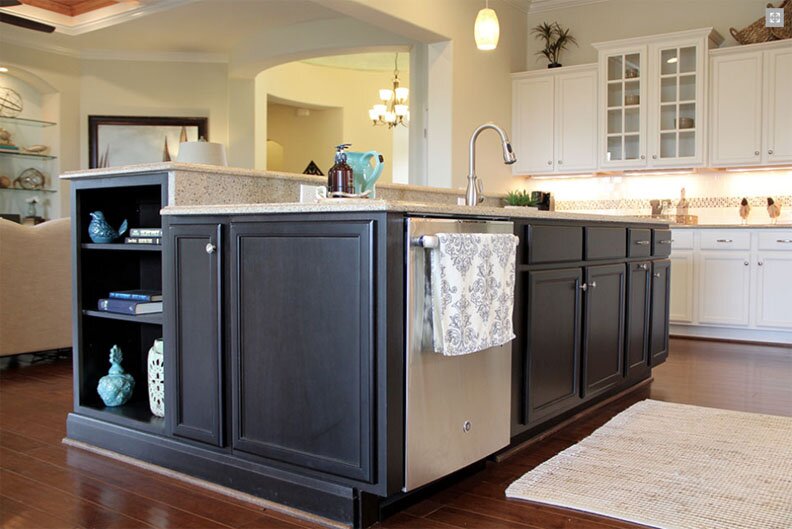 Mullion Cabinet Doors
The two taller upper cabinet doors shown toward the back of this kitchen are called mullion cabinet doors. Very similar to frame only, but instead of just one large opening, it is divided into smaller openings called lites. These two doors are 8-lite mullion doors, abbreviated as ML8. There are 8 even sized openings in each door.
Mullion cabinet doors can come as ML4, ML6, ML8, and even greater numbers. The overall height of the door will tell you the number of lites you can decoratively pack into the door. Notice on the ML8 doors in this photo, the height of each lite is GREATER than the width. This is a 2 column by 4 row format. It is our opinion, and shared by most, that the mullion lites can be square if it happens to work out for your door, but that the height of the lites should be greater than the width. Unless you are making Shoji screens. When in the kitchen and creating mullion doors for the kitchen, abide by that rule. If the two doors in this photo were ML6 6-Lite mullion doors, they would still look good. BUT BUT BUT, take a look at the next photo.
The one mullion door in the photo above as an end cabinet is a ML6. There are only 6-lites in that door, but doesn't it look confusing? The extra horizontal lines you are seeing are the white shelves inside the cabinet. Go back up to the previous picture. In that kitchen with the ML8 doors, the shelves were placed inside the cabinet to line up with the horizontal mullion rails. Thus, you are not seeing all kinds of crazy extra lines. So in the second picture, one of two things should or should had happened. Since the cabinet was planned with 3 shelves inside, they should have ordered an ML8 door and then line up the shelves to hide behind the mullion rails. But too late for that now. Thus if this was my kitchen, I would sacrifice one of the shelves, pull it right out, and then line up the two remaining shelves with with the two horizontal rails on that ML6 door.
Notice too how this kitchen just has the one mullion cabinet door and not a pair. That means, you can do as you like in your kitchen. Design it how you want. Mullion doors are focal points. I bet 8 out of 10 people who walk into a kitchen see upper cabinet mullion doors first before seeing anything else. And if a light is on in the inside, probably 10 out of 10 people.
Notice how the passage way door to the far left has a 3 column by 3 column mullion design to it, thus an ML9. And the lites are still taller than they are wide. Looks good like that. Notice that nice under cabinet lighting that they have spaced apart under their upper cabinets too. Yes, we like promoting under cabinet lighting. We have offered
Hera Lighting
since 2001.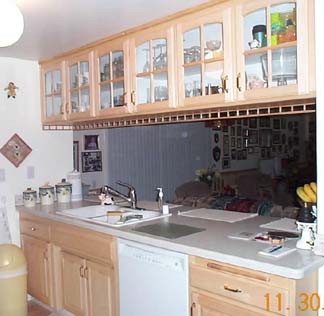 There are many applications for frame only or mullion cabinet doors. We just showed pictures using a pair of mullion doors, and a picture with a single mullion door. Here is a bank of ML4 doors over the top of a kitchen counter with a breakfast bar on the opposite side. We do have one door style called the
Charleston Arch Maple
. That has a eyebrow arch to the top inside frame of the door. That door of course can come with a solid wood panel, or as frame only, or as a mullion door as shown here. This is one of our customer photos from a lot of years ago. They set up 3 pairs of mullion doors in a bank to have a lot of display space. Notice too how there is one shelf in each of the 3 cabinets and it lines up with the horizontal mullion rail to not add any of those crazy extra lines.
So what can you do in your kitchen?
Anything. If you are remodeling as just a refacing job. Repainting or laying new veneer on your face frames and replacing cabinet doors, you could make any of your upper cabinets frame only or mullion cabinet doors. You would not want to go overboard. If you reflect back to our second picture on this page, that pair of mullion doors is taller than the adjacent doors on both sides. The pair of doors to the left and right could have been made as mullion doors, BUT, they are a different height. The horizontal lines from the far left set and far right set would line up, but they would clash with the middle set. And then they would take away from the middle set. It would not stand out like the picture shows.
So if all 3 of those cabinet heights were identical, yeah, put in 6 mullion doors. But when odd size heights, that is done for a reason. You want that taller cabinet in the middle to be a focal point. So mullion cabinet doors should be used sparingly. Just do not flood your kitchen with them. Same goes for furniture, living room built ins. Create a few of the doors as mullion doors, but not all of them.
If you reflect back to the first picture on this page, the two small square frame only doors up top. That is a custom kitchen. Look at all the other cabinets. You have a mix of white and grey. Looks like the white are meant to stand out. Could this person have made the two very tall doors under the frame only doors also as frame only? Yes. But what would that do? It would give them more showing off space and less hiding my dishes space. It would take away from the nicely lit goblets they have on display in their upper cabinets. It would destroy the affect they achieve with just the few frame only doors in that kitchen. Their is a pair to the left also that are harder to see in this photo. Very symetrical. Nice touch with the crown molding at the top of each pair of doors too.
Your turn.
With the exception of the Bristol Maple design, all the wood doors from Woodmont Doors can be requested as frame only or mullion doors. You need to supply your own glass or decorative panel. All of the door designs can be ordered without plywood or solid wood panels. Add a pair or more of mullion doors to your new kitchen design. Don't forget the cabinet lighting too.
On our on-line quotation and ordering form, when entering the quantities and sizes on the door lines, there is an options field at the end of each line. You can free type FO or frame only. You can type 4-lite mullion or ML4. Or ML6, and onward. When we get back to you with your quotation, we will quote those specific doors you noted with that criteria. And if you ever have questions, please call or
e-mail us
. We will help. As with any solid panel door, mullion doors can be ordered to the sixteenth of an inch also.
Get started on creating your beautiful kitchen today. And don't stop there. Mullion doors are used on dining room hutches. Living room entertainment centers. Other fine furniture. Most any cabinet that you wish to use as a display cabinet. Thus, you do not use them in the bathroom or laundry room. Maybe a high end luxury bathroom might have one or a pair. Explore your options.
Woodmont Doors website section pages:
Woodmont cabinet door designs by web page:
Modern Door Designs