Plum Door Designs Artistic Paintings by Patricia Gawle
Our Artist Corner page shows 3 prints of original oil paintings
by Patricia Gawle.
About the artist:
Brought up on a small farm in western Massachusetts, Pat attended Ringling School of Art and Design in Sarasota, Florida, where she earned a Bachelor of Arts degree. She has traveled extensively, including a 5 year stint in Mexico where she further developed her unique style, rich, vibrant color pallet, and architectural themes. Pat now splits her time between traveling and on-site projects within Mexico. To see her tile mural work and sculptures, you can view those on her Facebook profile at
https://www.facebook.com/patricia.gawle
. In her studio in Mexico, Pat paints and creates beautiful hand-painted tile murals. She is also in the process of writing an illustrated travel journal of her adventures.
About the prints:
These magical images are part of Patricia Gawle's "Wondrous Places" series. The original paintings, accomplished in oil on canvas, reflect a world we wish we lived in. You don't just look at these paintings, they invite you in – to walk through the grass, climb a Banyan tree, swing your legs from a bridge, or board an awaiting boat on the beach. They have an essence beyond what can be seen – they are meant to be experienced.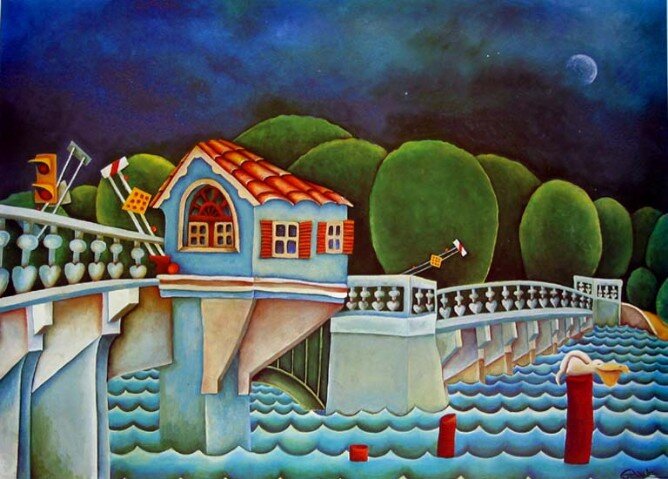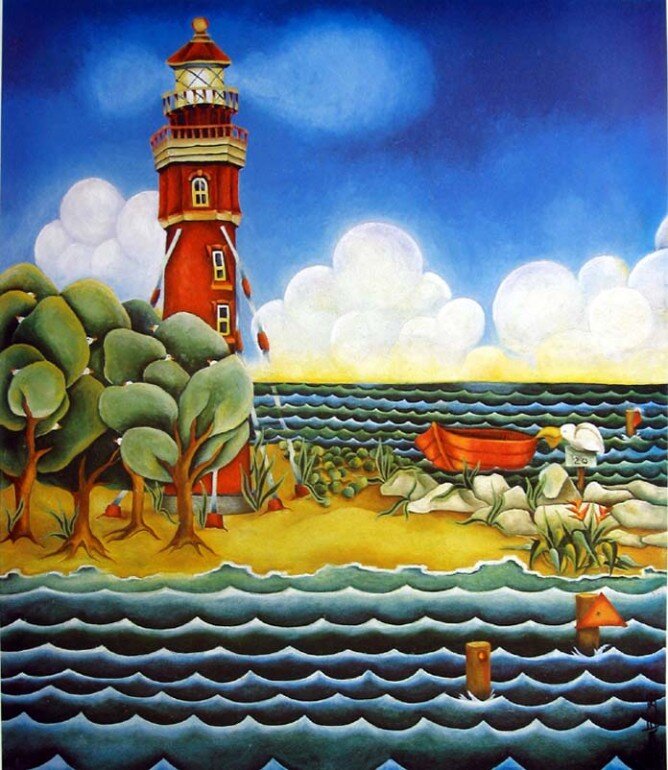 Information about print sizes and framing:
The exact print sizes: (image size for each)
Blue Sky Red Roofs: 15 7/8"tall x 19 1/4" wide
Longboat Bridge: 14 1/8" tall x 19 7/8" wide
Lighthouse Point: 15 5/8" wide x 18 1/4" tall
About framing the prints:
Generally when someone chooses to frame the print the framer leaves a 1/2" white margin around the edge before the matt. The matt could then add another 3" to 4" to each side. Most framers would leave more matt at the bottom to "weight" the piece.
In the first example this could mean a finished size of: 15 7/8 + 1" + 7" = 23 7/8" and 19 1/4 + 1" + 6" = 26 1/4" with margin and matt ... then the frame could add more.
One has a lot of flexibility if you want it to end up a certain size. Just work backwards from the finished size and leave less / more margin or matt ... or no margin or matt.
About the paper:
Prints are reproduced on acid free paper from Pat's original oil paintings.
The 3 pictures shown above are the property of Patricia Gawle. We ask they are not to be reproduced or displayed on any other websites without the permission of the artist. Patricia Gawle can be contacted through her Facebook page at:
https://www.facebook.com/patricia.gawle
The prints are no longer for sale on our website. You would need to contact Patricia Gawle if interested in them.