Wood Cabinet Doors Designs and Profiles
Brushy Creek Custom Doors section index
Wood Cabinet Doors Designs and Profile Choices
Here is where you start and where you pick the door design that you would like.
The Door Design or Style refers to: Square, Cathedral, or Arch. This mostly determines the top of the door, square like the bottom, or fancier with an arch top.
Then a 5-piece door is constructed of 5 pieces. You have the left and right frame pieces referred to as stiles. And the top and bottom frame pieces referred to as rails. Then in the middle of all 4 frame pieces you have your panel. Either raised panel or a flat panel. If you have NO panel, that is what is referred to as a frame only door. Usually made for glass insertion later. Or sectioned with smaller lites, known as a mullion door. Frame only and mullion doors are generally used on upper cabinets only, dining hutches, living room furniture, or anywhere you are planning back lit glass front doors. Not all mullion doors have lights in them, but when they do, they zing!
So on our 5-piece doors, and corresponding drawer fronts, you will select: a) a frame profile, b) a panel profile, and c) an edge choice. The edge choice is the outside perimeter of the door. It is part of the frame, but the outside of the frame. The inside of the frame is called the frame profile where it comes down to meet the panel. As you can see, with these few choices lower on this page, you can create hundreds of combinations and make your doors look your way.
Door Style (design) choices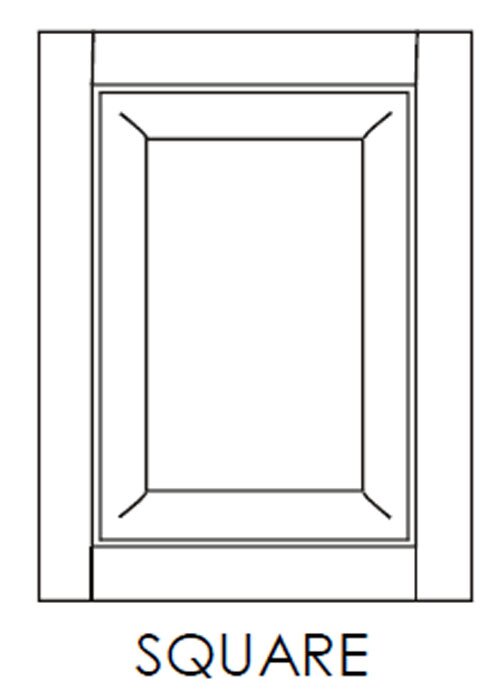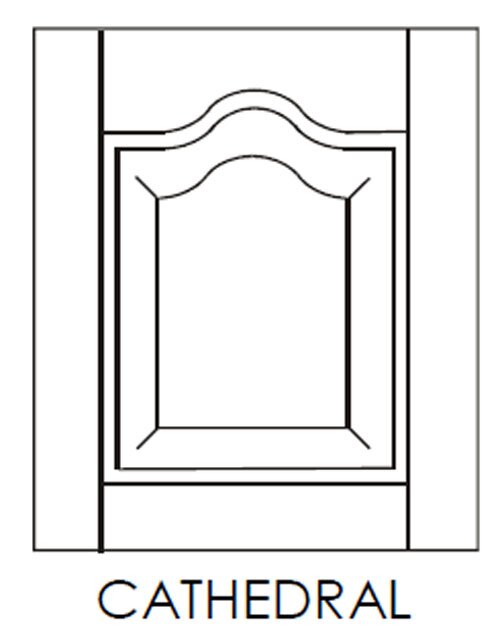 Pick one, or two of the above. Hints: If you are considering Shaker style doors, then the Square choice is the ONLY choice. Shaker Design cabinet doors are square only. You do not add a cathedral or arch to them, that is wrong.
If not doing Shaker Style doors, then your kitchen, bathroom, or other project is YOUR project. It is very common in kitchens to have all square doors upper and lower cabinets. It is also common to use Cathedral or Arch doors on your "upper" cabinets, and square doors for your base cabinets. We definitely advise in a kitchen, do not use Cathedral or Arch doors for your base cabinets. They do not look right under drawer fronts. You can mix things up the way you want, but there are some common designer rules to follow. And you do not want to be laughed out of the neighborhood. We got your back. We will steer you right.
Then for your drawer front design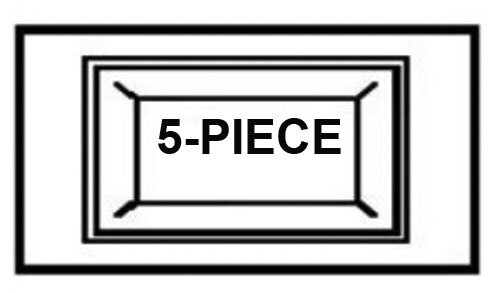 Mix 5-piece or Slab drawer fronts as you like.
Sometimes height limitations will tell you what you have to do.
We do not believe there is any set rule about what drawer front you have to have. On the 5-piece, the top and bottom frame rails will be 1-1/2" wide. This is also known as reduced rail. The left and right stiles will be 2-1/2" wide to coincide with any door that may be directly below them. The reduced rails allow for shorter height drawer fronts to be made. All doors designs and drawer fronts have some minimum measurements to abide by. Here are the rules....
Raised panel doors:
Square design: min 8" wide by 8" high. Matching 5-piece drawer front: 8" wide by 6-1/4" high.
A drawer front under 6-1/4" would need to be made as a slab drawer front with a matching edge.
Cathedral and Arch design: min 12" wide by 10" tall. If you put an arch in the top of a door, and the door is too narrow, the arch is going to look ridiculous. So there is a min. of 12" in width. The 10" height will allow you to still place cathedral or arch doors in pairs above a fridge, oven, or microwave. Many times that pair of doors is very short in height. They usually fall in the 10 to 14" range in height for most.
Recessed Panel doors:
(also called flat panel)
Square design: min 8" wide by 8" high. Matching 5-piece drawer front: 8" wide by 4-1/4" tall.
Because there is no contour to a flat panel, you can get away with shorter drawer front heights. Do note, at 4-1/4", you have about 1-1/4" of panel height. That is skinny. It is okay, but we will say, most 5-piece drawer fronts with flat panel should be 4-3/4" or taller to look better. Anything under that, consider a Slab drawer front instead.
Cathedral and Arch design:
min 12" wide by 10" tall. Same criteria as the raised panel door. You don't want them too narrow or they just do not look right.
Slab drawer fronts: min 4" wide by 2" tall. Yes, some very narrow measurements. With the min. of a 2" height, slab drawer fronts can be used as bread drawer pull outs. The grain runs with the width (horizontally). So slab drawer fronts can also be used as filler pieces if you invert them when mounted, such as a 22 x 3 when upright can be a filler (now vertical placed grain). Slab drawer fronts can also be used as shelves. If your kitchen or project calls for open shelves (that are rectangular), you can use drawer fronts for that. Slab drawer fronts are very nice for those 5x5 spice drawer blocks too. Allows you to position a decorative knob right in the middle of them.
Now: Rail and Stile Profiles (referred to as Frame Profile)
You can select any of these 3 frame profiles with raised panel or recessed panel doors. Again with Shaker Style doors, you would select the Square Design with the Shaker frame profile, then a flat panel (smooth or beaded shown lower), and generally a Square or Easeover edge choice (shown lower).
Note the Beaded profile is the most common on raised panel doors and flat panel too that are not shaker style. The Triple Bead adds a little more flair when lowering down to the panel. And if you are considering glazing your doors, the Triple Bead offers more crevices for that glaze to catch in and give you a really nice rustic look.
Now the various panel profiles you can select
Raised Panel Profiles (4 choices)



Standard: the most common choice over the years. Richmond: has a wave and more of a bump to the profile that rolls back toward the frame. Colonial: more of a straighter slope down rather than the curve like the Standard. Williamsburg: getting fancier, more scroll work, better if planning glazing.
Next Below: Recessed Panel Profiles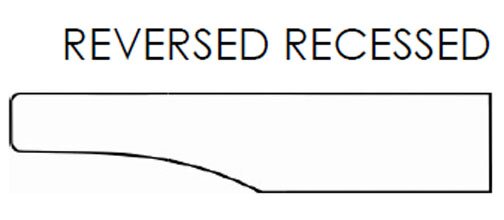 For the Reversed Recessed panel, it is thicker and solid wood. Not plywood. It gives the strength of a raised panel door to a flat panel door, and adds to the weight of the door. Not requested too often.
The Shaker Flat and Beaded Flat are not just for shaker doors. They have this name because if you have a Shaker Style door, you are going to select one of those two panels. But if just doing normal flat panel doors in Square, Cathedral, or Arch, you can use these flat panels. It is a very popular look. The Beaded frame profile with the Shaker Flat panel in a Cathedral door, this is done all the time! The Beaded flat panel sometimes adds to a richer look, or even that rustic look if you plan glazing. Because the glaze would catch in every vertical line.
NOTE about grain direction on panels:
All 4 raised panel choices in doors come as vertical grain (up and down). On 5-piece drawer fronts, they will be a horizontal grain (left to right).
On the reversed recessed panel and shaker flat panel, same deal. On doors, vertical grain, on drawer fronts, horizontal grain.
On the Beaded Flat panel, this is where it changes. On doors, grain will still be vertical. But on drawer fronts, it will also be vertical. The beads are vertical lines, to cross the grain on them would be a mess. So 5-piece drawer fronts with the beaded flat panel will have the panel with a vertical grain.
And Last: Seven choices for Edge Profiles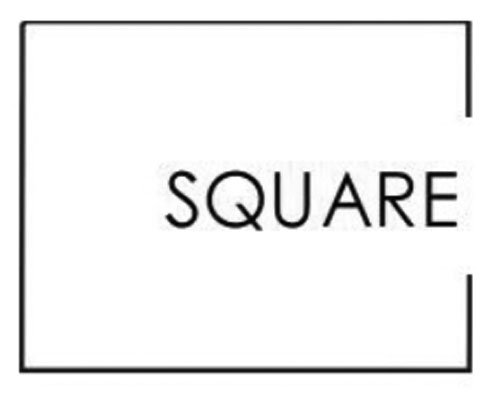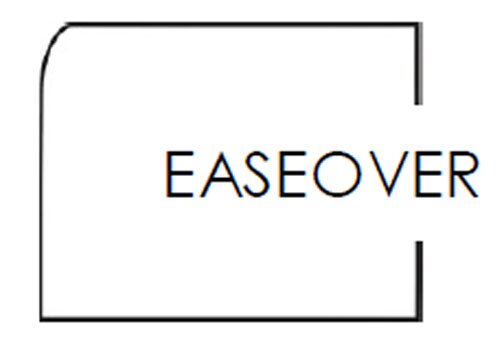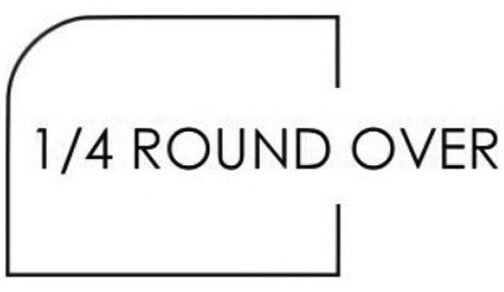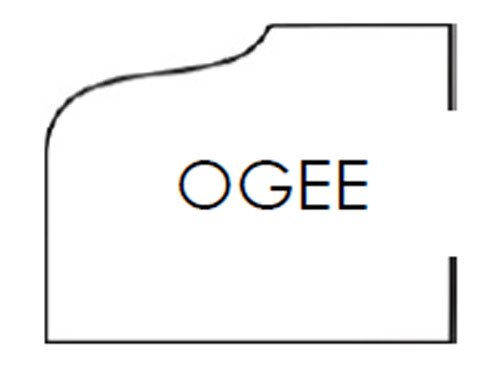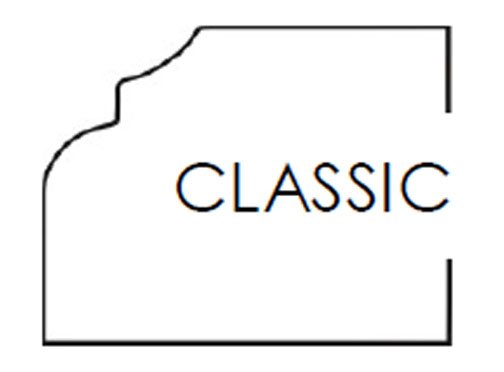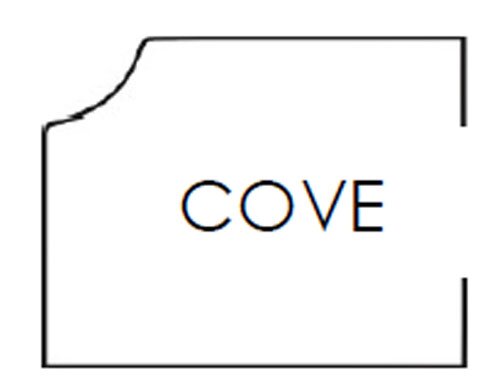 Picking your edge profile: pick any of them. We will say, if doing a shaker style door, pick either the Square or Easeover. The other 5 edge choices are not Shaker Design. But if not doing shaker style doors, pick whichever edge you like the best. Again, if you are planning to glaze your doors after you finish them (glazing is always the last step on finished wood doors), then the 1/4 Round w/ Step or the Classic Edge will give you those crevices for the glaze to catch in.
If planning a pair of lazy susan doors that hinge together or butt together, yes, you can order the square edge on the edges that will meet and still have your preferred edge on the other 3 sides. There is an extra charge for that, but it is an option for Lazy Susan corner with a pair of bi-fold doors.
*Hinge boring on the Classic Edge choice can only be done at 6mm, not the 3mm option. Why? Because the depth of the 35mm hole would break the surface of the edge because the edge cuts down and in more than the other edges.
This concludes your design and profile choices. It is nice that you can mix and match them as you like. And you can mix or match slab drawer fronts with your door choices. If doing drawer banks in raised panel, sometimes the top drawer is not tall enough to be a raised panel. So your line of drawers could be slab drawer fronts above all your base cabinets and to top off a drawer bank. Follow those straight lines around your kitchen, bathrooms, or dresser drawers that you create for the closet or bedroom.
When you reach our
quotation and ordering form
, there will be drop down choices for your Door Design, Frame, Panel, and Edge choices, as well as for your wood choice and hinge boring choice if needed. The quote form will have some self guiding notes on it. No pictures, just notes. All the pictures are on this page.
Brushy Creek Custom Doors web pages: