Wood Cabinet Doors Wood Choices and Options
Brushy Creek Custom Doors section index
Wood Cabinet Doors Wood Choices and Options
Step two through your journey of picking your cabinet doors, your wood choice.
There are 11 wood choices. We will attempt to order a piece of each wood to take pictures. This might take us a while. For now, we will describe the woods to the best of our memory from when we offered many wood options with Quality Doors from 2001 to 2009, and the wood choices from Woodmont Doors from 2009 to 2022. We also have sold some wood doors from WalzCraft, who has more choices than believable. Walzcraft is incredible and we will expand on selections from them when we can take a college class to understand their catalog.
Most people are familiar with how the common woods look. And if you are choicing one of the more specialty woods, you probably have a fair idea of how it looks too, or you wouldn't be considering it, right? Again, ordering just one door first before choosing to commit to a larger order is just fine.
The wood choices from Brushy Creek are:
Paint Grade Maple: Frame and panel will be a mix of lighter and darker Maple because the thought is, it will be painted over with a solid tone. Some darker grain lines could exist. Sanded and prepped for painting.
Beech: A light tone wood generally with straighter grain lines. Very similar to normal maple. But sometimes has a reddish hue to it. Beech is a hardwood.
Ash: Also a light tone wood but getting more into a medium brown. Planks can vary. More of a distinguished grain. Similar to the heartwood of Maple where chunks of it can be a distinctly more medium brown tone. Also a hardwood.
Maple: By far the most popular wood in today's cabinet making. A light tone hardwood with wavy grain patterns and sands very smooth to the touch. Maple is excellent for absorbing stain and offers a wide range of stain colors to be used on it. From light to pretty much black. Maple stains well with most every color. And this will be stain grade Maple meaning the pieces picked to make the door are very even in tone. No wild shades like with Paint Grade Maple. Maple is a hardwood.
Red Oak: It was the most popular choice for cabinetry and cabinet doors until Maple kicked its butt into 2nd place. Red Oak is not red. It has a reddish hue to the brown wood, but it is not red like a crayon. It really looks brown, but with light on it, you can see it is not a pure brown. Red Oak has lots of tiny tick marks in its grain. Very distinguished. Stains well with golden hues, browns, and darker tones. Oak is a hardwood. Oak has always been shyed upon for NOT glazing. Not sure why, but the major cabinet door companies of the past, never offered glazing on Red Oak. So we will continue with that mindset. If your plan is to glaze your cabinet doors for a more rustic look, lean toward Maple or Cherry as your wood choice.
Knotty Pine: A very blonde wood with tiny knots here and there. It will not be loaded with knots. They are random as all wood grows differently. Yeah, we know, how dare trees grow differently. One of the beauties of wood, hard to find two pieces identically the same. Trees with fingerprints, who knew. On smaller pieces of knotty pine, such as smaller drawer fronts, there is the possibility of no knots at all being in the wood. This is normal and not considered a defect in the chosen piece. Knots are small, not big knots that tend to fall out of wood planks. Pine is a softwood.
Alder: Similar again to Maple, but with darker grain lines and becoming more rustic. So if you plan to stain in a light to medium tone and you want that grain to pop out at you, Alder offers a better chance for that to happen. Regular Alder is clear of knots. Considered a hard wood.
Knotty Alder: Now we are getting into rustic. Generally a medium brown wood with very distinct darker grain lines. And then random tiny to medium size knots. By medium size, this means some of the knots could be near 3/4". And Knotty Alder knots are a bit different than Knotty Pine knots. With Alder, the knots could be broken, thus holes in them. This makes this wood much more rustic. So a knot could have a dent or a chunk of it missing. This is normal for this wood species. And like Knotty Pine, knots are random and technically some boards may not even have a knot in them. We do not have GMO trees where we can program the number of knots that grow in them. That's probably coming though.
Cherry: A truely gorgeous wood. Very similar to Maple grain, but a much richer brown color. Yes, brown. Cherry wood is brown. It might have a faint reddish hue at times, but it is not red like the fruit. Cherry named stains are red. Cherry wood is brown. Cherry is also unique that over time, it will darken. When exposed to light, even with a stain on it or a protective clear coat, Cherry will continue to darken over the years. When clear coated with no stain, it has a fantastic look. Cherry works best with medium to dark stains. You would not want to put a light tone stain on Cherry. It would not work out well. Cherry is considered a hardwood, yet it does not feel as hard as other hardwoods.
Rustic Cherry: You are only going to request this if you really want a rustic look. There is nothing clean looking about Rustic Cherry. It is all over the place with wild dark grain lines, dark elongated knot marks which are usually small. And a mix of medium to darker browns. If your aim is furniture or kitchen cabinets that look aged, Rustic Cherry would meet that bill. This is not a common kitchen or bathroom cabinet door wood. Maybe in an Old English Castle it might be. In a modern home, no. For exotic furniture, it would be very cool. Mountain cabins, yeah, it could work. In Miami, you would never see a wood like this. Rustic Cherry is best for antique looks.
Hickory: One of our most favorite woods, and even Clint Eastwood likes it too. Hickory is never an even tone wood. You will have light tones as with Maple and then in the same board of wood it can go to a medium brown. And if only clear coated, that medium brown will start to look like a darker brown. So Hickory is rustic too. Its tones can vary wildly within the same door and then vary back by the time you get to the other side of the door. It would be quite rare to find a piece that stays even in tone and grain. Hickory is definitely a hardwood, one of the hardest. It really is a fantastic wood if variation in color and grain is what you are looking for. Know what it looks like before choosing it. Google Images can really help with any wood selection. Just watch out for photos that are already stained or clear coated. They do change the look of most woods.
Those are your wood choices.

Next: Options such as Frame Only and Mullion Doors, and info on Hinge boring and hinges
We have a specific web page set up for
hinge boring options
. Greater detail and diagrams shown on that web page if you would like a more extensive explanation. Our quick lesson here is: there are two types of hinge boring. One is the big 35mm hole with the two round dowel holes. Used for Press-in Hinges that come with the plastic dowels on them. This will be the Blum boring pattern. And then you can opt to have just the 35mm hole bored WITHOUT the dowel holes. A safer approach if using another brand of hinge. Blum is probably the most popular concealed hinge manufacturer. So a few other companies design their hinges to work with the Blum boring pattern. But dowel holes vary in their placement. So we have to be careful. Here's what the two choices look like.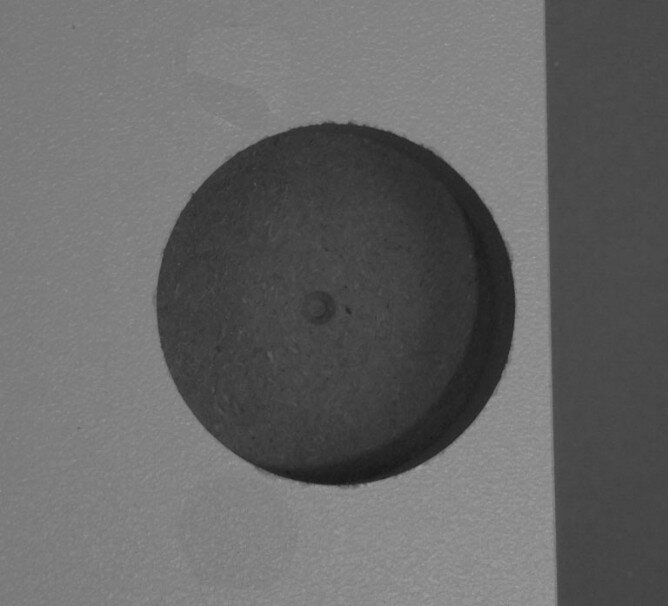 Both of these pictures show a 3mm edge distance. The distance from the edge of the door to the edge of the 35mm hole. A 6mm edge distance is also an option you can select. And we show more info on that on our
Hinge Boring Info
web page.
On Cathedral and Arch design doors, it is extremely important to note Bore Left or Bore Right for your doors. As you face your "closed doors", Bore Left places the hinges on the left side, thus the door swings to the left as it is opened. Vice-versa for Bore Right. Doors that are pairs, you can say Bore Pair (thus one will be left, one will be right).
If you need concealed hinges to go with your doors, we show some face frame hinge options and frameless cabinet hinge option on our
Hinges for Cabinet Doors
page.
Info on Frame Only and Mullion Cabinet Doors
Older houses had plain kitchen cabinets. Some of those cabinets didn't even have doors. They were like more of an open shelf system with side walls. Not a bad thing when you needed to lean something against the side wall. But horrible for keeping dust out of your cabinets.
As kitchens evloved and became much larger and more user friendly, they also become more decorative and stylish. We used to go into the kitchen to cook and wash dishes. Now with kitchens being open to living rooms and having breakfast bars, they have become an entertainment area of the home. Thus cabinetry is getting fancier.
Mullion Doors are cabinet doors with the panel omitted, and then dividers place in the large opening separating it into even sized lites. Examples below.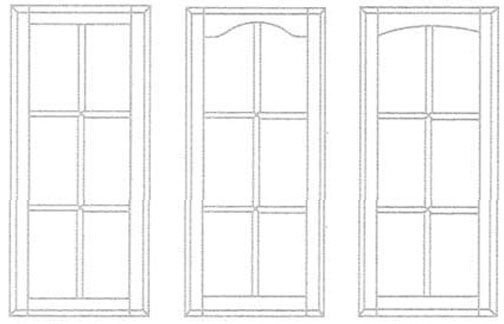 We are showing above that in the Square, Cathedral, and Arch Design doors, you can have all three designs as mullion cabinet doors. There will be two columns only. Then the height of the doors will determine if you do 4-Lite, 6-Lite, or possibly even 8-Lite doors. The third photo is a 6-lite mullion door that "just happens" to have equal size lites in width and height. This seldom happens. Not all doors are the same size. Most are considerably taller than they are wide. And throughout a kitchen, you will have many doors of different widths too. So Mullion Doors will have lites (openings) that will vary in size from door to door as the door sizes change. When you have a bank of upper cabinet doors that are all the same size, then you can have a very consistent size in your mullion lites. So that is a considerable design factor. Keep that in mind. If your upper cabinet doors are all over the place in height, consider having only some of them as mullion doors. They are focal points, and meant to stand out. Don't make the crazy sizes stand out. Pick and chose those that can work together. Proportion is the king in this decision.
If you have a bunch of 42" tall upper cabinet doors, 6-lite mullion doors would look great. And then if you have a couple of short doors over the fridge or microwave, if they are different heights, consider those as being solid panel doors. If the horizontal mullion break lines are jumping up and down too much, it will look distracting, and sloppy.
Then you might think the other way. You have one pair of larger doors that stand out, you might make that pair mullion doors and all the rest solid paneled doors. And you might want to add some nice cabinet lighting inside those doors. See the
Hera Lighting
and
Hafele Loox LED lighting
sections of our website for lighting.
If you have a long line of cabinets extending over an island, and these doors are all the same height, that whole line could be mullion doors. If you have questions about what to do, or what looks good, you can ask us. You can also go onto Google Images and look up phrases like Mullion Cabinet Doors and see what you can see.
Fine furniture has glass front cabinet doors too. Living room entertainment centers, or entertainment walls. Dining room hutches, and home bars. And a lot of them will have cabinet lighting inside showing off your wares.
And then what is a Frame Only door? It is pretty much a mullion door without the dividers. A cabinet door with the panel omitted leaving one large opening. When you have different heights of frame only doors, they are not as distracting. A lot less lines going on. Also very nice for kitchen upper cabinets, living room furniture, china hutches, and other furniture.
You most likely would never place frame only or mullion doors in a bathroom, closet, laundry room, or garage. That is not what they are for. They are for kitchens and nice furniture. Those other rooms of the house, you are not looking to show off what is hidden in your cabinets.
For Frame Only and Mullion Doors, both types take one piece of glass. We do have some more extensive info about Mullion Doors on our
Brushy Creek 3D Laminate Mullion Door page
. Concept is the same. That page was just set up for the 3D Laminte choices. Still good info on it if you would like to review it.
The glass for your doors you would need to source locally. Best to bring your doors with you to the glass cutter so he can measure for the correct size pieces of glass to fit. And items other than glass can be inserted as your panel. Such as decorative grille, lattice, or even stained glass designs. Depends on what you are aiming to achieve and how much visibility you want through the door. With grille, lattice or stained glass, you most likely would select a Frame Only door, not a mullion.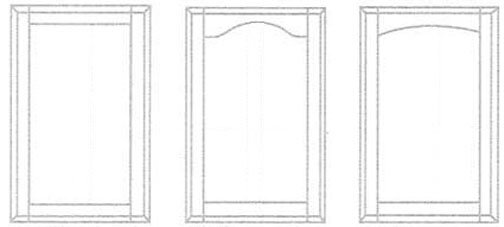 That is pretty much the options we have to describe about the wood doors. It is a simple line of cabinet doors. All come unfinished only. All are custom made to your sizes.
Brushy Creek Custom Doors web pages: