Wood Finishes for Kitchen Cabinet Doors
Woodmont Doors section index
(And links to all pages, including individual door design pages, are in all Woodmont Doors page footers.)
The Stain and Paint options for wood kitchen cabinet doors
*UPSETTING NOTE:
As of 4-4-22, we just learned that Woodmont Doors is going to solely focus cabinet door production for their cabinet division, known as Woodmont Cabinetry. We are not part of their cabinet division. Thus, we will no longer be able to offer Woodmont wood doors and accessories. We have added
wood doors from Brushy Creek
. Web pages are up and ready for the Brushy Creek wood line. It is a bit simplier, just doors and drawer fronts, but still custom. Mix up profiles the way you would like, choose from 11 wood species. We are excited to announce that on 4-23-22, our web pages for
Brushy Creek wood doors
are ready.
Woodmont Doors has some awesome prefinished cabinet doors. If you were to stain or paint your own cabinet doors, most of us would use a brush on or wipe on stain, and most likely a brush on paint. Those with the equipment and more skill, would use an HVLP sprayer and possibly in a spray booth to keep air contaminates down.
Well, Woodmont Doors actually bakes their finishes on their doors. Oven dried finishes. They come out with such luster and strength, that they are hard to beat. Maple and Oak wood choices hav their select grouping of colors available. Maple is the most dominate with the greatest selections. When requesting any of the six solid paint colors, those are applied to doors that have solid maple frames and a MDF panels. The MDF panel allows for a smoother finish on the panel, so Woodmont has informed us. So when requesting any stain color, the frame and panel of the door is wood. When requesting any of the six solid paint colors, the wood choice is Maple with an MDF panel.
Here are photos of the actual stain blocks, sorted by wood choice.
Maple stains and solid paint colors
The glaze colors shown next can be applied to almost every Maple finish. Oak finishes are not allowed to have glazes. Woodmont's preference. They are particular about their stains.
So the 3 glazes are applied on stain and paint colors, except for Espresso and Black Fox, because they really do not show up well on those extremely dark colors. The idea of a glaze is to accent, not blend in and be hidden. So Espresso Maple stain and Black Fox paint colors are not glaze-able colors.
We are showing all 3 glazes together so they are easier to compare. And our photo of all three together came out far better than the individual photos. All three in this photo are shown on the Antique Maple paint color. So when you think about the White on Maple color, the white is whiter than what you see in this photo. Antique white is a toned down white, a very pale bone.
In this photo, Coffee is on top, Cocoa is in the middle, and Pewter on the bottom. Coffee is almost black. Cocoa is a caramel or medium bronze tone. Pewter is distinctly a grey/silver color.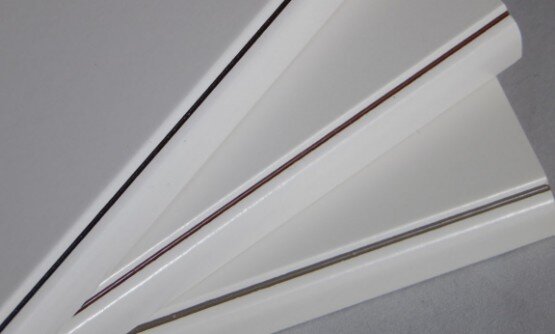 We are striving to show you the best representations of the stain and paint colors that we can. We took some pictures in outdoor light, some in direct sunlight, some in our photo booth with cool white LED lights. And it was maddening. Some of these colors just do not want to look the way we are seeing them. But the colors do seem to come out more true when we take a group of them together. No clue why, but the group photos, just like with our
ceramic bathroom hardware
, seem to allow the colors to be more real. So here is a quick collection of the group photos we wrestled with.
First up: Maple. Top row is Natural Maple, Toffee Maple, Ginger Maple
Bottom row is Cordovan Maple, Clove Maple, Smoke Maple, Espresso Maple
Both pictures in same order. Picture on left taken in outdoor light, the one on the right in sunlight. Notice how the red tones in some colors jump out more in the sunlight. On a phone, top picture is in natural light, bottom is in sunlight.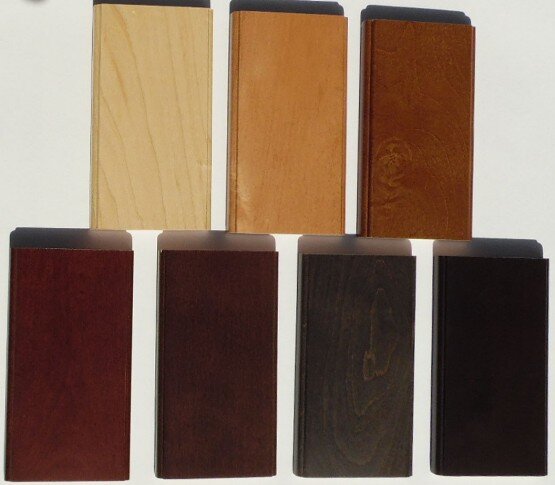 Now Oak finishes:
Oak top row: Charcoal, Nutmeg, Autumn.
Oak bottom row: Wheat, Natural.
Cherry wood and Cherry finishes were discontinued by Woodmont in 2020. Maple and Oak are the current wood choices, as well as unfinished paint grade.
And last, the Paints on Maple:
Both pictures are in the same order. From left to right:
White, Antique, Featherstone, Pebble, North Sea, Black Fox.
And the 3 glazes are shown in the first photo.

Unfinished wood options
You can order doors unfinished. They will be fine sanded and ready for you to stain. If you are planning on painting your doors, order paint grade. The wood is prepared differently and ready for you to paint. Paint grade is predominately maple, but could have some poplar mixed in. It will be light tone wood and as even as possible. You will prime and paint and no grain will show through.
Here are what the unfinished stain grade maple and oak look like.
On the quotation and ordering form, in the wood finish section, you have these options:
unfinished

finish name

glaze name

paint grade

Unfinished will be finely sanded maple or oak. Ready for you to stain.
If you select a finish name, then Woodmont Doors will finish your doors and all items on the order form in that stain or paint color. Yes, moldings, veneer, and cut to size plywood can come finished in the same stain or paint color that you selected. And unless noted otherwise in various comments fields, when selecting a stain color, it will be presumed to apply to all items on the form.
Glaze name, this will only be filled in if requesting a finished door, and if you want a glaze. The Traditional Style doors are the more common doors for glazing since you can create antique looks for your cabinet doors. Veneer and Plywood are never glazed because there are no nooks for the glaze to catch in.
Paint grade, only select if you are planning on painting your doors yourself, not staining. The six paint options that Woodmont offers on Maple doors are very nice. If you believe one of those colors will work for you, you will end up with a superior high end finish on your doors. But if you have one of the other 16 million colors in mind, then order paint grade and have fun painting.
Woodmont Doors website section pages:
Woodmont cabinet door designs by web page:
Modern Door Designs