Woodmont Doors Custom Made Kitchen Cabinet Doors
Woodmont Doors section index
Woodmont Doors custom made wood cabinet doors and drawer fronts
Let's dive in, because there is a lot to say. Woodmont Doors makes kitchen cabinet doors to size, the sizes you request. And the doors are used in bathrooms, bedrooms, closets, laundry rooms, garages, furniture making, and more. They are not just for the kitchen, though, of every room of your house, you will always have some in the kitchen.
When we refer to doors, we are actually saying doors, drawer fronts, mullion doors, cut-to-size plywood, moldings, and veneer for refacing. So anytime we say doors, we mean all of that without boring you extensively by saying all of it each time.
To get started with your new construction or your remodeling project, you should begin with these three pages: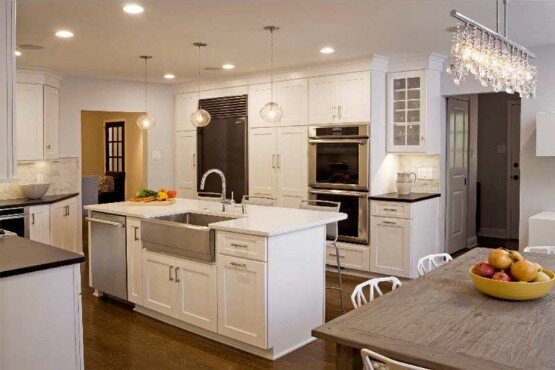 Here you will find the most selections. Predominately recessed panel doors, shaker styles with varying frame widths. Combinations of doors and drawer fronts are 5-piece doors with matching 5-piece drawer fronts, or many that have a slab drawer front combination. A few raised panel choices. Shaker Style and Transitional Doors are what is most popular today.
Here is where you will find choices that have more ornate profiles. Basically fancier doors that have been in kitchens over the past century. More details to the doors, lots of mitered corner choices. More formal and elegant.
In modern kitchens, predominately frameless cabinetry, Slab door designs are quite common. Smooth bold looking faces that can come in any of the maple or cherry finish options available, including the solid paint colors. These are square corner, square edge, slab style doors and drawer fronts. Just a simple modern look.
Next, we know you want to see what finish options the doors can come in. Note that when you pick a door design such as Millstone Maple, the door can come in any of the maple finishes. Or as unfinished maple. Or as paint grade. When you select Millstone Cherry, any of the cherry finishes are available, or unfinished if you wish to finish any door yourself. Oak doors will come in the Oak finishes.
Woodmont Doors has a nice selection of stain and paint colors that you can order your doors prefinished in. The finishes are an extremely durable baked on finish. If one of the stain colors or solid paint colors appeals to you for the kitchen or furniture you are trying to create, order the doors finished. You will be very pleased with the quality of the finish. But if you have a special color in mind, any doors can be ordered unfinished and you can finish them yourself.
Accessory pages and Help pages:
Do you have face frame or frameless cabinetry? Need help figuring it out?
Add crown molding to the tops of your cabinets. Mask off corners with outside or inside corner molding. Dress up your kitchen or furniture project with some fancy molding.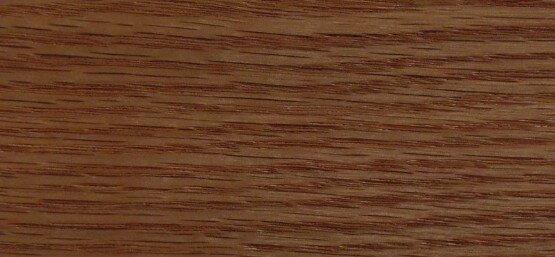 Plywood and Veneer are available in Maple, Cherry, and Oak. They can be finished in the same stain or paint colors you select for the doors. You can also request them unfinished if you are planning on finishing yourself. Plywood is 1/4" veneered plywood and meant for refacing, not building boxes or shelves. Veneer is peel and stick and cuts easily with a razor.
Remainder of our Woodmont Doors pages:
FAQ
: Answers to questions we have received throughout the years.
Testimonials
: Some pictures from past customers displaying how they used their cabinet doors.
When you think of cabinet doors...
Are you thinking only about the kitchen? Yes, the kitchen is the big room, it needs to look good, and it will have cabinets. Upper cabinets, base cabinets, islands, and floor to ceiling pantries. But now step beyond the kitchen and imagine the same or similar doors and drawer fronts here:
bathroom cabinets and tub surrounds



dining rooms

bedroom cabinetry and chest of drawers

walk-in closets

entertainment centers and armoire cabinets

living room built in entertainment center walls

desks, message centers, kitchen work stations

utility and laundry rooms

garage cabinets

wet bars

basement kitchenettes

rolling server carts

and even in your home office or den, desks and custom filing cabinets

One of our older press releases can be read here:
Whenever you need help, please call or
e-mail us
. Ordering doors is not the easiest of things to do. There is a lot of measuring and remeasuring, and certainly a fair amount of planning. We can assist you with the planning and ordering process. The installation process is all you. Doors are available to everyone, homeowners and contractors.
The block of links that you see below will be present on all the Woodmont Doors pages for quick access to any page. Same links as in the drop down menu on top of the page, and all pages.
Woodmont Doors website section pages: