2-3/4 Inch Center to Center Handles
2-3/4" Center to Center Cabinet Handles and Drawer Pulls
Coming Soon. We are posting this web page in late June, 2022. Presently, we have 2000 of each of the two below handles on order and due into us around late September, early October.
These two handles are a match to the discontinued Siro European Railing handles, specifically the 45-117 and 45-141. We were guided to a previous supplier of these handles. The samples they sent us, which we used for these new pictures, are ringers for the two Siro handles. Thus, if you purchased Siro pulls from us in the past and need a few more to match, you can do that. If needing a fresh lot for a bunch of cabinets that you just refinished, we can help there too.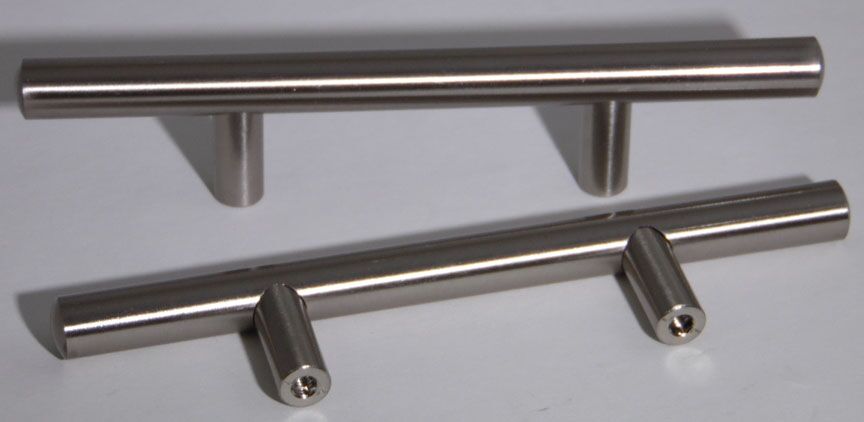 Manufacturer: Long May
LM-SIRO-45-117 Long May 50048/07015232/BN steel bar handle, round end, 70mm ctc (2-3/4"), 152mm OL (6"), 12mm bar dia (1/2"), 32mm high (1-1/4"), M4 metric tapped with 25mm long screws, fine brushed nickel finish. (replaces Siro 45-117)
Add
Manufacturer: Long May
LM-SIRO-45-141 Long May 50048/07015232/MBK steel bar handle, round end, 70mm ctc (2-3/4"), 152mm OL (6"), 12mm bar dia (1/2"), 32mm high (1-1/4"), M4 metric tapped with 25mm long screws, matte black finish. (replaces Siro 45-141)
Add
The Brushed Nickel handle is a great choice for a stainless steel look. The handles are made of solid steel with a fine brushed nickel finish. Rounded ends, good feel to their grip. The matte black finish has a small amount of shine to it. It is very smooth and can be considered a satin black. Both handles are identical in their measurements.
What's in stock?
Nothing yet. We are expecting our shipment by October. We are accepting pre-orders for the above two handles. If you wish to submit an order now, we will hold your order and fill it when our stock arrives. We also will NOT charge your credit card until we have the handles in stock. So we will just hold your order and process it once we are back in action again on these handles. We have 2000 of each on order and have sold around 600 a year of each. So we should be good for a potential 3 year supply on them when they arrive.
Shipping cost questions?
We did get quite a few quote requests on the Siro brand handles. For the most part, smaller orders we do like to ship via the Post Office. We can fit up to 15 of this handle into the postal small flat rate box and ship to any US zip code for $9.45 (current as of Jan. 2022). This means HI, AK, GU, PR, USVI, and the 48 states, we can ship this heavy box for pretty darn cheap. In the padded flat rate envelope, we can fit up to 27 handles in it and ship for $9.65. We use the Medium Flat Rate box for larger quantities up to about 50. The medium flat rate box is currently $16.10 to ship, and we will add insurance on that box. UPS shipping is an option too for larger orders. Or we can split a large order between flat rate boxes. We will do what we can to keep the shipping cost as low as possible.
Present Options
For years, from 2001 to 2021, we sold the Siro European Railing collection. Sometime around 2006 or 2007, Siro expanded that collection to include the 2-3/4" CTC choice. It did come in fine brushed nickel, matte black, polished chrome, matte chrome, and antique brass and oil rubbed bronze for a short period. By far, the fine brushed nickel and matte black were the two popular requests.
We do have other options for 2-3/4" CTC handles besides these two pulls. You can check out these web pages also:
Most other manufacturers tend to favor 3" or 96mm as their standard or popular sizes. And now that longer handles have become more popular, there are millions of choices out there for drawer pulls and cabinet door pulls. Our
Cabinet Knobs and Door Pulls
summary page outlines the manufacturers products that we offer through Eclectic-ware. Century Hardware has some nice choices for longer handles.
This is the only web page within the Long May section of our website. If we look into more handles that they can supply to fill the needs of other discontinued handles, we may expand this section. The 2-3/4" CTC handles have a distinct need. This is why we worked to keep some choices alive for them.