Concealed Hinges - Kitchen Cabinet Door Hinges
Eclectic-ware's Selection of Cabinet Door Hinges
We are showing a small selection of hinges, the 40mm hinges can be used on the Accuride Flipper Door Slides that use to offer. There are many producers of concealed European style hinges. You have Blum, Grass, Salice, KV, Mepla, Amerock, and many others. We offer a few selections from Blum and Salice, shown below. If you are looking for other specialty hinges, they do exist, lots of them. But we really do not get involved with them. There is just too much to keep up with, and it would be too much to stock since case quantity purchases are required on many. So we are just sticking to what works for mainstream applications for the cabinet doors that we offer. Depending upon your type of cabinet and your cabinet opening, concealed hinges can be used for inset and overlay applications.
First shown is a very simple "face frame" hinge.
What is face frame? A normal cabinet box is composed of its two side walls, its bottom, and then generally bracing across the top and back of the box to keep it square and strong. Back of the box meets the wall, top of the box is covered over by a countertop for base cabinets. Upper cabinets will have a 4-side box with an actual roof to them. And then if face frame cabinets, you have what appears to be a picture frame attached to the front of the box, thus covering the front edges of the box. Face frame cabinetry is extremely popular. You will see the face frame. Your doors generally cover over a small part of it. Face frame widths can vary, some as little as 1-1/2" wide, most around 2-1/2 to 3". When it is woodgrain, you want a lot of your face frame to show. This is the reason why you have a face frame, to show it off. So when you open your door, if you have a lip on the fronts of your cabinet, that is your face frame.
Frameless cabinets, or Eurobox cabinetry, does not have a face frame. You would see the edges of the cabinet side walls from the front. They are not covered over.
So for a face frame application, by far the most common application is a 1/2" overlay. This means your door covers over just 1/2" of the face frame on the top and bottom, and then on the hinge side. For a single door over a single opening, then the non-hinge side also covers 1/2". To simplify, your door actually measures 1" greater in width and height than your opening. If you have a pair of doors covering one opening, each door has a 1/2" overlay on the 3 sides, then they meet at the middle usually with just a 1/8" gap between them.
The Blum Compact 38N hinge is a great little hinge to use for this. It is a one-piece hinge and mounting plate combination. Comes in press in (with dowels) or screw on (without dowel) for the hinge cup side that fits in the back of your door. The mounting plate side attaches to the edge of your face frame with one no. 10x5/8" screw (that you very much so should predrill a hole for so you do not split your face frame). The Compact 38N does come in a few other overlays too, but we just stock it in the 1/2" OL size.
All hinges below are sold individually!
Any pictures showing 2 hinges in the picture is just so you can see the backside of the hinge. All hinges are sold individually.
Manufacturer: Blum
Blum 38N355C.08 Compact 38N hinge for 1/2'' OL, screw on mount, 105 degree opening, built in wrap around face frame mount
Add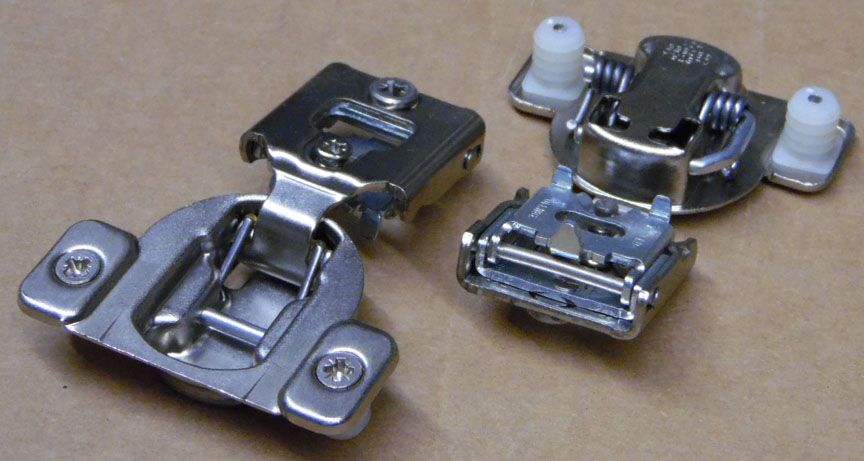 Manufacturer: Blum
Blum 38N358C.08 Compact 38N hinge for 1/2'' OL, press in w/ plastic dowels attached, 105 degree opening, built in wrap around face frame mount
Add
Next: The Blum Compact 33 Hinge
Very similar to the 38N, also a face frame hinge, but two pieces. You have the hinge cup, and then a selection of mounting plates that give you various overlays on your face frame. Note that it is the mounting plate that establishes the overlay. The hinge remains the same, and you do have an option of a press-in or screw-on hinge. Technically both hinges are the same, one just has premounted dowels for pressing-in to the 3 hole bore pattern. When you have just the single 35mm hole, or you removed a hinge and the dowels stayed stuck in the back of the door, then you use the screw-on version of the hinge and use two screws to hold it in the back of your door. We show the 1/2" mounting plate separate from the other choices, because 1/2" is the more popular application.
Note too, that overlay amount that a hinge controls, it controls it only on the hinge side of the door. You do not necessarily have to have, or do have, a uniform overlay on all sides of the door. Some doors hang down a couple extra inches to hide the full bottom of a cabinet, thus the overlay on the bottom is a lot greater. So overlay on the hinge side of a door is controlled by the hinge and mounting plate, on the other 3 sides of the door, it is controlled by the measurements that you order your door in.
Manufacturer: Blum
Blum 33.360 Compact 33 face frame hinge screw-on mount, 110 degree opening, requires mounting plate
Add
Manufacturer: Blum
Blum 33.363 Compact 33 face frame hinge press in mount (will come with dowels even though our picture is not showing it), 110 degree opening, requires mounting plate
Add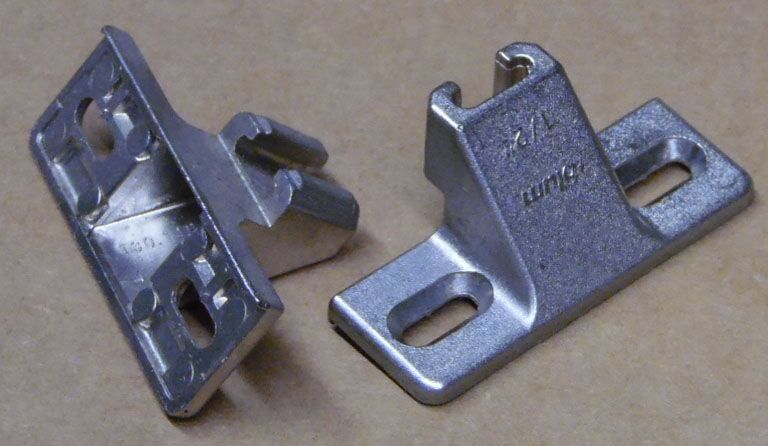 Manufacturer: Blum
Blum 130.1100.23 Compact 33 mounting plate - edge mounted 1/2'' overlay, creates 1/2" overlay on hinge side of your door on face frame mount
Add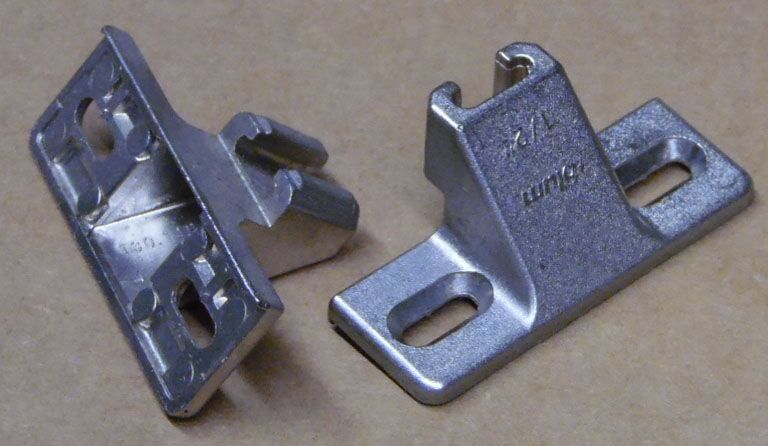 Manufacturer: Blum
Blum Compact 33 mounting plates. There are many overlay choices to select from:
BLU-130.1100.24 for 1/4" OL
BLU-130.1100.26 for 5/8" OL
BLU-130.1100.22 for 3/4" OL
BLU-130.1110.02 for 1" OL
BLU-130.1120.02 for 1-1/8" OL
BLU-130.1130.02 for 1-1/4" OL
BLU-130.1140.02 for 1-3/8" OL
BLU-130.1150.02 for 1-1/2" OL
BLU-130.1160 for 1-5/8" OL
Add
Now some Blum Eurobox Hinges (frameless)
We are showing one CLIP TOP hinge in the standard overlay mount and the same CLIP TOP in an inset mount (has a more pronounce curve in its neck). If you have ordered or are planning on ordering doors from us, Woodmont Doors bores their cabinet doors in the Blum boring pattern. With or without the dowel holes. And at an edge distance of 3mm. Thus, with the 75T1550 hinge below, you will only get 1/2" overlay out of it when the hinge hole is at 3mm edge distance. With Brushy Creek Custom Doors, they also bore in the Blum pattern but offer a choice of 3mm or 6mm. With the 6mm edge distance, that same 75T1550 hinge with a 0mm hinge plate will now give you the normal 5/8" overlay. 5/8" overlay is more common on frameless cabinetry. This way the whole 5/8" thickness of your cabinet side walls and bottom are covered. If you built your boxes from 3/4" thick material, you would still see 1/8". Blum has other hinges that can achieve a 2mm greater overlay. We are not showing that one.
The inset hinge would be used when you planned to have your door mount inside your opening, thus NO overlay. This is not super common, but it is done. We get requests for an inset hinge, so this is why we are showing this one. Both hinges below require a mounting plate. There are various build ups on the mounting plate which lend a hand in reducing overlay. We are just showing the 0mm plate which does not change the overlay and allows for the maximum for the type of hinge you are using. Hinges and mounting plates clip together, snap fit. Thus it is easy to remove your cabinet doors from your cabinet, without disassembling the hardware from your cabinet.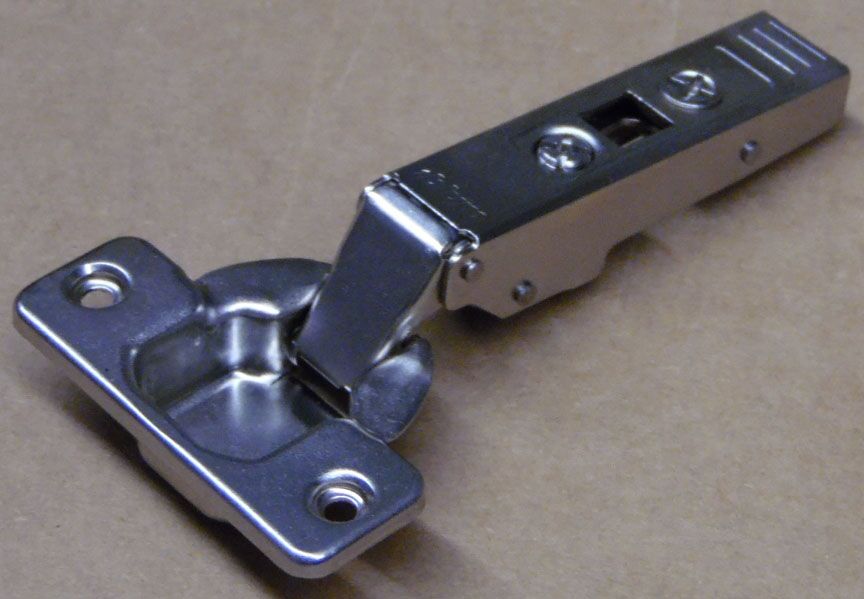 Manufacturer: Blum
Blum 75T1550 CLIP TOP hinge 107 degree opening self-closing - full overlay, Eurobox (frameless) hinge, requires mounting plate
Add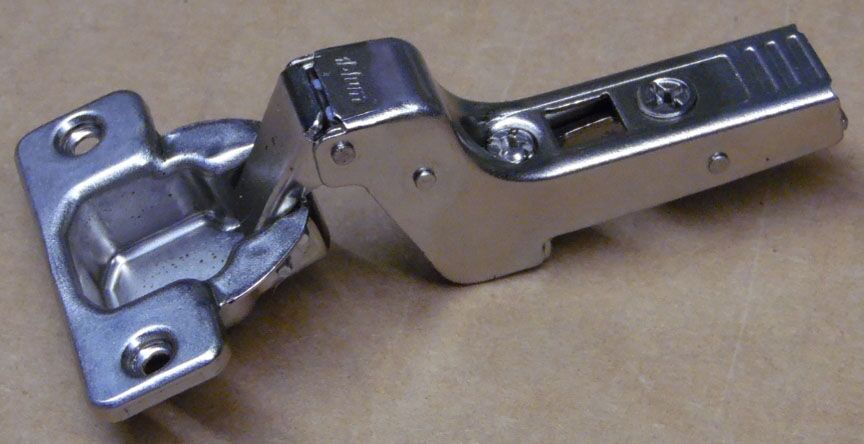 Manufacturer: Blum
Blum 75T1750 CLIP TOP hinge 107 degree opening self-closing - inset application, Eurobox (frameless), requires mounting plate
Add
Manufacturer: Blum
Blum 175H7100 CLIP mounting plate 0mm build up, for use with CLIP TOP hinges
Add
Lastly, this is the 40mm Salice Hinge
The Blum hinges shown first on this page are 35mm hinge cup holes. That is an industry standard. Many other hinge producers design their hinges to coincide with the Blum boring pattern.
This is the Salice F Series hinge. We show it because it is used with the Accuride Flipper Door Slides. It is also considered a thick door hinge. Most cabinet doors are 3/4", but some could be thicker. You use a thick door hinge on heavier and thicker doors. Thus this hinge is stronger. And, if you have the Blum Boring Pattern, it's NOT GONNA WORK. This hinge requires a 40mm bore hole, not the 35mm. You can use them on cabinet doors if you like, although it might be a bit of overkill. Larger pantry doors are a better idea. Or if you happen to have 7/8" or 1" thick doors - which is not common.
Hinges are a clip style hinge, they snap onto the mounting plate. The mounting plate is necessary, it is a combination hinge and mounting plate system. You have a choice of self-closing or free-swinging. Self-closing pulls the door closed when it is close to being closed, and then holds it closed. Free-swinging has no spring, doors float and stop where you stop pushing them. Mounting plate is 0mm build up.
We had some semi-concealed hinges in the past. We are hoping to pick back up a line or two of those when we can. Semi-concealed means that you see some of the hinge when the door is closed. Thus they are meant to be decorative, and not fully hidden.
Check back periodically, we may add to this page.