Rock Solid Solid Surface Cabinet and Bath Hardware
Kitchen and Bathroom Hardware made from solid surface material brands!
Match your Corian®, Formica Solid Surface®, Avonite®, Hi-Macs®, Staron®, Wilsonart Solid Surface®, or
Meganite®
solid surface countertops and bath surrounds.
For those who have solid surface countertops in your kitchen or bathrooms, you are in luck. For the kitchen: Corian and Wilsonart solid surface knobs and handles. Along with Staron and other solid surface brands. Switchplates to match your backsplash and counters. And for the bathroom: towel bars, soap dishes, TP holders, corner shelves, shower niches, along with cabinet pulls to match your Corian showers, tub surrounds, and counters. Hardware made from real Solid Surface materials.
Rock Solid bath accessories will complete your bathroom. Whether your style is modern or traditional, Rock Solid cabinet and bath hardware will emphasize the solid surface look of your bathrooms and kitchen. Matching wall and backsplash switchplates in normal and custom cut out configurations from single wide to 5-banks wide.
Cabinet knobs and handles will bring your counter top color onto the face of your cabinet doors and drawer fronts. And then, the corner shelves, which are mainly for shower and tub areas, can also be used in the laundry room or kitchen too. Add additional shelf space where you need it.
You have just found your source for solid surface decorative cabinet knobs and pulls, bathroom hardware, shower corner shelves, and custom switchplates!
Corian and Wilsonart Solid Surface matching cabinet knobs. Other brands of Solid Surface too.
Shower caddy niches, towel bars, TP holders, soap dishes and a few other items made from solid Corian or other solid surface brands.
Several design choices of cabinet handles. A few available with metal accents and in multiple sizes.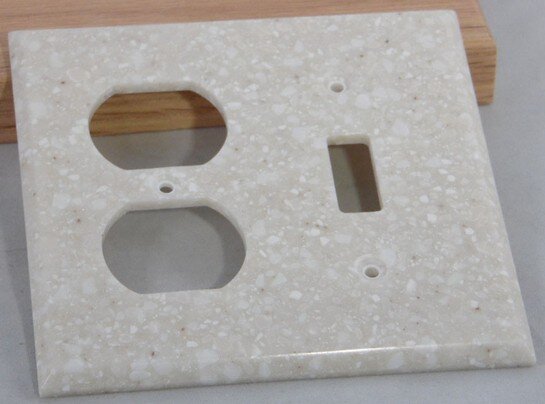 Corian Switchplates and other Solid Surface brands for electrical plate covers. Custom configurations available.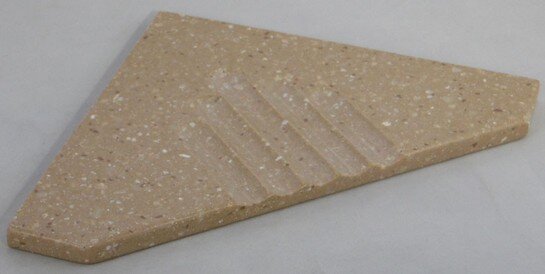 Available in triangular shape and a quarter circle arch front shape. Four sizes each, can come smoot top or with soap drain grooves. Hundreds of colors!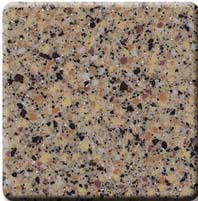 View the images that we have currently of the Wilsonart Solid Surface selections.
Rock Solid is one of our custom hardware lines. All items are made to order.
And made right here in the USA.
About ordering Rock Solid cabinet pulls, switchplates, bathroom hardware, and corner shelves:
This section is important to read. All Rock Solid hardware items are custom made. They have set styles and designs, some of which come in multiple sizes. On triple, quad, and 5-bank switchplates, you can customize the cutout order. All items can be made in ALL COLORS of Corian, Wilsonart Solid Surface, Formica Solid Surface, Staron, Meganite, Hi-Macs, Avonite, or most any brand of "solid surface." Surfaces such as Caesarstone,
Silestone, Soapstone, and Cambria
that contain Quartz, or others that contain real hard stone, CANNOT be used.
Because there are a thousand or more colors of solid surface, this means Rock Solid can potentially produce tens of thousands of specific items. Of the thousand plus colors of solid surface, Rock Solid might have 100 to 150 of those colors on hand. How they operate is that they collect the unused scrap pieces from kitchen and bathroom countertop installs within the reasonable reach of their geographic area. So they do not have stock on all colors. More or less, they generally have the more popular requested colors. Some in abundance, others possibly in very small amounts. And as colors come and go, sometimes they will have older discontinued colors until they are used up. So the scrap pieces can be small, or sink cut outs, or portions of sheets. This allows them to make their various knobs and pulls, corner shelves, and bathroom hardware items. It also allows them to keep costs in check as purchasing solid surface sheets can get quite expensive.
With that said, all Rock Solid items can be ordered via our shopping cart, but you will have one extra step at the end of the cart process. When you reach the page to finalize your order with your credit card info, we suggest treating the order as Quote First. Thus, you can skip entering your credit card info for now, BUT do make sure to enter your solid surface Brand Name and Color Name in the Comments Field. If you are requesting any custom switchplate cutouts, you can list that info too. THEN, we will contact Rock Solid before processing your order to find out if they have that color on hand, and enough of it. If you would like to list your first or second alternate color choice too, we can check on multiple colors. Because they might have 150 colors on hand and 850+ colors NOT on hand, we would prefer to find out first if they have your color choice on hand before finalizing your order. After we find out, we will update you.
Sidenote: If you have ordered from us, and know that colors like Glacier White, Sahara, Mojave, Cameo White, Beige Fieldstone, Sandstone, and several dozen other super popular colors are pretty much always available, you can finalize your order with your credit card information. Your order will be processed by a person, so if we are in doubt about Rock Solid having a color, we will always check first.
About the thousand or more solid surface colors:
Important note continued: If you have some left over pieces from your countertop install, and they are of sufficient size, we can have Rock Solid make your requested items from your material. You will still need to tell us the Color name in the last step of the ordering process, or you can enter"Customer Supplied Material" and finalize your order. We will get back to you and inform you of how much will be needed and the address in Wisconsin to ship it to.
Rock Solid can also order colors that they do not have. But this gets expensive. They cannot just order a square foot or two, it doesn't work that way. They have to order by strips, half sheets, or full sheets of solid surface. When they do so, this results in hundreds of dollars in added costs, and they pass that full cost onto the customer. So if you can select from one of their available colors, or supply your own material, this will save in having material acquisition fees.
This note pertains primarily to commercial customers. We have had hotels, schools, and other businesses request hundreds of corner shelves, or dozens of recessed shower caddies for larger projects. Thus, when Rock Solid needs to make 28 shower caddies for example, they normally do not have that much material on hand. And thus, they will need to purchase material to produce a larger order. So larger orders generally will have a material fee. Unless of course you supply the material, which could lead to an expensive shipping expense to get it to them. Nonetheless, for larger orders, most likely there will be a material fee. So for any large order, we will Quote It First. This only makes sense. Additionally, on larger orders, we do offer volume discounts. So at quantities of 25, 50, 100, 200, or 400+, we can keep incrementing the discount that we can offer. Which in most cases could offset the material fee. We cannot discount the material fee because we do not mark up anything for the material fee. We are making our profit on the product, not the added expense to make it.
(The volume discounts also apply to personal orders for homeowners, or anyone who is purchasing a lot. We know a homeowner is not going to buy 50 corner shelves, but they may order 50 or more switchplates, or a ton of knobs or pulls for their kitchen.)
Thus for larger orders, you could go through the shopping cart process if you like. But it will be far easier to just e-mail or call us with a quote request.
E-mail is best
. Then we can ask Rock Solid, and update you when they quote us.
Rock Solid orders shipping charges:
The amount Rock Solid charges us per order varies and they never waive shipping charges. So we have developed an easy system, and thus extend a reward for more modest size orders.
Our shipping schedule for Rock Solid orders is: (for the US 48 Continental States)
Orders from $X to $99.99, shipping cost is $15.50
Orders from $100 to $199.99, shipping cost is $11.50
Orders from $200 to $299.99, shipping cost is $7.50
And orders of $300 or greater, we will waive the shipping.
(Shipping charges will not be automatically displayed in the shopping cart. This is something the human takes care of when typing up your order.)
Orders going to Alaska, Hawaii, Puerto Rico, USVI, or Guam will come to us first. We will be charged inbound shipping and will apply that according the schedule just outlined above. And then we will ship via US Priority Mail with insurance to these locations that have US Zip Codes. Priority Mail is far less expensive than UPS or FedEx off the US continent. The Flat Rate boxes can offer great results at such a low shipping cost.
For Canadian orders, and orders to Australia, the UK, and other countries, your order will also come to us first. We will then ship either International First Class Mail, International Priority Mail, or potentially UPS Worldwide service. To countries or areas that we are uncertain about, we will use UPS Worldwide Saver for better protection against loss or misdirection. To Canada, Australia, and the UK, we do not encounter any problems with the US Mail System. But to Mexico, France, and a few other countries, we will use UPS or FedEx. Just the experiences we have encountered with lost mail in these countries, and do not intend to experience further.
For foreign orders, we can most certainly quote shipping in advance. It will be the weight or size of the package that determines the shipping rate, not necessarily the order value. Fifty cabinet handles can weigh equal to a recessed shower caddy, but have a value as twice as much. So shipping is based primarily on weight and the country it is going to.
If you have any questions about shipping, color availability, or our Rock Solid ordering process, please contact us prior to ordering. We will get you your answers.
E-mail us
.