Omega-National section index
Omega-National wood plate display racks
This is a nice addition to a kitchen. Allows for vertical storage of your dinner plates, or some fancier plates that you want shown out in the open. The racks do not display the face of the plates as individual plate racks do, UNLESS you stagger the front to back placement of the rack to have the plates at more of an angle like below. These plate racks are designed for function to keep from having a tall stack of heavy plates taking up half of a cabinet. Yes, the plate display still takes up space, but it does make for easy grabbing and putting away of dinner plates. And this concept has been around a very long time. It is nothing new to kitchens, yet new kitchens are incorporating them into their designs more and more every day.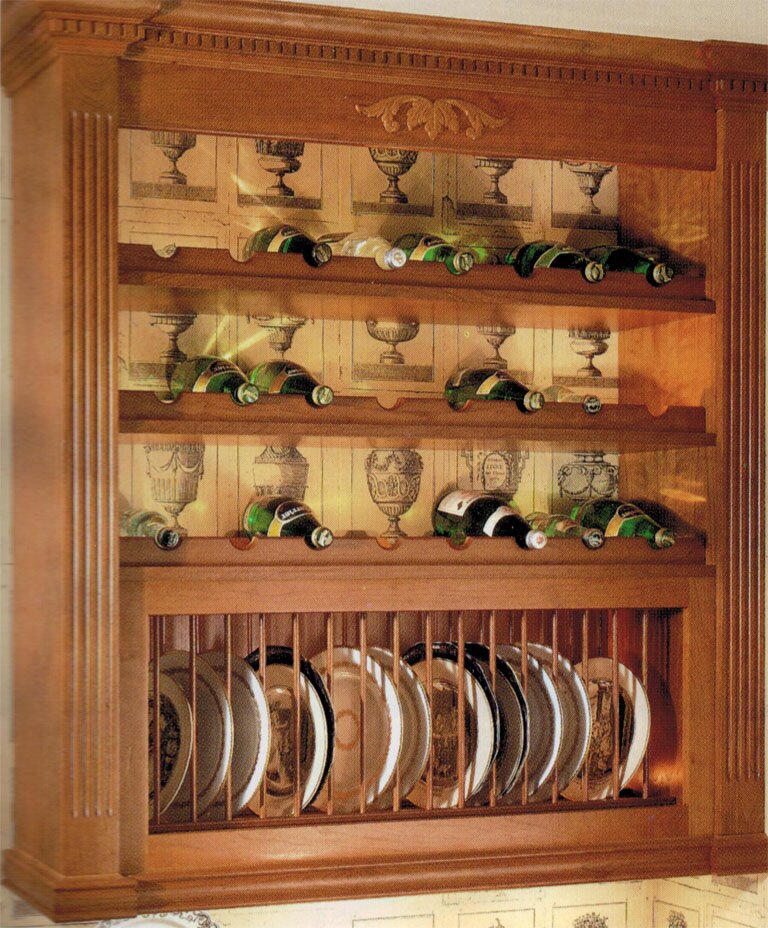 About the plate display racks
Plate Displays packaged as a kit, unassembled, can be cut to length.

Fine sanded and ready for you to finish, can clear coat, stain, glaze, or paint.

Available in oak, cherry, maple, and hickory. See additional notes below.

Top and bottom rails are 34-3/8" long.

Beaded dowels are 12" tall.

Top and bottom rails are drilled 2" on center.

Each kit contains 2 pre-drilled top rails, 2 pre-drilled bottom rails, and 32 beaded dowels. Complete front and back.

Some installation tips
You most certainly want to stain or paint everything first. For all 32 beaded dowels, or however many you choose to use in your width, finish each one individually. The top and bottom rails can be screwed, or screwed and glued to the top of your cabinet box and the bottom. Note the length of the dowels is 12". So you will end up with around 11-1/2" of height to insert your plates. You will of course be mounting the back portion first.
Special note about the top and bottom rails. The top rails have deeper holes bored into them. This is to allow you to slide the dowel up and into the upper rail, align it and let it sink into the hole in the lower rail. Thus, the dowels can remain loose if you choose. You do not have to glue them in place. You can if you want, but you have an option of leaving them loose. Advantages of loose dowels is that you can take a few out of the front piece as often as needed to reach in and clean or dust the inside of the cabinet. If glued in place, you are not going to reach in that cabinet. But if glued, you always can create the front assembly to pull out of the cabinet by removing the screws holding it in place. It is personal preference whether you glue the whole thing together tight, or leave it with the beaded dowels loose so you can remove them from time to time. Not everyone thinks of both choices, this is why we mentioned it here.
(And we never thought about this, but in the picture above, the wine bottle racks seem to have more sparkling water bottles in them than wine.)
Ordering Notes:
As of 4-10-23, we have 2 Maple kits and 1 Cherry kit left in our stock. Oak and Hickory are no longer in our stock, but still available. BUT by box quantity only, which is 6 sets. Omega-National is imposing that we purchase these in box quantities, which is composed of 6 sets. We do not want that many in our stock. So we can still offer all 4 woods, but after what is left in our stock is gone, then all 4 wood choices will become a minimum of 6 kits per purchase.
Lead time is generally 3 to 5 weeks for us to receive them, or we can set the 6-pack up as a direct ship to you. Then the lead time is 1 to 3 weeks for Omega to produce them.
Omega-National website section pages: