Product Categories Eclectic-ware Hardware Selections
Products Summary Index by product type
This is kind of the index for the sub indexes. A guide to skip into the section of products for your need today. We have over 200 pages on our website of various cabinet and bathroom hardware products. No way can we show them all on this one page. There is a text outline with links on the
Sitemap
page. The Sitemap link will be present in the bottom left corner of all web pages for when you may need to use it.
This page is a quick reference for the more specific product summary pages. In the footer of all web pages in PC and Tablet modes, we have a Shop by Category list. On mobile devices, not enough room in the footer, so it is removed and replaced with one link that says Shop by Product Category, which brings you to this page. Summary pages are for information only. They give you an idea of similar products that are available, or how some products relate to others. Use these pages like those forks in the road to get on the right road.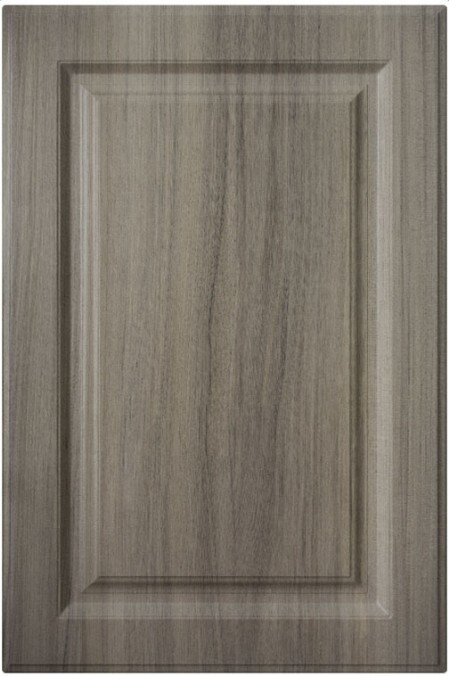 We now have the very extensive line of 3D laminate doors from Brushy Creek Custom Doors. Raised panel, recessed panel, and slab designs. Lots of profile choices, and 70+ thermal foil colors. We also offer wood doors from Woodmont Doors which can come prefinished or unfinished. Woodmont has an array of refacing choices to include veneers, moldings, cut to size plywood, and more. And then, we still do offer Walzcraft Doors. But in our massive website rewrite that has gone on for 10 month of 2019, we haven't quite gotten to updating that website section yet. When we do, we will be showing some very nice doors from Walzcraft. For now, your head will already spin with the choices from Brushy Creek and Woodmont.
We offer a huge array of ceramic bathroom hardware from
AC Products
. Lots of colors, lots of choices. We have
Lenape
bath hardware. Solid surface bathroom hardware. Many selections of shelves that can be used in bathrooms and kitchens. Pretty much, we try to summarize bathroom related products on this page.
We offer cabinet and display lighting from Hera Lighting. And then some LED spotlights and specialty lights from the Hafele Loox LED line. We also have the Hatch 12 volt halogen transformers as replacements for the discontinued Hera halogen transformers. On the Lighting Fixtures page, we have links to the same three pages we just linked to, and some specific links to some of the lights that we have chosen to highlight.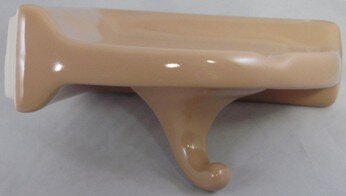 One picture cannot possibly represent the choices of shelves that we offer. We have lots of ceramics, and then glass, Corian, some granite, and technically even wood shelves. This page will guide you in the right direction for your needs.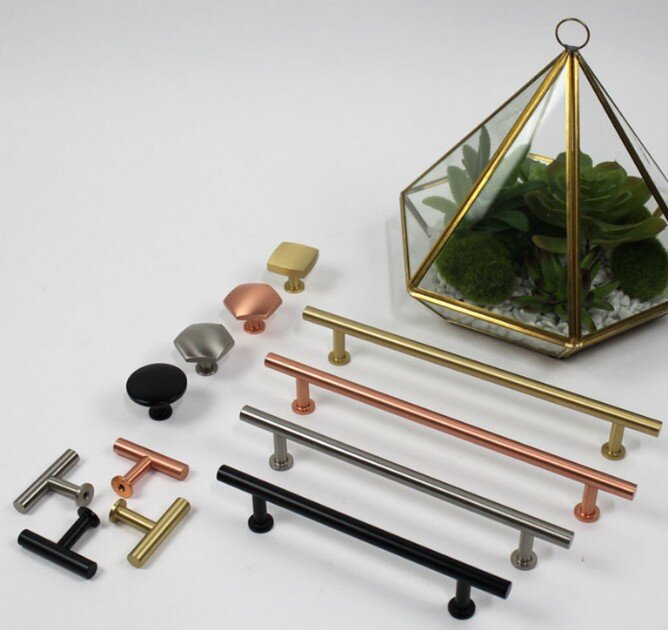 We offer decorative knobs and drawer pulls from several manufacturers. Of which, they all offer something different and generally eclectic. It's a bit too much to summarize in this short paragraph, so go onward to this web page to learn a little about what each manufacturer produces.
Ever wished for more space in your kitchen? Well, there are ways to at least organize it and potentially gain more useful space. We offer some unfinished wood products from Omega-National that help in kitchen organizing. We also have waste can slide outs that you can neatly hide in one of your base cabinets, and even make it door mounted. Some shelf choices will be outlined on this page too. Kitchen organizing solutions are something we plan to expand upon. Check back with us now and then to see what we may have added.
Wow. How do you really define furniture hardware? Say we are planning an elaborate living room entertianment center. The kind shown in the picture above. We have custom sized cabinet doors. We have cabinet door knobs and hinges. There are shelf cubbies to display nick-nacks, books, or DVD's. There is a TV set possibly on a swivel or pull out arm. And there is most certainly low voltage accent lighting. So whether you are constructing a chest of drawers for your bedroom, a living room end table, or the fancy-dancy full wall entertainment center, half of what we offer can be called furniture hardware. A kitchen cabinet door, or a door on an entertainment center are the same kind of door. Cabinet knobs and pulls are used everywhere, even on file cabinets and desk drawers. Wow, desks. We actually offer unfinished tambour in a 47-3/4" wide by 37" tall size for the super talented woodworkers making roll top desks. We will try to throw some things together on this summary page, but near half of the website can be called furniture hardware. (Fireplaces we do not do. We have our limitations....)
This is how we have chosen to organize our website. More so by product relations and grouping similar brands together by category. The choices on this page are the same choices as the Menu bar across the top of the screen. That is for those of us still using PC's and laptops. As your screen becomes narrower, the infamous Hamburger menu appears. Those 3 horizontal lines that you tap to expand to see 200+ page choices. Which drives some of us nuts. But we have to have a way to get around on a website. The search box at the top and bottom of all pages will make life easier, but only if what you call some things is the same as what we call them. We call a towel bar a towel bar. Yet it can be called a towel holder, a towel rack, a towel rod, towel hanger, towel hook. We try to antipicate variations on the terms, but cannot think of them all.
Unlike some websites, we actually do offer phone support for the products. As well as taking orders over the phone. If you do not find what you are looking for, you can always ask. We will let you know if we offer it or not. And phone orders are just fine for anyone feeling more comfortable ordering over the phone. Our general phone hours are 9 to 5 Monday to Friday, Eastern time.
Some of the products that we offer like custom made cabinet doors, custom sized stainless steel handles, and the solid surface products have extensive custom criteria to them. All are custom made, and made to order. Thus products like this are non-returnable because they have been made special for you. And they create a shopping cart challenge. So many will have their own custom ordering forms that are set up where you can achieve receiving a quotation first. Then decide later whether you would like to proceed as an order. Whenever you need help with our home improvement products, call or e-mail us. Eclectic-ware is customer service oriented.
One of our old press releases from July, 2015: