ELite-LED XL as SlimLite XL replacement
Hera Lighting section index
The Best way to upgrade from SlimLite Fluorescent to LED
And the best choice for also replacing SlimLite-LED XL with a lesser expensive light.
The ELite-LED XL (pronounced E-LIGHT) is a great and economical way to upgrade from Hera SlimLite fluorescent lighting to LED lighting. The ELite-LED XL will use the exact same cables and connectors as the SlimLite XL, both T4 and T5 sizes of the SlimLite. Thus, you can re-use your existing cables. This light runs from 120 volt household current just as the SlimLite does. The ELite-LED XL can connect end to end using the SDC/XL direct connector to create longer runs, or be spaced apart with various connecting cables. The energy use is half of the T5 Fluorescent lights and you still get the same brightness, probably a spec more. The estimated lifetime of the ELite-LED XL is more than double the T5 XL fluorescents.
And for anyone looking for SlimLite-LED XL light replacements, the ELite-LED XL is the perfect solution.
We keep the Hera ELite-LED XL in Stock in ALL 5 lengths and in both 4000K and 3000K.
And all of the SlimLite XL power cords, connecting cables, and hardwire boxes.
Product Features:

120 Vac LED with integrated electronic driver
Available in five lengths: 1' (5W); 2' (9W); 3' (12W); 4' (15W); and 5' (18W)
Available in 4000K cool white, and 3000K warm white

Finish: white housing with white frosted lens, very lightweight
50,000 hours useable life
Good CRI > 80, Efficacy > 77-90 lm/W
Fixtures can interconnect with direct connectors or connecting cables
Can mix lengths to create the overall length you need for your application, brightness even across lengths
Can be powered via a plug in power cord, or hardwired with SHWC/XL or SHWC/S/XL hardwire boxes
Magnectic mounting clips available for mounting to metal surfaces such as coolers
XL version is a two prong plug system, not grounded like the ELite-LED normal version
Light output almost entire length of fixture, extremely narrow end collars
EPH certified to NSF/ANSI 2 for use in food applications

When selecting the ELite-LED XL below, choose your first length needed and add it to the shopping cart. Then when in the cart, select continue shopping to come back to this page to continue to add other length lights, and accessory options. The ELite-LED XL can be used as a completely new set up. We do suggest though, for a completely new set up, starting from scratch, not just replacing lights, use the 3-prong grounded version of the ELite-LED. This XL version is for a very easy and convenient upgrade from SlimLite XL, both T4 and T5 sizes. And for replacing SlimLite-LED XL lights.
ELite-LED XL Cool White 4000K choices:
ELite-LED 3000K Warm White choices:
Available now. Available in all 5 sizes, it took a few years, but as of November 2022, Hera has now made the warm white version availble. And we are stocking them.
So if you are upgrading from SlimLite XL or SlimLite-LED XL, and you need warm white, the warm white ELites in the XL version are here!
Ordering Notes:
The XL version of the ELite-LED is generally purchased as an upgrade from the Hera SlimLite XL, both T4 and T5 sizes. If you are planning a completely new system, then we would like to refer you to the normal
ELite-LED web page
. With the normal ELite-LED, you have the option of warm white or cool white, and you will have a grounded (3-prong) light system. But if you are looking for a quick and easy way to replace or upgrade from fluorescent lights, stay on this page.
Lights are packaged individually and will come with metal mounting clips. If you have really old SlimLites, you may still have plastic mounting clips. Discard them, install the new metal clips. No cables or cords come with the lights. Those are all purchased separately. But when upgrading, if you have all your cables and cords in place, you can reuse them.
A couple of important notes about disconnecting your existing cables: a) after time, the cables seem to "lightly weld" themselves to the lights. They might not want to come off and can offer some resistance. And they do push down upon the light when they were installed. NOT in from the end, but pushed down onto the light. So you will want to pinch them a bit in an attempt to loosen them. To remove them, you may need to pinch and wiggle them as you attempt to pull them from the light, while holding the light securely, do not expect the mounting clips to hold the light sufficiently when tugging on it. If you encountered the blackening of the ends of the SlimLite bulbs before replacing bulbs, those ends became hotter as the bulbs reached the end of their life cycle. Thus more heat occurred at the ends of the fixture. And it is heat that causes the cables to stick to the ends more. So you may have to coax the cables off.
The second important note: b) when removing cables, power cords, or direct connectors, sometimes a pin on the input end of a light will break off in the cable. No big deal for the light since you are scrapping the light and upgrading to a new light. But it might make the existing cable unable to be re-used with a chunk of the pin stuck in it. Attempting to remove it with needle nose pliers "might" work. No promises. The pin may really be stuck in there. So if you do end up needing a new cord or cable, those are shown next on this web page.
The ELite-LED XL lengths do not correspond 100% to the SlimLite XL T5 lengths. Pretty much they are 1" to about 1-7/8" shorter than the SlimLite T5. So if your interconnections between lights do not have any extra slack, that could be a problem. Prior to upgrading, you may want to tug on your connecting cables lightly to see if you do have some extra slack. The XL Pin connection cables and accessories are different from other Hera lights:
they do not connect to themselves
. They are designed to push down over two pins on one end of a light, and push down over two round sockets on the other end of a light. So if you run into a situation where you need more reach to connect a light, you might need to splice some wire. Don't be afraid of that, SlimLite cables are pretty much just common lamp cord. We are here to answer your questions. If you have a situation, let's attempt to work it out.
Light thickness (across measurements):
We meaured the T4 SlimLite as .73 inches wide, and .76 width on the mounting clip.
On the ELite XL, these are .86 inches wide, and the total clip width came out to 1.00 inches.
This information has been requested by customers who have had tight spaces. So we have added it to this page.
If you happen to need any of the XL Pin connecting cables, cords, or hardwire boxes, we have added those parts below.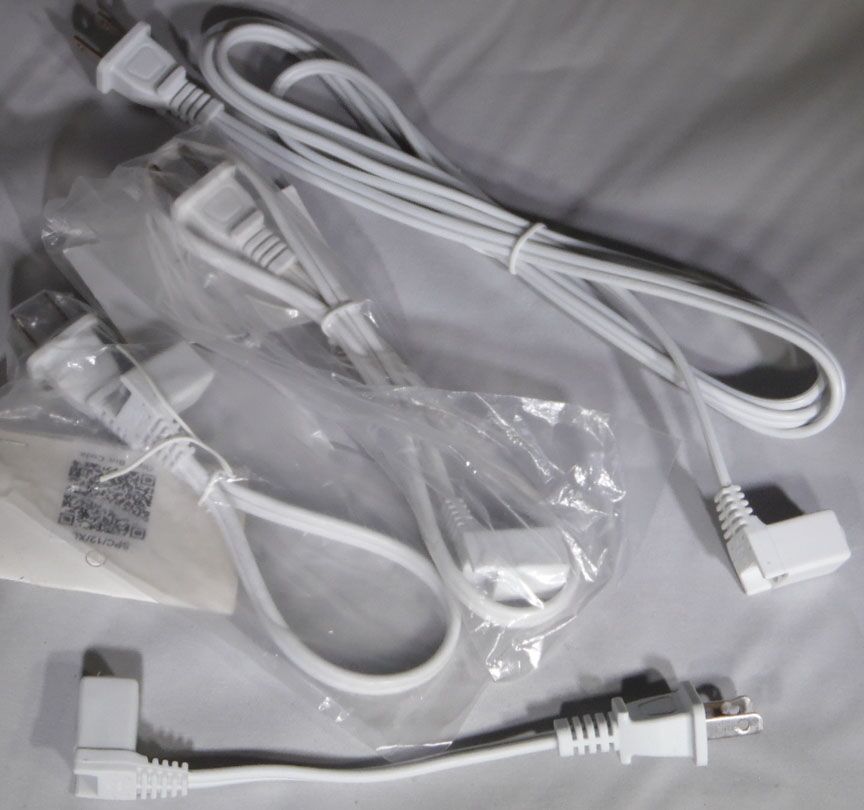 Hera SlimLite XL
Hera HER-SPC/XL power cord 72'' long for SlimLite T5 and T4, XL pin connector
Also available in these lengths:
HER-SPC6/XL 6" long
HER-SPC12/XL 12" long
HER-SPC24/XL 24" long
Add
Hera SlimLite XL
Hera HER-SPC/S/XL power cord 72'' long for SlimLite T5 and T4, XL pin connector - has in-line roll switch for easy on/off operation

Add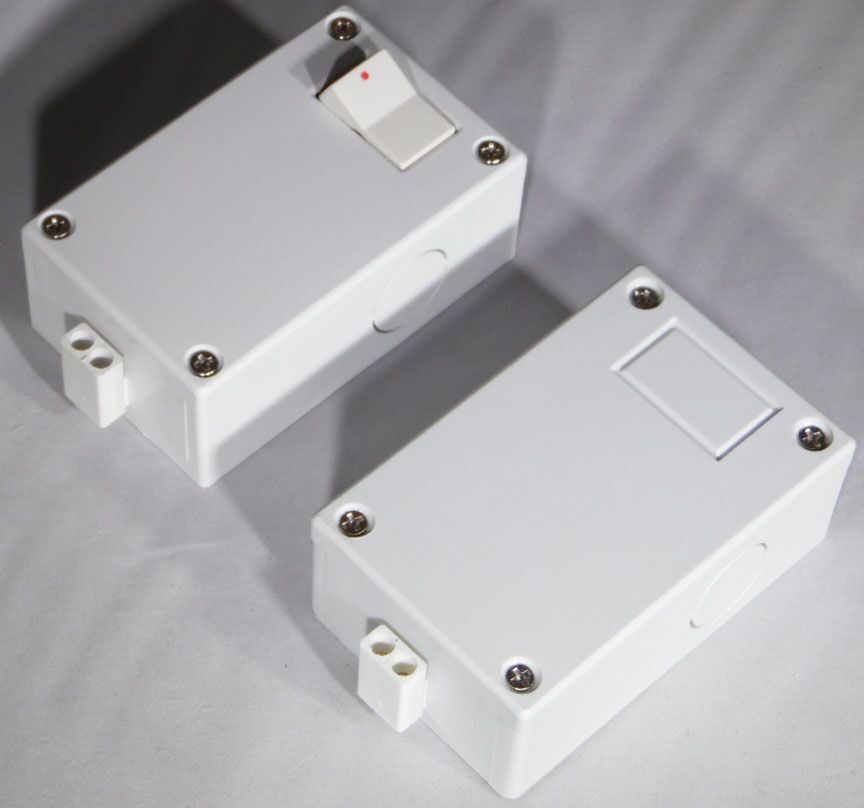 Hera SlimLite XL
Hera HER-SHWC/XL hardwire box for SlimLite XL, has XL output port
Also available:
HER-SHWC/S/XL hardwire box with switch
Add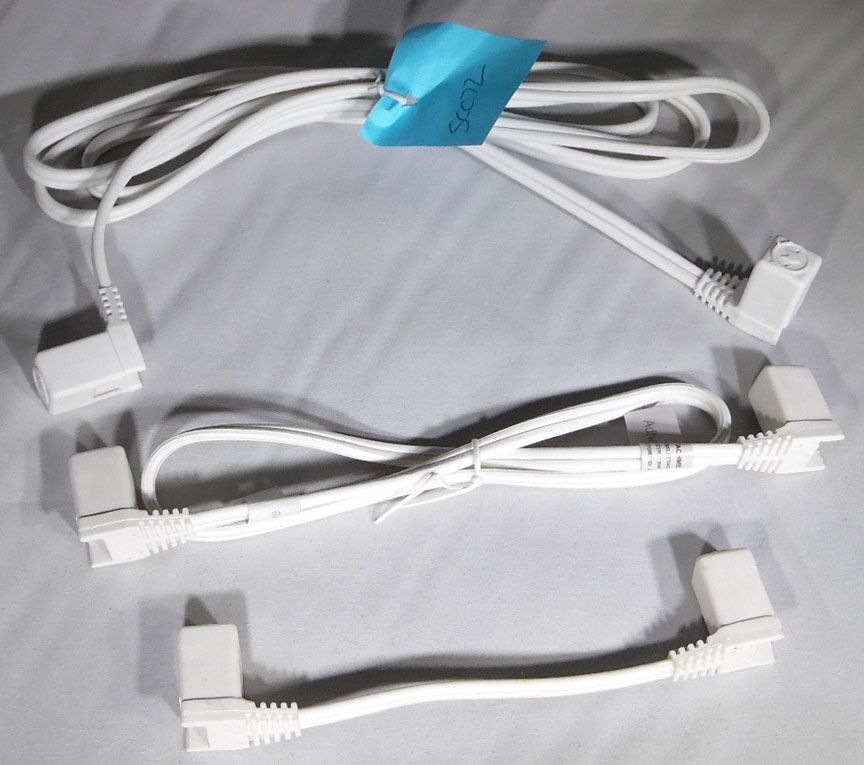 Hera SlimLite XL
Hera HER-SCC(insert length)/XL connecting cable for SlimLite T5 and T4, XL pin connector
Select from these lengths:
HER-SCC6/XL 6" long
HER-SCC12/XL 12" long
HER-SCC24/XL 24" long
HER-SCC48/XL 48" long
HER-SCC72/XL 72" long
Add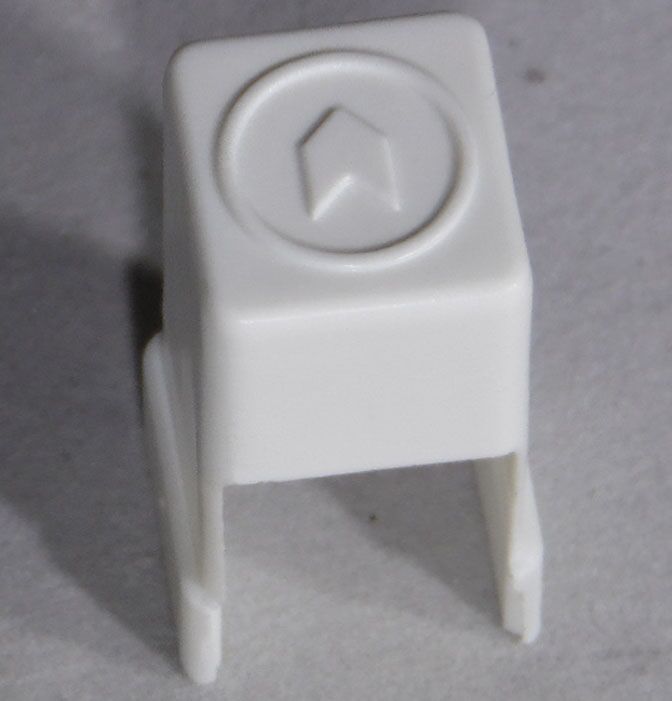 Hera SlimLite XL
Hera SDC/XL direct connector for SlimLites, XL pin connector
Add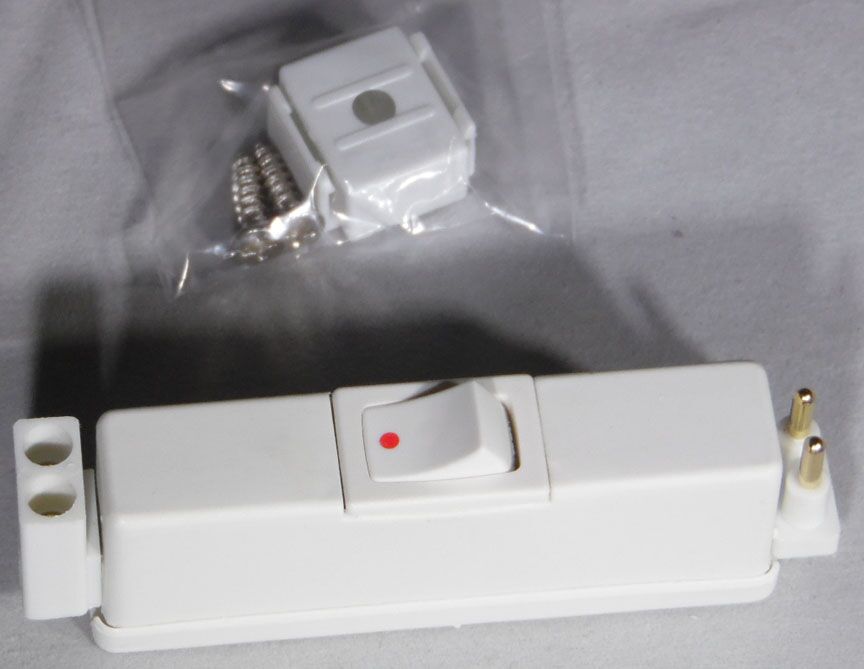 Hera SlimLite XL
Hera SRS/XL on/off rocker switch for SlimLite XL, comes with plastic mounting clips
Add
In regard to replacing the T4 SlimLites, here is what we can tell you. First a few descriptive photos. If you are on a smartphone, you will have a lot of scrolling and reading to do in that narrow screen format. But the below info is important if you require more info.
Showing the EL/LED/22/4000/XL and EL/LED/12/4000/XL with the 20", 13", and 10" long Hera T4 SlimLites.
Showing from top to bottom: ES13CW 13" long T4 SlimLite; EL/LED/12/4000/XL T5 ELite-LED XL; ES10CW 10" long T4 SlimLite.
These are the INPUT ends of the ELite-LED XL and SlimLite T4. Pin connectors are the same. Notice though how the ELite lighted tube area extends almost all the way to the end of the light.
And this is the output end of the lights. For the ELite-LED, ELite-LED XL, and SlimLite XL, there are distinct in and out ends for power flow.
This is the 13" cool white T4 Slimlite (ES13CW/P on left) shown on with the 11-11/16" cool white ELite-LED XL EL/LED/12/4000/XL. Both being powered from the same power cord. Thus if you are replacing just one SlimLite in a string of lights, you can. Please take a close look at the ends of the SlimLite. The Slimlite has its fixture ends and then the bulb mounts between those. Then the bulb has its end collars. So do you notice how the ends of the SlimLite are not lit. Then look at the ELite-LED XL. The light output area of the tube is almost the entire length of the light. No dull spots on the ends. When connecting the ELite-LED XL end to end with direct connectors, they look like one really long light with no break points.
The ELite-LED XL version now comes in both cool white and warm white.
The ELite-LED grounded version comes in both warm white and cool white also.
Ordering notes continued as they pertain to the T4 SlimLites:
The five pictures just above are to help with this speech. Hera chose to discontinue the T4 size of the SlimLite in 2018. Prior to 1999, the T4 size was made with blade style connectors, different from the XL Pin style that they were upgraded to. So some really old T4 SlimLites are still out there and still working. If you have those, time to just upgrade everything since we have nothing to retrofit to them, unless you want to cut and splice some cables.
But for the XL version of the 20", 13", and 10" SlimLites, here is what you can do and need to know about the two shortest sizes of the ELite-LED XL.
Before we sold out of the T4 SlimLites, we measured them. The ES20 (DL18) was 20-1/8" overall. The ES13 (DL10) was 13-3/32" overall. And the ES10 (DL07) was 10-1/8" overall. Why the DL numbers? The lights had 18 watt, 10 watt, and 7 watt bulbs. Thus older lights were marked as DL18, DL10, and DL07 instead of ES20, ES13, and ES10. The ES numbers refer to the LENGTH, and the DL numbers refer to the WATTAGE. They are the same lights, just called two different things.
The EL/LED/12/4000/XL we measured at 11-11/16" overall. And the EL/LED/22/4000/XL is 21-7/8" overall. This is from the outside of the XL pin connectors, the full length, not just the length of the barrel of the light. Hera's measurements seem to pertain to the body of the lights, less the end connectors.
So what you have to do is look on the underside of where your T4 lights are mounted and determine if you have extra space for the ELites to fit. If you have the 13" SlimLite, that is the easy one. The 11-11/16" long ELite fits real well in place of it. But if you have the 10" SlimLite, you must make sure that you have 1-1/2" more space (length) to fit the ELite. If you don't, then this will not work for you. And on the 20" SlimLite, if you still want to cover as much distance with a new light, you will need 1-7/8" more room for the ELite EL/LED/22/4000/XL. Refer to the first of the four pictures above for that visual.
Retrofitting the T4 SlimLites with the ELite requires some pre-measuring. And measure twice to be certain. The T5 girth size of the Elite is only a bit bigger than the T4 SlimLite. ELite measures 7/8" wide and 1-3/8" tall. SlimLite T4 is 21/32" wide and 1-5/16" tall. Generally the increase in size of the T5 is not an issue. It is the lengths you have to plan around.
Cost note: the 12" ELite is 5 watts, the 22" is 9 watts. The SlimLite T4 are 7, 10, and 18 watts. You will be using half as much electricity. The ELite-LED XL is rated for 50,000 hours. The SlimLite T4 had bulbs that lasted about 5,000 hours up to 10,000 hours. You will not be changing bulbs every few years any more. Nor will you have the heat emissions. The T4 SlimLites did get hot. The ELite is a very very low heat light. So although you will pay about twice as much for the ELite as you did for the T4 SlimLite in the past, you have virtually "no maintenance." Install them and use them. No bulbs to change, no shields to replace, and less juice in running them. And when matching to the 5 lengths of T5 fluorescent SlimLites, the ELite-LED-XL are approx. the same price as the SlimLites were.
End of speech....
Hera Lighting summary of cabinet and display light types: