T4 SlimLites and Replacement Bulbs
Hera Lighting section index
T4 Fluorescent SlimLite with XL connecting system
Hera discontinued their SlimLite T4 in the summer of 2018. We still have some stock on the 10" and 13" lengths, in both warm white and cool white. The 20" size has completely sold out,
but we show a substitute you can use lower on the page.
We will keep a running total of how many we continue to have left and update it on this page each time some of them sell. Eventually, they will all be gone. So the SlimLite T4 isn't really being offered as a new light system any more, even though, all those we have in stock are brand new unused lights. For a new light system set up for linear lights that operate on 120 Vac, our recommendation is to review our
ELite-LED web page
.
We still have LARGE stock on the SlimLite T4 size replacement bulbs and those are shown on this web page. We will continue to offer the replacement bulbs as long as they last and note when the quantities remaining start to get low.
Product Features:
120 Vac LED with built-in electronic ballast
Availability: stock remains on the ES10CW, ES13CW, and ES13WW. Quantity updates lower on page.
Energy efficient at 7 watts (DL07 for ES10 fixture), and 10 watts (DL10 for ES13 fixture)
Remaining fixtures are sold with bulb and cover within them
Fixtures can interconnect with direct connectors or connecting cables for short to long runs

Available connectors, cords, hardwire boxes, etc. if you need them are shown on the SlimLite XL T5 web page
All cables and connectors used with the T5 SlimLites are the same for the T4 XL style
Notes about really old SlimLite T4, prior to 1999 with different connections, lower on page
Notes about how to use the ELite-LED XL as a replacement for SlimLites on the ELite-LED XL web page
Ordering Note about stock status:
As of March, 2020, our remaining stock on the 10" and 13" fixtures will be shown below. We will update it as it changes.
The 20" long fixtures are completely sold out. (Hera discontinued the T4 size SlimLite in the summer of 2018.)
To use the ELite-LED XL in lieu of the SlimLite, we have extensive information on the
ELite-LED XL
web page.
And we also show the ELite-LED XL HER-EL/LED/22/4000/XL on this page, since that is the best substitute for the ES20 SlimLite, a.k.a. DL18 light.
For the hundreds of thousands of customers, if not millions, who do have the ES20CW light (DL18) in their homes or businesses, here is our substitute recommendation. The ELite-LED XL. We do have a whole web page set up for that light. It does come in 5 lengths. But we are going to show the 22" light on this page due to the 20" SlimLites being completely sold out. The EL/LED/22/4000/XL comes only in cool white. It will be a tad brighter than the SlimLite and offer more length of light. Thus it is NOT a direct replacement, because it is about 1-7/8" longer overall. YOU MUST have that extra space for it to fit into. And when you look at it, notice that the lighted area of the tube is almost the full length of the tube. Not like the SlimLites were you lose about an inch of lighted area on each end. So overall, the ELite will throw more light, look nearly the same and the SlimLite, and connect the exact same way. You can re-use all your existing cables and cords. The light will come with mounting clips. It is a T5 size (diameter), thus a little more girth, but only a little. So you will mount the ELite mounting clips in the same place your SlimLite clips are in. The ELite is extremely lightweight, it has no glass. And it is rated for 50,000 hours, no bulbs to ever change.
If you have multiple ES20 SlimLites connected end to end, you do not have to use one 22" ELite per SlimLite. If your SlimLites are direct connected to each other, you may be able to use the 34", 46", or 59" ELite-LED-XL. Such as, if you have 3 of the 20" SlimLites end to end, one 59" ELite could work in the place of those 3. So, for more info on the
other ELite-LED XL sizes
, select that link.
Manufacturer: Hera Lighting
Hera ELite-LED XL, part # EL/LED/22/4000/XL, COOL white version, T5 size, 4100K
Has XL pin connector ends to easily use for upgrade from flourescent SlimLite XL,
21-7/8" long, 9 watts, 793 lumen
Add
If you are looking for T4 replacement bulbs, we still have good stock on them. If you happen to need any replacement Plexiglas shields or mounting clips, these are available separately also. When ordering multiple sizes of bulbs, add your first choice to your cart and select continue shopping in the cart to return to this page.
And note this about the 7, 10, and 18 watt bulbs. The ends of the bulbs have white plastic caps. These are spacer caps, not insulator caps. They are on the bulb ends to make the bulbs more snug in the fixtures. The newer fixture grew about 1/16" to 1/8" about 10 years ago. We do not know why, we just know, some of the older lights are a tiny spec shorter. Thus, the new bulbs with these caps appear to NOT fit in the fixtures. So, the caps are removeable, but not necessarily easily removeable.
We suggest this: DO NOT just try twisting them off. Why? Because you may twist the end of the bulb off. There is a metal cap on each end of the glass that is hidden by the white plastic caps. If you pinch and twist, odds are pretty strong you will twist the metal cap loose, and ruin the bulb. It is better to take an Exacto knife or other easily controlled small razor blade and cut the white caps off. Slice them from the ends and a little down each side, and then peel them off. DO NOT slice all the way down the side of the cap as it extends past the metal cap and overlaps on the glass. A sharp razor can cut the thin glass. So you slice from the thicker end, down the side a little, on two sides, and peel off the cap. Start with just one, that may be enough to make the bulb fit. If not, take off the second cap. It is a little bit of work and we have no work around for it. This is just how Hera had the newer replacement bulbs made. ALSO, be careful. Work slowly. Take extra caution not to cut yourself. This is why an Exacto knife (razor on the end of a pencil like shaft), will be easier to control than a box cutter or utility knife.
The T4 SlimLite bulbs are specialized sizes. There are off brands out there that definitely do not work. But if you do have a bulb that appears to be 1/8" too long, removing the white plastic caps will most likely allow it to fit.
NOTE: Please review the measurements carefully in the pictures below. We have had a few customers report bulbs that are near 1/4" shorter than the sizes we have posted below. Not sure where those bulbs (or fixtures) came from. But when you measure your existing bulb, and it is 5/32" or more shorter than the measurements we posted, the bulbs we have are NOT going to work. Hera first made the T4 size Slimlites in Korea. Then they were changed to the XL pin style. Then they were made in China. So there is the potential that some of the very old SlimLites will not be receptive to the current bulbs.
And now a little history lesson....
The first version of the T4 SlimLite had what was called blade style connectors. As shown in the picture to the right or just below. Both ends of the light were identical, it did not have distinct in and out ends like the XL Pin connector style do. It was around 1999 when Hera changed all SlimLites to the XL Pin style so the cables, cords, and hardwire boxes would all be the same for the T4 and T5 sizes. And also enable you to use the T4 and T5 sizes together on the same power line when needed.
There are many blade style SlimLites still working today. We still get requests for them. But they have been gone a very long time. So if you still have some of the blade style that are still working and just recently failed, there isn't a quick and easy fix to just replace a light UNLESS you have some that are connected together with connecting cables. Many customers have spliced half of an old blade style connecting cable to half of a new XL connecting cable to make an adapter to go from the old to the newer style lights. So that is the only way we are aware of to continue to use some of the old that are still working with some of the new as replacements. At one time, Hera did have a blade to pin style direct connector adapter, but those are no longer available either.
It is hard to say how much longer your really old SlimLites could last. It may be time to consider upgrading your whole system to LED. When you have something custom built around the specific lights, it can be difficult or near impossible to just upgrade. We do have the
Stick3-LED lights
which come in 8", 12", and 24" lengths. Combining an 8" and 12" end to end would be a 20" light and that could work in lieu of the 20" SlimLite. Stick3-LED lights are low voltage and do require an LED power driver. They are also dimmable, which would be a nice upgrade over your old SlimLites.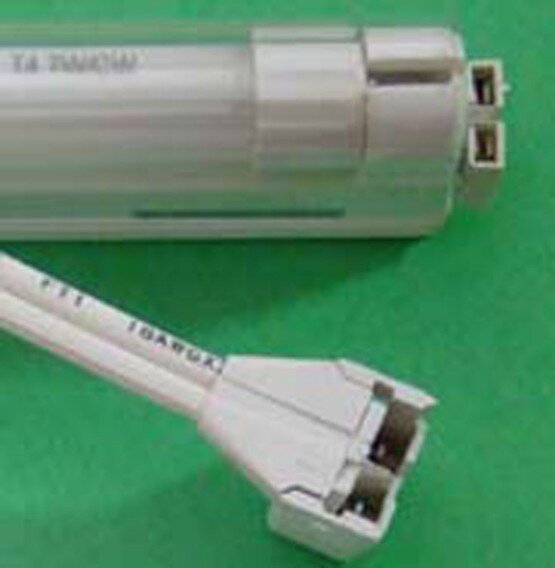 Special note to Subway and Dunkin Donuts restaurants
The Hera SlimLite T4 is very popular in your food display cases, especially the 20" length. We still have replacement bulbs for you as noted higher on this page. But the fixtures are quickly becoming unavailable. You can replace dead fixtures with the ELite-LED XL and continue to use your existing SlimLite cables and cords. We know rewiring a case sometimes is not the thing you want to do. So the
ELite-LED XL
might be the solution for you when you need to replace lights.
Depending upon how your lights are set up, if you have 20" lights spaced apart with cables and have a little extra room, the 21-7/8" long ELite can take the place of the 20" SlimLite. If you have 3 of the 20" SlimLites connected end to end, you could replace all 3 of those with one 59" ELite. We can help you with your set up if you can tell us or show us via pictures of what you need to do. If needed, you can send pictures and messages to this e-mail:
cabinetlighting@verizon.net