Hera Replacement Lighting Parts
Hera Lighting section index
Remaining Halogen, Xenon, and other Hera Lighting parts
Please do not have high hopes as you travel down this page. The majority of Hera Lighting replacement parts that did exist in the past pertained to light systems they have now completely discontinued. This page was once vibrant and strong and full of solutions for broken pieces on lights and how to fix them. Now the page is ready to file for Social Security. There is not much left. But being the informative chap that everyone has made me out to be, I will show what still remains of any replacement parts, and what might be able to be done to replace the lights that you have.
There are some parts available that will not be on this page, because they are specific to light systems that we have created other web pages for. They are:
This page will have any remaining decor rings and glass lenses for halogen lights (extremely slim pickins). And any halogen or Xenon bulbs, and a few other odds and ends. Again, the page is on life support and when these items sell out, that is it. Most have been discontinued since 2015 or earlier.
We will also reference what is COMPLETELY gone so you do not have to spend your time calling Hera, or hunting elsewhere, hoping to find any trace of the parts. For the most part, we were one of the few Hera distributors that was willing to offer some of these parts and then continued to do so as supplies became scarce or ran out. In 2015 and 2016, we were lucky to buy out a lot of the old remaining halogen inventory. Some sold out real fast like the E1 decor rings and glass lenses. A few parts have still lasted us until today. There were some lights that were problem childs and required replacement decor rings and lenses, and there were some that held up incredibly well with extremely few problems. We will help the best we can from here forward.
Here are what parts we have left:
(We do have extended info about the DR12 rings much lower on the page, best to review that.)
ABOUT THE DR12 RINGS shown first below. They
DO NOT
fit the Hera E1 light. How do you know if you have the E1 light? You have to see the back of the light. Not the back of the ring. The DR12 rings are FLAT. The E1 rings have a faint curve rise to them. The DR12 rings will not, and cannot be made to work on the E1 lights. Please read our
E1 Light Difference paragraph
much lower on this page.
Hera Close Out Lights
Hera HER-DR12__ decor ring for KB1220 and KB12LED lights, SELECT finish, rings measure approx. 2-9/16" diameter, about 1/16" tall, and have that groove cut in the face
CHOOSE FROM:
HER-DR12WH white ring (hundreds of the white rings in stock)
or HER-DR12CH chrome ring (108 left in stock)
(stainless steel, black, and gold finishes sold out)
Add
Hera Close Out Lights
Hera KBGLCL clear glass lens for the KB12 lights and Tri-tech lights, approx. 1-7/8" diameter and extremely thin
Lens is CLEAR, not frosted. Frosted lenses sold out.
(46 left in stock)
Add
Hera Close Out Lights
Hera EB10 econo line halogen bulb 10 watt (JVC box), estimated 1500 hour life
(17 LEFT IN STOCK)
Add
Hera Close Out Lights
Hera PB10 Premium 10 Watt halogen bulb G4 bi-pin OSRAM, estimated 4000 hour life
(4 left in stock)
Add
Hera Close Out Lights
Hera PGLFR frosted glass lens for ARF/ARFS light only (1-15/16'' dia., approx. 1/32'' thick)
(Many left in stock. Not a commonly requested part. Seldom breaks.)
Add
Hera Close Out Lights
Hera X-B18W Xenon 18 watt bulb wedge base, for XR1 and XS1 lights, approx. 8,000 hour bulb life
(16 left in stock)
Add
I know, pretty sad, isn't it. But we have been selling off what remains for 4-1/2 years now and there just isn't much left.
NOTE:
The DR12 white and chrome rings, as well as the KBGLCL glass lenses fit ONLY the KB12 lights. If you have the E1 lights, which are the same diameter, you will
not
be able to make them work. They are for the KB12 halogen or KB12-LED lights only.
Figuring out which halogen light I have?
Here are some helpful pictures to help identify your light. First, this sticker, the 9F85 and E166912 is on every light. They are UL numbers and NOT the part number for the lights.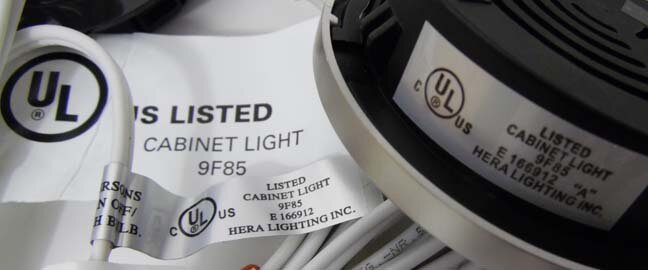 This picture is the fronts of the four popular halogen lights from the late 1990's up till 2015 when they were all discontinued.
From left to right: E1 light (also called ER1 and ES1); KB12 light; ARF light (also called ARFS); and the Xenon light XR1/XS1.

And here is a rear view of the same 4 lights so you can see the part numbers on 3 of them.
Part number on the E1 light is under the embedded Hera logo as part of the black casing. Says E1 under it. ER1 just meant the light was packaged for recessed mounting, and ES1 meant it was packaged with the surface mount ring. The KB12 light says KB12/20 on the metal shield. The KB12 light packaged with the 10 watt bulb did not contain the metal heat shield. The ARF light clearly says ARF in the middle (sometimes says K103 on it too). The Xenon light never had a part number on it. Don't know why. But on the side of it, it says use 18 watt bulb and has a sketch of the bulb. It is also 3-1/8" in diameter, so easy to figure out.

Now a summary of what part are all gone. Some of our pictures are the old pictures, so please bear with them.
Hera E1 light parts: EDR decor rings and EGLFR and EGLCL glass lenses.
ALL completely sold out. No substitute or knock off versions available that we are aware of.
(To save you and to save us some time, if you call us, and ask us about if we have any of these parts left, or where else you can find these parts, the answers will be no and I don't know. We were one of the FEW Hera distributors that even chose to offer replacement parts. And to the best of our knowledge, we were probably the last distributor that had any parts to the end. So very doubtful that any of their other distributors would have anything. And Hera does not provide us with names of their other distributors. Technically, they would be our competitors. So we can offer some
light substitutes
for some of the older Hera lights. But any lights or parts noted as being gone or sold out, sorry, they are all gone.)
What do I do now?
Yes, this is a question that we have been asked a lot. Parts are gone, no way to repair your existing lights. But we do have a solution for a replacement light. It is an LED light, and it can fit in the same 2-1/8" hole if yours are recessed. If yours are surface mounted, there are surface mount rings also. The replacement LED lights we are referring to are also 12 volt, just like your halogen. So for anyone who has the Hera E1, EH11, or KB12 halogen lights, these 12 volt LED lights can work in lieu of them. Please review these two web pages:
Loox 2020 LED lights
|
Loox 2047 LED lights
(E1 refers to ER1 or ES1, says E1 on the back casing of the light. EH11 is the H11 light, so EH11 and AH11 are the two versions. KB12 will say KB12 on the back of the light.)
Hera EH11 light parts: DR decor rings and GLFR glass lenses.
ALL completely sold out. No substitute or knock off versions available that we are aware of.
Hera KB12 light parts: DR12 decor rings and KBGLFR glass lenses.
Almost all gone. White and chrome rings still remain in small quantities. Some clear lenses left. All frosted lenses, gold, black, and stainless steel rings are gone. Parts remaining can be ordered by using the shopping cart items higher up on this page.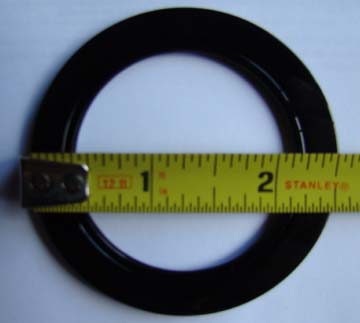 Hera XR1/XS1 light parts: X-DR decor rings and X-GLFR glass lenses.
All parts are now gone. (11-22-19) All decor rings and all lenses are sold out. These parts were also discontinued in August, 2015. We still have some of the Xenon lights in stock, which do come with a ring and lens on them. We show those on the
What's left with halogen page
.
Difference between E1 and KB12 lights
Parts for the E1 and KB12 ARE NOT INTERCHANGEABLE. If you purchase some of the white rings we have left in abundance, the DR12WH, they fit only on the KB12 light. They will not work on the E1 lights. The way to tell the difference: on the back of the light (yes, you would have to remove it from its hole), the E1 says E1 in the plastic casing. The KB12/20 has it printed on the metal shield. The KB12/10 does not have a metal shield, but it should still have a sticker that says KB12.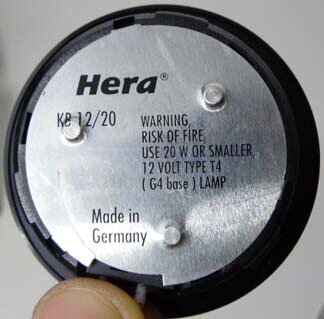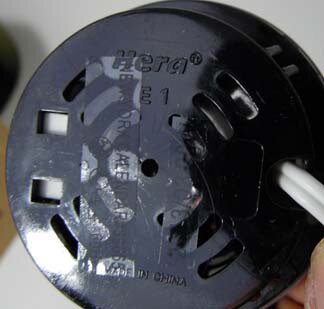 Note the KB12 decor ring thinness. This is a side view of the DR12 decor ring. Although they are the same diameter as the EDR decor rings for the E1 lights, they are NOT interchangeable. Light part numbers can be found on the back of the light. Next two pictures show the backs of the discontinued E1 and KB12 halogen lights.
If you need parts for the E1 lights, Sorry Charlie. All gone. E1 Lights are all gone too. Do check out the
Loox 2020 LED light
and the
Loox 2047 LED light
as the
BEST BEST BEST substitutes
for your older halogen lights. Make the switch to LED. We can help with your questions. (The model 2047 lights are lower priced.)
Any parts for the very old KH12 light are all gone. The KB12 decor rings and lenses DO NOT fit the KH12 light, don't even try.
There were many other distance rings and spacer rings for various lights. Maybe a few odds and ends exist, but those parts normally never go bad.
20 watt G4 halogen replacement bulbs are all gone, a few 10 watt remain and are shown higher up on the page.
We sourced the bulbs only from Hera. They are most certainly still made and can be found at Home Depot or Lowes (until LED completely takes over).
The MR11 bulb that was used in the EH24 halogen light can also be found at the giant hardware stores.
For a while, Hera made a 3 watt LED replacement bulb for the FluoroSpot light. The LED bulbs are long sold out. And now the 7 watt bulbs are all gone too. This was a squiggly fluorescent bulb inside a round plastic casing with two gold nubs on the backside. We have no idea of where to find replacement bulbs for the FluoroSpot fixture now.
If we missed remembering any parts, we will add notes to this page when we can. And as things change, more will be removed from this page.
And since the decor rings and lenses are all gone for the E1 and EH11 lights, and nearly gone for the KB12, our suggestion for a replacement cabinet light that will fit into the same 2-1/8" hole is the
Loox 2020 LED light
or the
Loox 2047 LED light
. Definitely consider reviewing that web page.