Hera Replacement Lighting Parts
Hera Lighting section index
Remaining Halogen, Xenon, and other Hera Lighting parts
And what to do in lieu of everything being discontinued and sold out....
This will be a long page. This is how we will have it organized so you can jump to a section that relates to what you are looking for. Some sections will provide a link to another of our web pages with more extensive info about that particular lighting product.
A) Hera PS24V (old STICKPS24) constant voltage LED power drivers, and PSLED constant current LED power drivers.
B) Hera SlimLite XL T4 replacement bulbs and Plexiglas shields.
C) Hera SlimLite XL T5 replacement bulbs, fixtures, cables cords, shields.
D) Halogen light parts: pretty much nothing left.
E) Xenon lights still in stock, NVK cables, ETD1 dimmers.
F) Substitute halogen transformer for E60T, OMN60LT, UE-E60FT, UC-60FT, UK-120-TW.
G) What to do in lieu of the halogen rings and lenses being long discontinued.
H) A summary of the old halogen lights to help you tell them apart, and what to do now.
I) Any of our leftover LED lights, still brand new, a quick summary and how to order
Be prepared to read and learn. There is a lot on this page.

A) Hera LED Power Driver Replacements
Since most everything is converting to LED, the LED power drivers, both constant voltage and constant current, are products still being made. If you happen to have the older
STICKPS24/30/HE, STICKPS24/75
, or even the
STICKPS24/06
LED power drivers, part numbers have been converted to
PS24V
prefixes. Still available in 6 watt, 30 watt, 75 watt, and a 96 watt. Part numbers, pricing, and pictures are shown on our
LED Low Voltage Power Drivers and Dimmers
page. If you have a
PSLED, or PSLED/A, or PSLED/18
, the current replacement drivers are the
PSLED/10 and PSLED/DIM/S
. Also shown on that same web page. Please proceed to it if you are looking for replacement LED power drivers, related dimming accessories, and various cables are shown on that page too.
B) Hera SlimLite XL T4 Replacement Bulbs
The T4 size bulbs DID come in 7 watt, 10 watt, and 18 watt. We have an abundance of the 18 watt left. A trickle of the 7 watt, and the 10 watt are all gone. The fixtures had come in 10", 13", and 20". All T4 fixtures are sold out. On the
SlimLite T4 Reference Information
page, we will show the remaining replacement bulbs, replacement Plexiglas shields, AND a solution to upgrade to the
Hera ELite-LED XL version
as a fantastic substitute for the old SlimLites. When you look at your SlimLite bulbs, they generally have printed on them T4 7W CW or WW, T4 10W CW or WW, and T4 18W CW or WW. The number represents the WATTAGE, not the length. CW is for cool white, WW is for warm white. The T4 refers to the diameter of the bulb. Any 4 digit number below it is just a batch number and not important.
Go to the T4 reference page link to place bulb orders and see a lot of information about the T4 SlimLites. Even a little history about the first version of them from the 1990's.
If you have T5 size bulbs for the T5 Slimlites, the T5 bulbs are larger diameter and fit only in the T5 SlimLites.
T5 SlimLite page
.
C) Hera SlimLite XL T5 size fixtures and replacement bulbs, cables, cords, hardwire boxes, etc.
The SlimLite XL T5 size was discontinued in the Spring, 2021. Certain sizes are sold out, but some sizes are still in stock. Fixtures, bulbs, shields, connecting cables, power cords, hardwire boxes, mounting clips are shown on this page. Accessories made for SlimLite XL T5 still is available BECAUSE they all work with ELite-LED XL. Thus if you needed any connecting cables or power cords for your XL version T4 size SlimLites, you will find those on this page too. Please go to our
SlimLite XL T5 fluorescent fixtures and bulbs
page to place orders and review all information on them.
D) Halogen Lighting decor rings and glass lenses
Actual remaining light rings with quantities are ordered from this web page. Info immediately below. Only white rings for the KB12 light are left. Hera discontinued all halogen lights and parts in 2015. More info lower on the page to show you old data to help you identify your lights. But now, there is really nothing left in halogen parts. Below info is for reference purposes.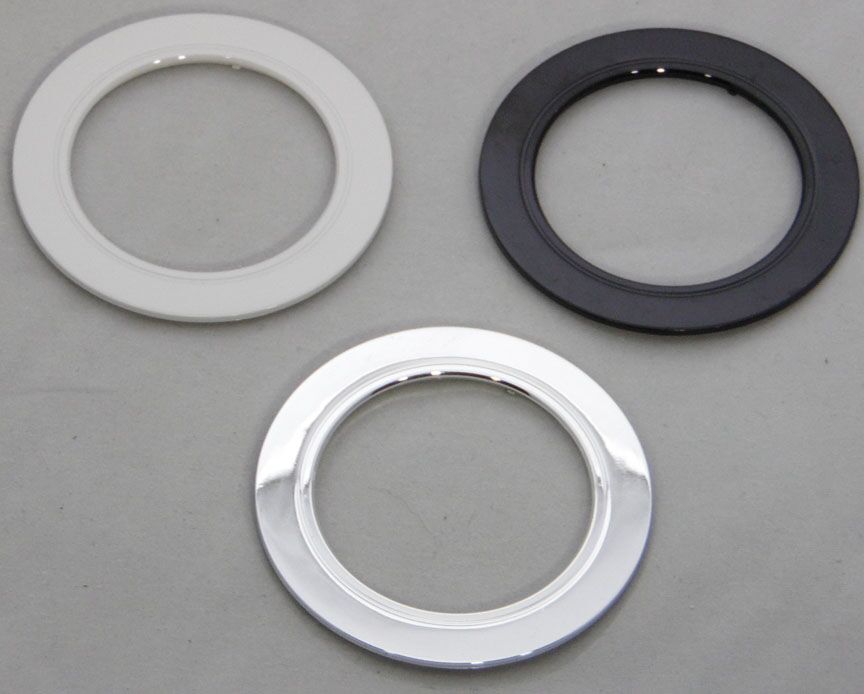 Hera Close Out Lights
Hera HER-DR12WH white decor ring for KB1220 and KB12LED lights, rings measure approx. 2-9/16" diameter, about 1/16" tall, and have that groove cut in the face, WHITE FINISH, works only on the KB12 light - DOES NOT FIT THE E1 HALOGEN LIGHT!
(19 left in stock, as of 9-25-23)
Add
LOOK before you Leap!
Before you decide to order the HER-DR12WH rings above, make sure that you actually have the KB12 light.
This is the only light that the DR12WH ring fits. If you have the Hera E1 light, it is true that it is the same size in diameter, but the rings are DIFFERENT. See this very next picture. These were the EDR rings for the E1 light. Approx. 2-9/16" in diameter, sometimes they measure at 2-1/2". They are approx. 3/16" tall. The DR12 ring for the KB12 light is flat, 100% flat and only 1/16" tall. The next 3 pictures below will show you how flat the DR12 ring is from its edge view. And then a picture of the back of the E1 light and the KB12 light so you can tell them apart. We are giving you this info so you do not accidentally order the DR12 rings for your E1 lights.
They will not work
.
We have been selling off what remains since 2015 and there just isn't much left.
These next few images are for reference only. None are links. None expand larger. Some are a few of our very old pictures.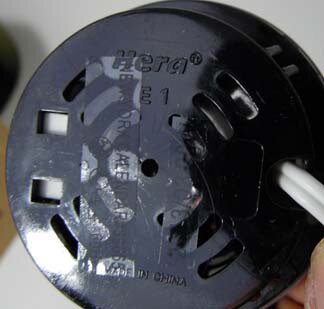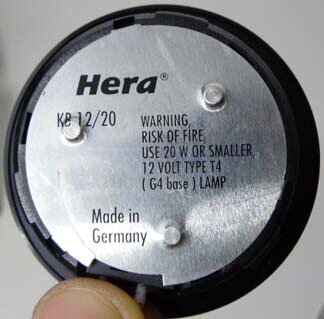 A Quick suggestion for what to use now in place of your E1 and KB12 halogen lights
Closely related to the E1 and KB12 discussion in this part of the page is what can I do now? We have THREE fantastic LED lights to use in place of your old ER1, ES1, and KB12 lights. These also work for the EH11 and KH12 lights, and the Tri-Tech light replacement.
All 3 of the above choices will fit into the 2-1/8" diameter hole for recess mounting. All 3 have options of surface mount rings for surface mounting. The 12 volt lights work excellent on Carver Yachts, Formula Boats, and other marine vessels. They have a twin lead wire attached to them. Connect them directly to your old halogen wires and run them from the 12Vdc on your boat. For home use, you will use them with their 12 volt LED power drivers in place of your old halogen transformers.
The 24 volt 3038 light is brighter than its 12 volt cousins. So in home use or on boats running at 24 volt (European), the 3038 light is very nice. Looks nearly the same as the old KB12 and KH12 lights. There will be a lot more info about each on those 3 pages, and the ability to order from those pages. Pricing and pictures are shown. We just wanted to mention them here because if you want to fix your Hera E1 or KB12 lights, about the only fix is to replace. And these are the best replacement choices that you will find.
E) Xenon lights still in stock, NVK cables, ETD1 dimmers
For a while, we still had a stockpile of old Hera halogen lights to offer. From 2015 to 2020, the stockpile was reduced to nothing. But a surplus of the
Xenon lights
still exists. As well as the
ETD1 touch dimmer
, and a lot of extension cables. So all of that is shown on our
Halogen Under Cabinet Lights
page. The XR1 light worked the same way as the halogen, it connected to the same transformers and worked on the touch dimmers. You can see what we have remaining by going to that page. Note, the XR1SS Xenon light requires a 2-5/8" diameter hole to recess into. The E1, KB12, EH11, and KH12 halogen lights fit into a 2-1/8" hole. So although the Xenon light may look like the E1 and EH11 lights, it NEEDS that larger hole to fit into. It can also work on boats directly from the 12Vdc. And some boat actually have used the Hera Xenon lights in them. Measure your recessed hole diameters, that is important.
F) Substitute halogen transformer for E60T, OMN60LT, UE-E60FT, UC-60FT, UK-120-TW
This is one we get asked about a lot. All of the Hera brand transformers are long sold out. Years ago. BUT! We found a 12 volt, 60 watt, CLASS 2 high quality replacement transformer. It will work on all Hera 12 volt halogen and Xenon lights. It is shaped differently and it is a 3-prong plug instead of 2-prong. But it works! It also comes with a 3 year warranty. Thus it is a high quality product. Not the cheap 12v transformers you find all over the internet. Hera transformers were Class 2. They have burn out protection, overload protection, and they were high quality. So we wanted an equal replacement and found one. Go to the
Low Voltage Halogen Light Transformers page
to learn a lot more about the
Hatch PS1260 transformer
. And you can order from that page.
G) What to do in lieu of most of the halogen rings and lenses being long discontinued
It can be confusing. What do I do when I cannot find my exact light? What works in place of it? Who can help me? The answers are here.
In section D above, we explained about 3 Loox LED lights that you can use in place of the E1 and KB12 lights, as well as the EH11 and KH12 halogen lights. No need to repeat all that info, just scroll back up a little to view the 3 link choices for the Loox
2020
,
2047
, and
3038
lights.
Now we will show you a few pictures that will help you identify the E1, KB12, EH11, and ARF halogen lights.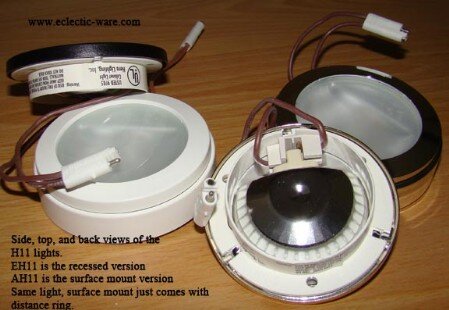 Hera EH11 halogen light. Approx. 2-15/16" in overall diameter, fits in a 2-1/8" hole. Easy to distinguish by its D-shape reflector inside the light. Usually says H11 on it somewhere.
Hera ARF and ARFS halogen light. The S after ARF just means surface mount as you can see by this picture. Light is about 3" in overall diameter, and it fit in a 2-11/16" hole. The best and pretty much only substitue light is the
FR68-LED light
. The ARF light will say ARF on the back, and it has 2 triangles on the front pointing to the release clips to pull the lens ring out.
The KB12 halogen light. Measures 2-9/16" in dia., fits in a 2-1/8" hole. The 20 watt light will have a metal shield on the back and say KB12/20. The 10 watt light does not have a metal shield on the back, may have a sticker that says KB12. The ring on the front has a distinct groove cut in its complete circumference. And the ring is flat across.
The infamous E1 light. Referred to as the ER1, the ES1, the ER120 and ES120. The back of the light has the Hera logo embedded in the plastic and then E1 under it. The R or S in the part numbers, or kit part numbers represented recessed or surface mount. This is Hera's economy halogen light. Extremely popular in woodworking, and super popular on Carver Yachts. If you have tan color lights on your boat, that was a special color made for Carver Yachts. Sorry, it is discontinued too. Check out those Loox
2020
and
2047
choice for replacement 12v LED lights for your boat.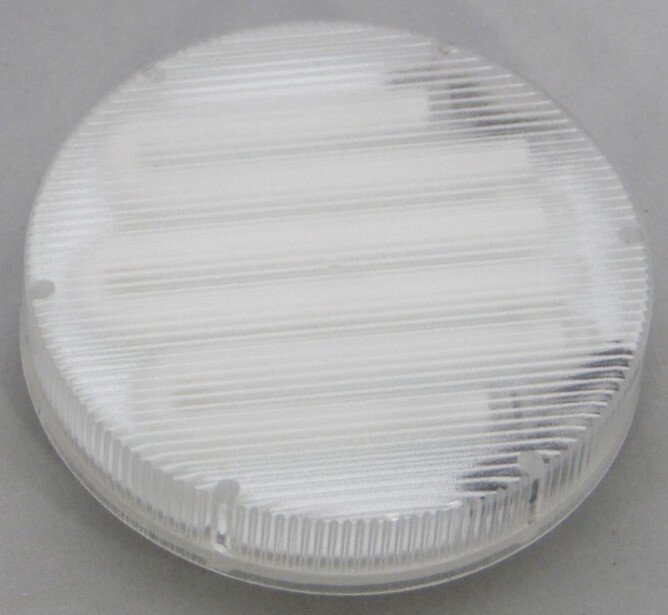 This is what the old
FluoroSpot light
looked like. This is the replacement bulb, called FSB7. Long gone. No bulbs left. It was a bigger light and ran from household current. It was NOT low voltage like the halogen lights. We are just popping it in here to show it as being gone. We have two ideas about a replacement. a) The shortest
ELite-LED
to fit across the old hole left by it, or you can cover over the hole. Or a very low profile LED round light, but it will be a larger spotlight. The
Loox Slim profile surface mount lights
. That light can go over the hole and hide it quite well.
This is what the 5 colors of the Xenon lights looked like. They look so similar to the E1, but these are 3-1/8" in diameter, over 1/2" larger. They came in the same 5 finishes, this is why they get confused with the E1 light. As far as we know, there is no part number on the Xenon light. Generally on the side of it, it will say use 18 watt bulb. The Xenon light had an 18 watt bulb about the size of a grape. Much bulkier than the G4 halogen bulbs. The Xenon light was taller too, when recessed or surface mounted. To distinguish it, its diameter on the face does measure 3-1/8".
Since the E1 halogen light was so popular, we had written a specific web page pertaining to it and the solutions for replacements for it. Visit our
ER1-ES1 halogen light and decor rings page
to focus solely on your solutions to replace that light.
Three more pictures to help. Comparisons of the fronts of 4 popular lights. The order is: E1, KB12, ARF, and Xenon. The back views of the same 4 lights in the same order. And then the wonderful 9F85 and E166912 numbers. 9F85 and E166912 are UL numbers. THEY ARE NOT THE PART NUMBERS FOR THE LIGHTS. They can be on labels attached to the cords, they can be on labels on the side of the lights. The part number of your light is NOT 9F85, that number is on all of them. It is a UL number, not a part number.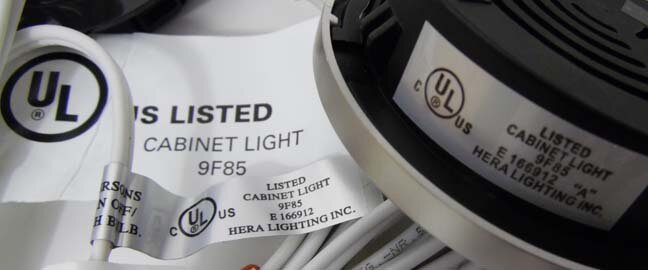 H) A summary of the old halogen lights to help you tell them apart, and what to do now
We got a little ahead of ourselves as we rewrote this web page in the wee hours of early April, 2021. Thus, most of the halogen and Xenon lights were just explained above. So just scroll a little back up to see pictures of the popular halogen lights, the Xenon lights, and even the bulb for the FluoroSpot light.
As for our recommendations on what lights to use in lieu of each:
b) KB12 halogen, EH11 halogen, or the really old KH12 halogen, same choices: Loox 2020, 2047, 3038, or even the
Loox 2039
for extreme water protection.
c) ARF halogen, definitely the
Hera FR68-LED
light. Only like for the 68mm dia. hole.
e) Hera FS7 FluoroSpot light, same idea. The Loox slim surface mount lights for a spotlight look. Or the 11"
ELite-LED
if it can fit in the same space.
f) Other old Hera specialty lights like the Enterprise, the Wave, the Tri-Tech, ArcTech, Arc Lamp, and others are long gone, and no real substitutes for them. These lights has special criteria to them, and nothing was made to replace them.
We do invite you to check out our
Hera introduction page
to see a summary of all their current LED lights, linear and spotlight. There are a lot of nice lights to choose from.
I) Any of our leftover Hera LED lights, still brand new, a quick summary and how to order
Sometimes we get caught with some stock we have not sold. Just one or two, or even several dozen of some lights that were discontinued. On this page, we pretty much keep it to the discontinued LED lights. We have some oddballs, and a lot of the KB12-LED lights. So if looking for an oddball, checl out our
Hera Closeout Lights
page.
And for your reference. This page when it was our old Hera replacement parts page use to be about the below. It was popular because these decor rings would break, along with their lenses, and people needed parts. So the below is REFERENCE ONLY. Just a few of the DR12 rings remain today. All the rest are GONE. GONE, GONE, GONE, GONE, GONE. We have no idea if you can find any anywhere. To the best of our knowledge, we were the last Hera Lighting distributor that had any. There might be some long lost inventory collecting dust somewhere. Some guy on E-bay might have a few. But we don't. And we know of no knock-off parts either. Don't think anyone made any Hera Lighting knock-off parts. So the below is to show you what is GONE.
Hera E1 light parts: EDR decor rings and EGLFR and EGLCL glass lenses. Not available.
Hera EH11 light parts: DR decor rings and GLFR glass lenses. Not available.
Hera KB12 light parts: DR12 decor rings and KBGLFR glass lenses.
Almost all gone. White rings still remain. All lenses sold out. Ring does NOT come with a lens in it. Gold, black, chrome, and stainless steel rings are gone. HER-DR12WH white ring can be ordered by using the shopping cart item higher up on this page.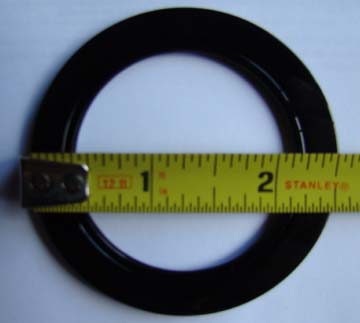 Hera XR1/XS1 light parts: X-DR decor rings and X-GLFR glass lenses. Not available.
All parts are now gone. (11-22-19) All decor rings and all lenses are sold out. These parts were also discontinued in August, 2015. We still have some of the Xenon lights in stock, XR1SS, which does come with a ring and lens on it. We show those on the
What's left with halogen page
.
If we missed remembering any parts, we will add notes to this page when we can. And as things change, more will be removed from this page. (Last updated June 3, 2022.)
I have 21+ years experience selling Hera Lighting through Eclectic-ware. I remember most of their old lights. I can definitely help in most situations. I keep myself up on their new lights, and the Hafele Loox LED lights that we brought in to fill some gaps that Hera left behind by discontinuing many of their old popular lights.
There are lots of links on this page to our other web pages. Sorry that some of our pages tend to run long. They look great on PC's and tablets. There is just a lot of info to relay. Popping a few paragraphs on a web page, then saying click here to read more keeps you hopping from short page to short page. When there is a lot of related data, we're gonna cram it on a long page. And give you the help you need. May not alway be the answer you want, but we will try to bring forth solutions for you.
Hera Lighting summary of cabinet and display light types: