Century Hardware Modern and Rustic Cabinet Pulls
Century Hardware section index
Century Hardware Decorative Cabinet Hardware
A little bit of everything. Whether you are looking for modern, classy, or rustic cabinet knobs and pulls, Century Hardware will appeal to many many tastes. There are a lot of modern designs for today's more modernly styled kitchens. Many of the knobs and handles are elegant to add distinction to your kitchen, bathrooms, living room, and bedroom furniture. There are cabinet pulls that are very nice for custom closets too. And then, many of their choices come in awesome rustic finishes for homes or just rooms in your home that want to have that rustic flare. If you have distressed wood cabinetry, you aren't going to plant a polished chrome knob in the corner of a door. (If you do, please don't tell us. That is just sad.)
But on distressed wood cabinetry and glazed cabinet doors that create an antique look, rustic bronze finishes help complete them. Satin finishes look good on wood cabinetry too, and many of the Century collections have satin silver tone and brass tone finishes. Check out the collections, something will be to your liking....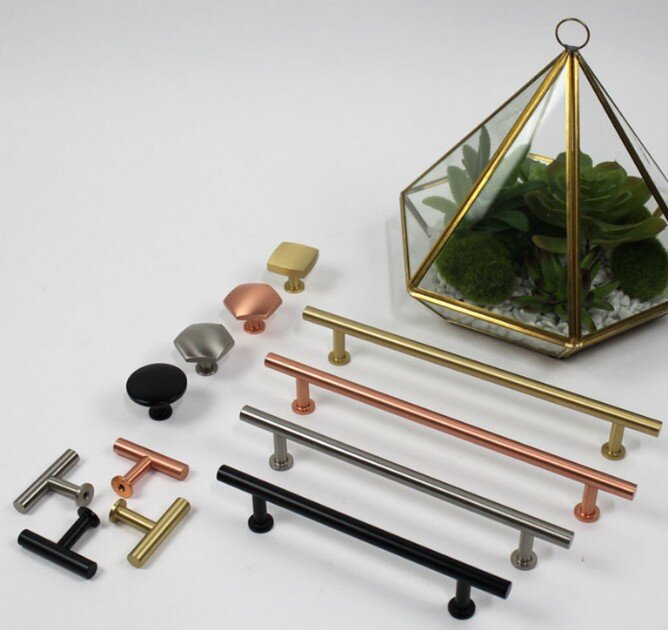 A nice collection of small European Railing handles with disc feet. T-pull options and several choices of knobs too. The bar pulls come in 3 sizes. Everything comes in 4 finishes.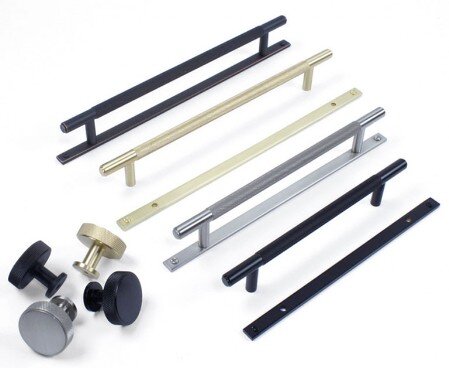 European Railing style handles available in three popular sizes. Pulls can be used with or without the backplate. Round knobs have same diamond texture to their sides. Available in 4 finishes.
A small gathering of some of Century Hardware's matte black hardware. On that page, we will also have links to the other collections that contain matte black items. And there are quite a few.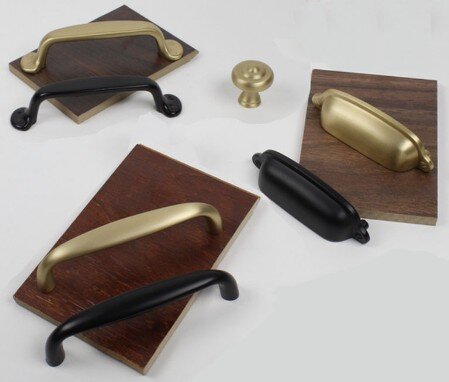 Elegant and Rustic mixed together. Satin brass and silver tones as well as darker bronze finishes. A mix of knobs, normal style handles, and cup pulls.
A different style of edge pull with the front corners cut off. Available in 5 finishes and 3 sizes each.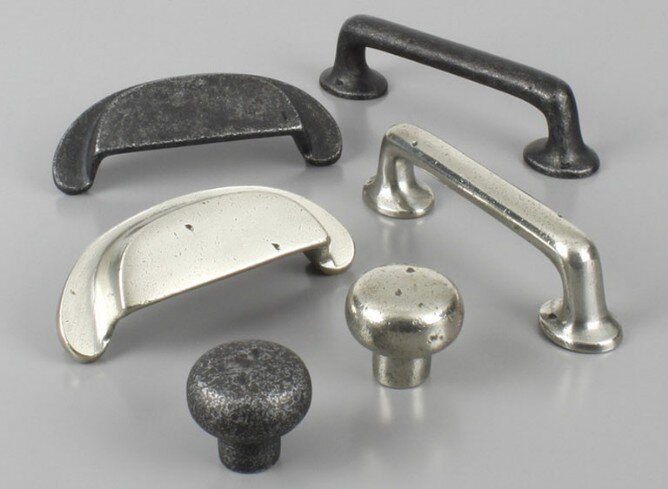 Solid Cast Bronze hardware. Very rustic high end cabinet knobs and pulls with dents and dings.