Corian Bathroom Hardware from Rock Solid
Rock Solid bathroom hardware made from Solid Surface Materials
The solid surface bath hardware offers a lot of color possibilities. And there are multiple sizes for the shower caddies. This page was recently updated and all of the surface mount bath hardware items were removed. They are no longer available except for the corner shower caddies which are surface mounted. Rock Solid has rethought their offerings, and the recessed items will still be made. Made to order, in the solid surface colors you select.
There are two corner shower caddies, a one-shelf and two-shelf unit. These will glue into a corner using a waterproof adhesive. If you want to set them in as you would thin-set with tile installs, you could do this, but it is better to completely surface mount them. Then you have 4 choices in recessed shower caddies, and a recessed TP holder and recessed soap dish. These items require a 3-1/2" deep hole to fit into. All will have a flange which is generally 1/2" or greater on all four sides. The flange will rest upon your wall surface as the body of the caddy, TP holder, or soap dish set into your wall. These items are also glued in place. The recessed shower caddies come in 4 widths and the heights vary as the caddy becomes wider. Three of the four are 2-shelf units to give your room for soap or sponges below and bottles above. All are completely made from polished solid surface materials.
If you would like to create your own corner shower caddies by using corner shelves, we do offer pie-cut quarter circle shelves and triangular shelves. Both shapes in four sizes: 5", 8", 10", and 12". And all with either a smooth top surface or with water drain grooves. We have a separate web page set up for the
solid surface corner shelves
. Select that link for more info and pricing.
Please take a moment to read our
Ordering Note on the Rock Solid summary page
so you understand a special step about color selection that you need to take after placing items into your shopping cart. Because of the numerous custom options, you will enter your solid surface color choice(s) in a Comments Field.
Recessed TP holder and Recessed soap dish
Watch for plumbing or electrical wires in your wall. Items required 3-1/2" of wall depth to fit into. Same goes for the shower caddies that follow after them.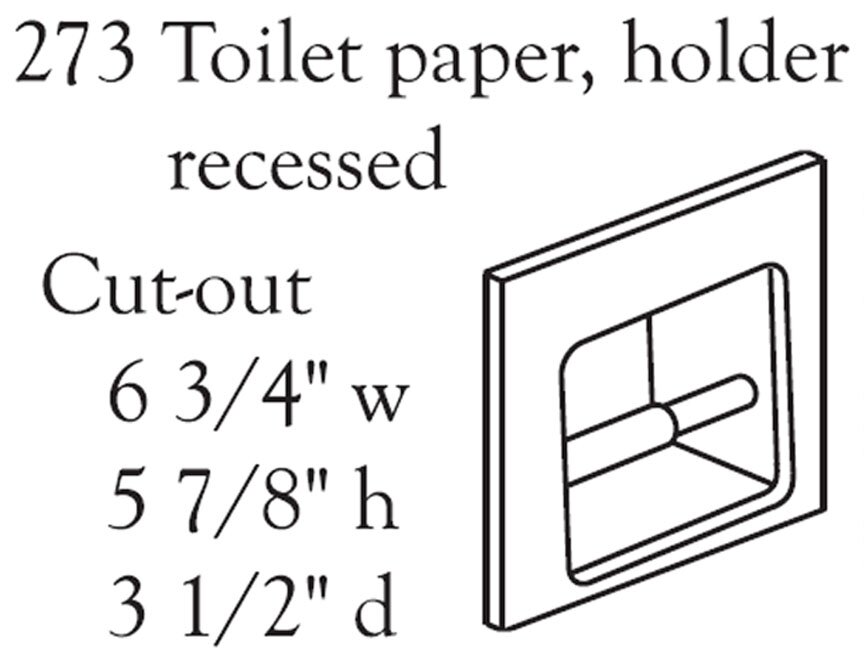 Rock Solid: Bathroom Hardware
Rock Solid ROC-273 fully recessed TP holder.
Does have flange on front to cover over edges of hole.
Cutout size: 6-3/4" wide by 5-7/8" tall by 3-1/2" deep.
Add
Rock Solid: Bathroom Hardware
Rock Solid ROC-263 fully recessed soap dish.
Does have flange on front to cover over edges of hole.
Cutout size: 6-3/4" wide by 5-7/8" tall by 3-1/2" deep.
Add
Recessed and corner mount shower caddies
Allow for 3-1/2" of depth for the shower niches to fit into.
Note to Commercial Customers:
We do sell to everyone. But for hotel renovators or developers, or any contractor needing to do a large project, we will offer volume discounts. We have a
short note about volume discounts
on our Rock Solid summary page. We will most definitely quote larger orders. Generally it is just easier to call or
e-mail us
with your requirements after you have reviewed this product page or any of the other pages.
Corian Shower Corner Shelves
are another popular item for volume needs.
The following note now pertains to all customers, homeowners and contractors.
We like checking with Rock Solid for material availability on all colors. Unless you ordered a color that we already know they have. Sometimes it does take Rock Solid a few days to get back to us. Please be patient with our update, it will come.
General lead time for all Rock Solid products is anywhere from a few days to a couple of weeks. We are asked to quote a two-week lead time for most orders with no complexity to them. Special orders and larger orders could take a little longer. No products are made in advance because of the numerous color possibilities. And sometimes Rock Solid works over the weekends, or they are just caught up, and an order can ship within a few days. We cannot gaurantee fast shipping. We have just noticed that some orders have shipped in a week or less when they work overtime.
When we get back to you after your order submission, and give you a complete quote and confirm if Rock Solid has the color or not, we will provide instructions for your next ordering step.
Rock Solid website section pages: