Omega-National Hardwood Kitchen Storage Accessories
Omega-National section index
Omega-National Hardwood Kitchen Storage and Organizing Accessories
Have you ever seen kitchens with those slatted roll up kitchen cabinet doors? Or racks that hold a series of wine bottles and possibly wine glasses hanging nearby them? Here is where you will find those awesome wood organizing and storage accessories. All items below are unfinished wood. Fine sanded and ready for you to finish by either clear coating, staining, stain with a glaze, or a paint finish. You can match to your cabinetry and make everything blend.
All items are available in red oak, maple, cherry, or hickory. Red Oak and Maple are the two most popular wood choices, but if you have cherry wood or hickory cabinets, you can match to their grains too. When we say cherry wood, we mean real cherry wood. There are so many finish names that are called cherry-something, we want to keep from confusing a cherry tone finish with real cherry wood that is finished. Many maple cabinets are finished in some cherry-something named finish.
The Omega-National products are available to everyone. Most of them do take a little, or a lot, of woodworking talent. Assembly, size manipulation, and finishing are all involved. They do offer great beauty to a custom kitchen, as well as functional storage space. If you are looking for a way to jazz up a kitchen, these will work.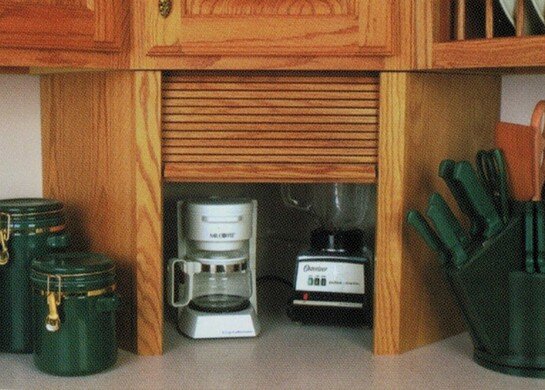 Corner and straight units to fit under your upper cabinets and add concealed storage on your countertop. Roll up tambour doors are real veneer and have awesome woodgrain to them. Kits come with instructions.
These are the hanging wine glass holders. There are 3 pre-assembled sizes in each of the 4 wood choices. Racks are ready to finish and install under a shelf, or between cabinets. There are also 62" long T-rails and L-rails so you can make your own custom sizes.
The diamond formation wine bottle racks that can hold a lot of wine bottles and display them nicely. Easily convert an upper or base cabinet into a wine bottle rack. Design it between two cabinets. There are many design choices you can create.
Different from the lattice, and easier to work with. Wine bottle racks are generally a single level of wine bottles side by side, held in place by arches cut into the front and back rail. But you can use them in elevated stacks too.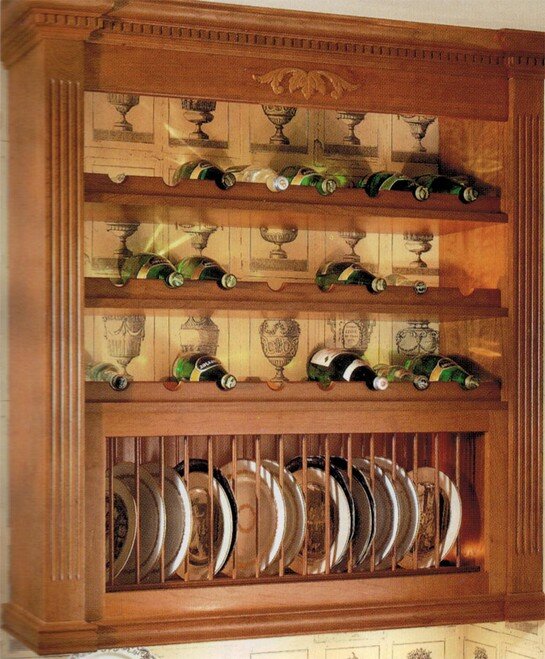 Open front rails to vertically stack dinner plates out in the open. If you stagger the rails, plate faces can be partially revealed to display special plates better.
Items like replacement tambour door tracks can be found on the bottom of the
appliance garages page
. Also, the Finger-Lite Kits and tambour door material is available on that page.
If you are looking for the long L and T rails to make your own custom stemware holders, those are shown on the bottom of the stemware holders page.
In addition to these wood products, we do offer custom made wood cabinet doors and drawer fronts from Woodmont Doors. You can order doors unfinished as well in some of the specialty finishes that Woodmont stains and paints their doors with. Woodmont also offers decorative moldings so you can accent the borders of your new creations if you like.
We do not have much in the way of wood decorative hardware, but we do have a tiny selection of wood cabinet knobs on that page.