Eclectic-ware Cookies and Privacy policy
Ordering and Company Info
About Cookies used on our website:
we were told they have to happen. Cookies are not a bad thing, they assist with the shopping cart functions on websites. So they are a mandatory thing, and present on websites whether you see a cookie notice or not.
We do not plant or collect cookie data for any marketing purposes. Google Analytics is on our website pretty much just to tell us how we are doing out there and to let us know which pages are working better. So none-to-worry, we are not watching you. Nor will we bug you after you leave our website.
From what we can see, the cookie function retains any unpurchased items in your shopping cart to be visible with your next visit. It retains your name and address info in the shopping cart fields, which is a good thing for repeat customers. Just be sure to look over the info in the event you moved or would like your products shipped to a different address. And whenever you feel the need to delete Cookies or History in your web browser, that is under your control to do so. It is a smart thing to do every year or so. It's like dusting the shelves.
EU regualtions require us to let you know that this site uses cookies, due to it being an e-commerce site. And since we ship to Europe and around the world, this is why you see our cookie notice.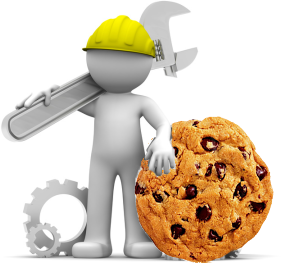 Our STRICT privacy policy is very straight forward. We do NOT share any customer information with anyone!
Whatever data you send to us, stays with us. For direct ship orders of certain custom hardware, we submit your shipping address to our vendors so they know where to ship it. We have a few vendors that require phone numbers - only so they can place them on the UPS shipping label. We do not give your e-mail address to UPS or the Post Office, unless you request to receive their automated shipping updates.
We back up our data in-house. We refuse to use any on-line back up services or the Cloud. Your information stays with us, not some web storage facility. To cut to the chase, whatever info you send us is kept safe and confidential. Our computers are firewall protected. We do not have e-mail lists. We do not buy e-mail lists. We sell no e-mail addresses. We believe in treating you how we like to be treated. And since we don't want our information in the wrong hands, we also respect that of every one of our customers!
This general policy has been shown on our website since we started our business in December, 2000. It has been added to a bit to keep up with technology.
John W. Wagonis
Owner and operator of Eclectic-ware