Lighting Fixtures for Under Cabinet and Display Lights
Eclectic-ware Lighting Fixtures
We offer under cabinet lighting from Hera Lighting and the Hafele Loox LED lights. Most of it is low voltage cabinet and display lighting. A few choices work on 120 volt AC power without the need of low voltage LED drivers. There will be a lot of options in round puck style lights, most all available as a recessed mount, some as a surface mount, and some offering the option of both mounting methods. There is also linear lighting - which means the lights are longer and can run the lengths of your cabinetry, display cases, or shelf units. Yes, both the Hera and Hafele lighting is used in residential and commercial applications. Use it for kitchen lighting, bathroom lighting, entertainment centers, and product displays. Or even to light up some nice artwork or anywhere that you would like to pinpoint some light on any kind of object or workspace.
There is also Tape LED lighting and some specialty reading lights. Thus some options for the bedroom and custom furniture. And let's not forget closet lighting too. We do spend 1/97th of our lives in our closets. Don't quote me on the statistic....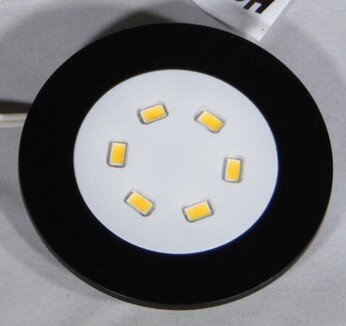 All of the Hera lights are outlined by model on the Hera Lighting summary page. All the spotlights, swivel spotlights, linear lights, specialty lights, LED power drivers, and other helpful web pages. You can see all the lights at a glance with a single picture of what each light looks like. There are many choices for kitchen, bathroom, and furniture lighting. Hera Lighting has been widely used in commerical applications too. Lower on this page we will highlight a few of the superstar lights from Hera.
There are several choices in low voltage LED lighting from Hafele, both in 12 volt and 24 volt, which is awesome. We have promoted the Loox 2020 LED light for several years now as the most convenient light to use to upgrade from the discontinued Hera 12 volt halogen line. Especially for marine vessels. But Loox goes much further than that. There are many spotlight choices, as well as some large lights we are showing from them. Specialty reading and desk lamps too with flexible arm placement. View the full summary of what we show thus far on our website. Our intention is to expand on the Loox LED offerrings as time permits. So check back periodically to see more.
Our solution to replace the Hera brand 12 volt halogen transformers. Hera discontinued all halogen lighting in August, 2015. Since then, we have sold off almost all remaining lights and components, including the halogen transformers. The Hatch transformer we found is a 12 volt, 60 watt, Class 2 transformer. The Hera transformers were Class 2. This is what you want. On this page we have much more extensive info. So if you need a replacement 12V transformer, please review this page.
Following below, we are going to show some quick links to what we feel are the more requested or more helpful lights for new installs or retrofitting. Any of the lights we show below, which will be just a few, are accessible as links from the Hera and Hafele summary pages as well. We just wanted to show them off a bit on this page.
Here are a few of the more popularly requested lights.
All have links available to the same pages from their Hera or Hafele site section pages too.
The latest in the Stick-LED family. Very bright, interconnectable without dull spots, shielded, can create long runs of light. The Stick3-LED is great for kitchen under cabinet lighting when you want that continuous glow evenly under your cabinets. It will light up your counters great and serve as a task light. Dimmable for times when you want it as an accent light. Each length of Stick3 can direct connect to itself. It is 24 volt low voltage lighting. Can work in conjuction with many of Hera's spotlight LEDs on the same power driver. And TapeBasic too on the same drivers. Lights are approx. 1/2" x 1/2" and come in 5 lengths. Really nice for mounting under glass shelves too in commercial applications.
This is the light of the future. Pronounced E-Light. Looks a lot like the long term Hera SlimLite T5. The ELite is also a T5 dimension, sleek, extremely bright, interconnectable to create tremendously long runs, shielded, lightweight, long lasting, and a low power consumption. Such a tremendous amount of light for such little power used. Available in warm white and cool white, and they run directly from 120 Vac. This is NOT a low voltage light. It uses a 3-prong power cord you plug right into the wall, or choose to hardwire them instead. Can most certainly be used as an under cabinet light. Can be used as a ceiling mount light. When enclosed in a decorative drop down, you can create some beautiful room lighting with the ELite-LED.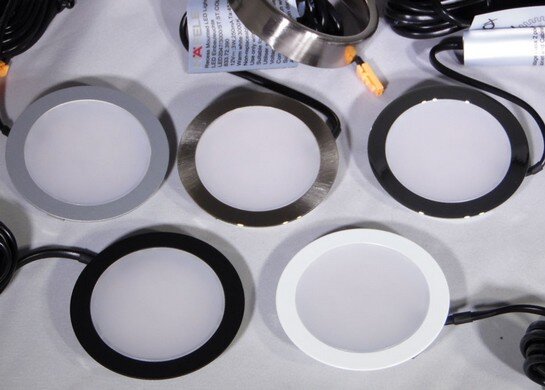 The 2047 carries an IP20 rating for water and contaminant resistance. When used in a home, you really do not need to worry about that unless you are having water ballon parties in the kitchen. It is a 3 watt LED light available in 5 finishes: white, black, chrome, silver, and stainless steel. Four of those options can be surface mounted also. It can be mounted into the 2-1/8" recessed hole, and since it is 12 volt, can work directly from 12Vdc on boats. We brought in this light due to it being available in a white finish. This was popular on boats. When you need a lot of lights, and budget is a concern, this is a good light to choose.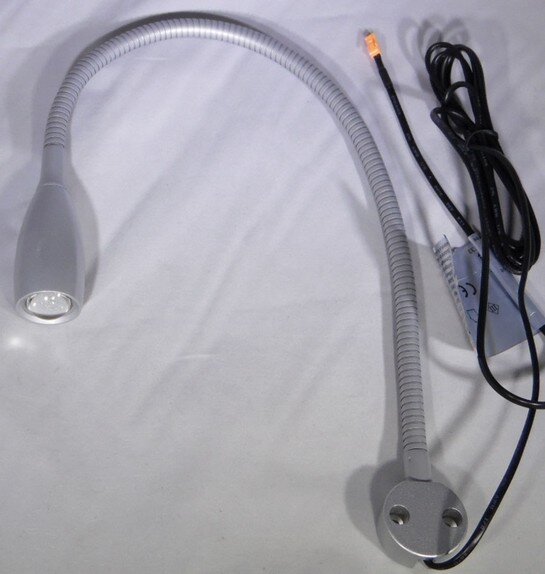 The night time reading light for the bedroom. Flexible arm allows you to pinpoint the light where you want it without disturbing your partner. The on-off switch is controlled by twisting the head gently. Surface mount or through hole mounting methods. Light is a 2 watt LED light in 3000K warm white for ease on the eyes while reading at night. Commonly seen in hotels as a headboard reading light. Works from the Loox 12 volt LED power drivers. Potentially can be used as a private desk light too where low levels of light are desired.