Loox 2018 12volt Headboard Flexible Light
Click or Tap the orange menu button to view all Hafele page links
Flexible Headboard Light with Integrated switch in head
A very similar one watt light from Hera Lighting has been seen in Holiday Inn Express hotels across America. That one has a switch in its base and comes with its own power driver.
The Loox model 2018 flexible headboard light is primarily the same size. The head may be just a tad larger, possibly because the on-off function is in the head. A simple gentle twist and you can turn your light on and off from the conical head, rather than reaching backwards to a switch. The light is also 2 watts and throws an excellent pinpointed light where you want it. Not only can you use it as a reading light at night, it can be a display light for exact placement of light on statues, hanging pictures, or anything else that you would like to display.
You can select the surface mount version which is easy to attach to a vertical or horizontal surface. Or go with the through-hole recessed mount for a more sleek looking base. Lights come with an attached 79" lead wire that has plug and play connection into the Loox 12 volt LED power drivers. If using two on a bedroom headboard, both can function from the same 20 watt LED driver. The flexible arm allows you to have the light shine from over your shoulder and onto your reading surface. Comes in 3000K warm white only for reduced glare while reading at night.
As a desk light, it is not going to light up your whole desk unless you use 2 or more of them. But if you like a small area of your desk lit and want to pinpoint that light, it can work as a desk light. We would recommend something higher wattage if looking to illuminate your desk more brightly.
This is a Loox4 light, and Hafele has decided to discontinue it. But stock remains on it. So we will offer it until it is gone.
Manufacturer: Hafele
Hafele 833.74.110 model 2018 Flexible reading light, recess base mount, 12 volt, 2 watt LED, 17" flexible arm, on-off function in cone head of light, aluminum anodized finish, 79" attached lead wire
(1 remaining in our stock)
Add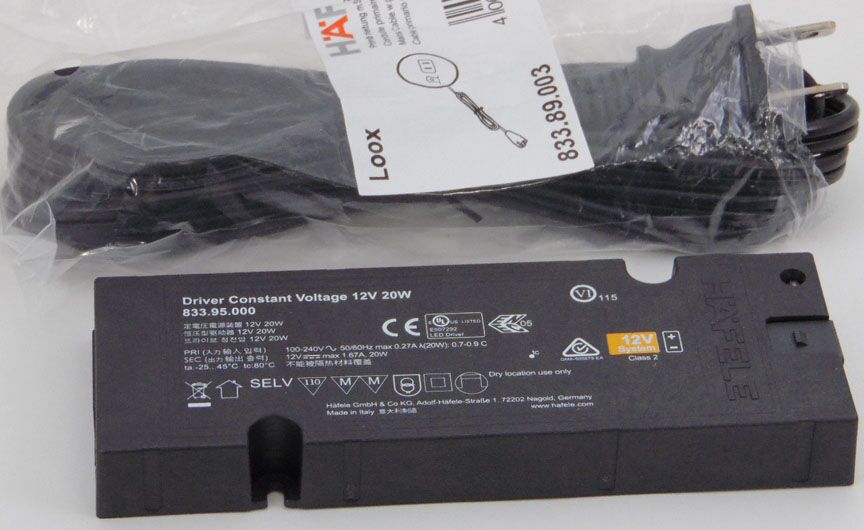 Hafele Loox5 Drivers and Distributors
Hafele 833.95.000 Loox5 LED 12V DC class 2 driver, 0-20 watts, 100-240 V, light-yellow port, 140x50x16mm, overload protection, black plastic casing, 70,000 hour life rating, requires distributor
Add
Hafele Loox5 Drivers and Distributors
Hafele 833.95.749 Loox5/Loox 12v 6-way distributor with switching function, but for connection of older Loox lights to the ports. Used with Loox5 12v drivers, can connect additonal units in series, orange ports, 120mm x 50mm x 16mm.
DIMMABLE AND USED FOR OLDER LIGHTS
Add
For our customer who were use to finding the Loox 833.74.960 20 watt 12 volt driver on this page, our overstock is finally gone. You will now use the HAF-833.95.000 driver with the HAF-833.95.749 distributor. Found on the
12v Loox5 LED Drivers
page.
Ordering Note:
Not much to say. Order the surface mount or recessed version and an LED power driver. Drivers can control multiple lights since the lights are only 2 watts each.
Loox5 12V Drivers and Distributors
Hafele Loox5 and Loox4 LED Lighting web page links:
Older Loox4 24v spotlights:
Model 3038