12 Volt LED Cabinet Lights Loox 2020 LED
Click or Tap the orange menu button to view all Hafele page links
Loox LED model 2020 IP44 rated recessed light (
surface mount too

)

Model 2020 LED is designed with many great perks. They are IP44 rated, which basically means they have great resistance to contaminants or water getting on the inside of the light. That makes this light ideal for the interior cabins of marine vessels. Light water spray and humidity will not bother this light. The Loox 2020 comes in a polished chrome, matte black, or matte nickel finish, and then in 3000K, 4000K, and 5000K light outputs. They are 3.2 watts each, kind of the equivalent of what a 17-18 watt halogen would be. So brighter than a 10 watt halogen, but slightly less bright than a 20 watt. They are 12 volt, which makes them ideal for boats. But with the low voltage LED power drivers, they are an awesome under cabinet light for your home kitchen too.
The lens is frosted and the casing is all metal, front and back - and sealed. Nothing comes apart on the light.
The lights also come with preattached lead wires. The wire is a twin wire. On a boat, you would just operate them directly from the 12 Vdc on the boat, you can splice the wiring into existing light wires if upgrading. Or connect to your 12Vdc for new installations. For under cabinet lighting in a home with 120 volt current, you will use the 12 volt LED power drivers which have convenient plug and play ports for the couplers on the ends of the wires to just snap into.
The back of the light has 2 friction fit clips. They are pre-set to fit into a 2-3/16" diameter hole. They can compress more. So the light can fit into the ever popular 2-1/8" hole if you already have pre-bored holes. The lights protrude off the surface approximately 1/16" when recessed mounted. Surface mount rings are available for surface mount applications. Another note about the friction fit clips, which are metal, not plastic. They can be bent outward also. So if you have 2-1/4" previously bored recessed holes, the lights can recess and hold in them also. The friction fit clips are strong and can be manipulated both directions.
When we speak of this light, we make references to retrofitting for older lights, and also new installations. The reason we do that is because we brought in this light to fill the need of 12 volt halogen lights that fit into a 2-1/8" hole. Why? Because there are 100 million or more older Hera 12 volt halogen lights that will eventually go bad one day. And Hera stopped making their halogen lights. So we needed a solution to fill that 2-1/8" hole, and 12 volt. Wa-Lah! Welcome the Loox 2020 light. BUT, this light is meant for new installations too. It can be used anywhere in your home and in furniture. It is a fantastic low voltage LED light. It is dimmable too when using it with Loox LED power drivers. So we tend to go back and forth in our explanations and make a lot of references to boats. And we now have had enough experience with this light over the last few years to say that we have had AWESOME results with it!
What do we choose to stock?
Of the items shown directly below, here is what we keep in our stock for quick shipping:
The lights all have a notation of what we have in stock, or what we have left, as well as what Hafele had (when we last checkded) - Last updated completely 4-5-2023)

We stock the 20 watt drivers in abundance and keep some of the 40 and 60 watt on hand (for household applications, not needed on marine vessels running 12Vdc.)




Most of the surface mount rings we stock small quantities of each,
NOTE:
Spring 2022, Hafele has chosen to discontinue this light, but lots of stock still exists. We will continue offering it for as long as supplies last. Reason it is discontinued is only because Hafele is converting their products offerings to Loox5. So the Loox5 lights that will take over for the 2020 are the
Loox5 2094-3094 lights
. The 2094-3094 however will require a 2-5/16" dia. hole to fit into for recessed applications, they will be 1/8" larger on the backside. Thus, they are not going to fit into that popular Hera 2-1/8" hole. Things keep changing.
For our customer who were use to finding the Loox 833.74.960 20 watt 12 volt driver on this page, our overstock is finally gone. You will now use the HAF-833.95.000 driver with the HAF-833.95.749 distributor. Found on the
12v Loox5 LED Drivers
page.
Ordering note:
For replacing or upgrading on boats or motorhomes, friction fit clips are preset for a 2-3/16" hole, but can compress more and fit in a 2-1/8" hole. The opposite is also true. The friction fit clips can be pulled a little bit outward to fit snugly into 2-1/4" or 2-3/8" holes. Each light has an attached lead wire which is a
twin wire
. You can easily splice them into your existing boat wiring and have a nice smooth install.
For new home installations, order the number of lights that you need and the appropriate size and number of LED 12 volt power drivers. We are showing the 20 watt driver on this page for quick reference, but other driver choices, select from these two page links:
Loox LED power drivers
|
Loox5 12V Power Drivers and Distributors
. Lights are plug and play installation into the drivers, very simple installation. Each has what looks like a tiny phone jack that just snaps into the driver ports. Each model 2020 light is 3.2 watts. Up to six of them can easily connect and operate from the 20 watt driver. Larger wattage drivers are for areas with many more lights.
Halogen note: If you are using this light to replace halogen lights, the 3000K warm white light output is the most resemblant to the color of the halogen light output. It has that faint amber hue to it. The 4000K and 5000K become more of a whiter light output. The 3000K by far has proven to be the most popular choice. BUT, as we are running out of stock on the 3000K, and this light is discontinued, the 4000K will be your next best choice.
NEW!
Also check out our new line of 12 volt LED lights also great for boats, and available in the same FIVE finish options as the old Hera halogen lights. That's right! White, Black, Chrome, Stainless Steel, and Gold finish options.
Estar LED 12v lights
If you have any questions prior to ordering, please call or
e-mail us
.
Surface mount rings shown below.
No need to bore holes in the underside of your cabinets. The Loox 2020 light can be surface mounted with an overall drop down height of 5/8".
Manufacturer: Hafele
Hafele 833.72.800 Loox LED model 2020 surface mount ring, matte nickel
Add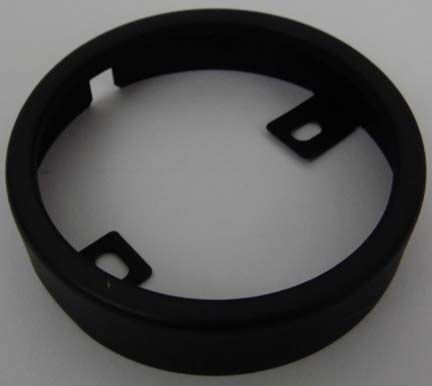 Manufacturer: Hafele
Hafele 833.72.801 Loox LED model 2020 and 2047 surface mount ring, black finish
Add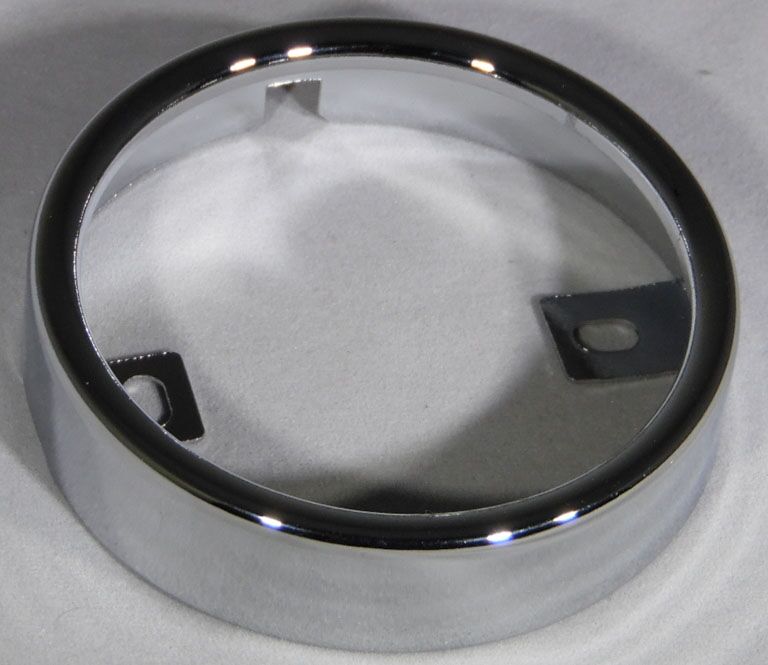 Manufacturer: Hafele
Hafele 833.72.802 Loox LED model 2020, 2047, and 3038 surface mount ring, polished chrome
Add
DIMMING:
When it comes to using a dimmer on these lights, we show a nice
touch free dimmer
on that web page. How the touch free dimmer works is how it sounds, you don't have to touch it. You wave your hand before it, within 0-3 inches away. Just waving your hand will turn the lights on and off. If you hold your hand in front of it, you will set the light level up and down. The dimmer also has a memory. So if you use a wall switch to completely turn your lights on and off, they will turn back on to the last dimmed level you had set.
The touch free dimmer and other switches shown on that web page use a Lead for Modular Switch to connect into the side port on the 12 volt or 24 volt LED power drivers. Those lead wires come in 3 lengths giving you some options on how close you want to place the switch to the driver. There is also a switch housing shown on that web page. The housing gives you an easy way to mount the switch. The switches, and dimmer, are like small photo eyes. They are a short tiny barrel. So if you wanted to bore a hole in the face of your woodwork and fit the switch into that hole, you can mount them that way too. They just need to be accessible because you either need to touch them or come close to touching them. The motion switch shown on that page has a far greater range and is meant to pick up motion from across the room. But the touch free dimmer will not activate unless you wave your hand within 0-3 inches of the photo eye.
DIMMING on Boats:
When we asked the manufacturer about how to dim this light on boats, their reply was:
Use battery on boat at 12Vdc, use a voltage regulator (by others) to hold the power at a constant 12Vdc. Typically a 9-15V range with 12Vdc output.
Now I am not going to claim that I understand that fully, but I do understand that it is doable. The general differences between low voltage halogen lighting and low voltage LED lighting is that LED lighting is dimmed on the low voltage side. Thus when using these lights with their 12 volt LED power drivers, the driver has built in dimming ability and you need a dimmer connected into the side port for the dimming to work. With older style halogen lights, touch dimmers or wall dimmers preceded the low voltage transformer. Thus the dimming took place at 120 volt before reaching the transformer. LED is not the same, most LED dimmers for low voltage LED lighting are 0-10V dimmers. On a boat, it is a little different. The above is the answer we received. We hope it helps those looking to dim these lights on their boats.
A customer of ours found this
12V DC dimmer
to use on boats on Amazon. It seems like it will work. We noticed from the wiring instructions on the back, it seems like it wants you to connect the lights in series. We believe the lights should be connected in a series-parallel circuit. So you may need to run a long wire past all the lights and branch and ground each light from that lead wire. Not wire them light to light to light. Electricians can answer this better than me.
MOUNTING: Next we will show four additional pictures to explain the mounting a little better. Lights are prepackaged as recessed mount. The surface mount rings are optional accessories. When recessed, the metal friction fit clips hold the lights in their respective hole. For a new installation, attempt to bore a 2-3/16" hole to fit them into. If retrofitting, and you have 2-1/8" holes, the clips will compress more and allow the light to fit. If you have a slightly larger hole, the clips can be bent further outward to catch and hold in a larger hole, such as 2-1/4" or 2-3/8" holes. 2-1/2" would most likely be the extreme limit as the light itself is 2-9/16" in diameter on its face. Be gentle when bending the clips if you choose to do that: hold the light firmly, bend it once, then leave it alone. Push it into your hole, and then test it a little, try removing it. If it resists, good, you did it right.
From the side view of the light, you can see how shallow it is. They do not require a deep hole to fit into. When using the surface mount rings, you mount the ring to the surface first (but read all of this before mounting). It has those two flanges extending inward and thus hidden once mounted. Two tiny screws will hold it in place. There is a notch in one side of the ring for the light wire to pass through. You have TWO options. You can bore a hole through your surface for the light wire to pass through on its way back to the LED power driver and stay 100% hidden. Or you can run the wire out the side of the surface mount ring. If out of the side of the ring, pass the wire through the notch first before mounting the ring, and direct the notch and wire in the direction that you want the wire to go off in. BECAUSE the attached coupler is a little too large to pass through that notch, so position the wire through it first. When you finally push your light into the surface mount ring, it snaps in place very tightly.
The wire coming out of the light is on the edge of the rear base of the light. It has some flexibility. You can extend it straight backwards from the light, or off to the side. Give you some ease in whichever mounting method you choose.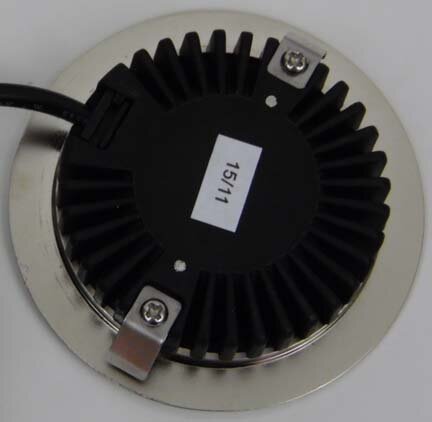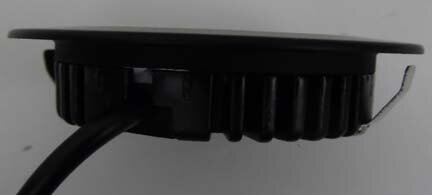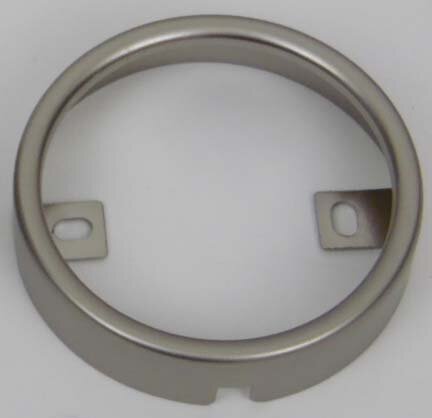 White color lights:
If you need the same size light, but in a
white finish
, model 2020 does not come in white. But
Loox model 2047
does come in a white finish. Model 2047 has an IP20 rating. It is a great light for interior home use and can work on boats too. It is not sealed as tight as the Model 2020. This is why we highly recommend the 2020 light for boats. But if you have a dry cabin area on your boat, Model 2047 is just fine to use. It will be just like the halogen lights you are replacing. And for anyone looking to replace your gold (brassy) color lights, sorry, we have not found a match to the gold color. We can help with the stainless steel look (the Loox 2020 matte nickel is extremely similar), the polished chrome, black, and white. But no gold. Chrome will be the best substitute for the gold. But you should attempt to match to your decor the best you can.
And, check these out:
NEW!
We have a
line of 12 volt LED lights that are also great for boats, and available in the same FIVE finish options as the old Hera halogen lights. White, Black, Chrome, Stainless Steel, and Gold finish options.
Estar LED 12v lights
Gold is back!
The Loox 2020 LED light as the new substitute for the Hera halogen lights
If you have the Hera E1 (ER1/ES1) halogen lights, the KB12, the KH12, or the EH11 (H11) halogen lights, please read on as to how the Loox 2020 LED is the best substitute for your old halogen lights.
We showed you two pictures above of the two metal friction fit clips behind the light. They are preset for a 2-3/16" hole. But they compress nicely into the 2-1/8" hole of the 4 Hera old discontinued soon to be long forgotten about halogen lights. So this light fits in those recessed holes with no problem. If you need to use it as a surface mount light too, that works as well. Those two friction fit clips can also be extended outward a little. If you happen to have another brand of light that fit into a 2-1/4" to 2-3/8" hole, you can bend them outward before installing and make the light fit.
The Loox 2020 light also resembles the Hera E1 light very well. Take a look at our comparison photo below. The Loox 2020 lights are the top row, the Hera E1 lights are the bottom row. Finishes are extremely similar. Loox is a matte black, Hera was shiny black. Polished chrome are alike. Hera called their brushed silver a stainless steel look. The Loox matte nickel resembles stainless steel. The Loox lights are metal, front and back. The Hera lights are plastic, front and back.
And when it comes to
DIMMING
, we emphasize,
LED lights are dimmed on the low voltage side.
If you have your halogen lights set up on a dimmer, that dimming function
precedes
the transformer. The Hera ETD1 and ERD1 electronic dimmers plug into the wall first, the transformers plug into them. Some people have wall dimmers that control the outlet. These high voltage (120 volt) wall dimmers reducing the power to an outlet or hardwired lights WILL NOT function for low voltage LED lights, 12 volt or 24 volt. In order to dim the LED lighting, you must have a 0-10 volt LOW VOLTAGE dimmer. Thus the dimming takes place AFTER the LED power driver.
The Loox 2020 lights are a sealed light. No rings will fall off, they have an IP44 weather resistance rating, and they are all metal construction, front and back. Not plastic. Seriously, this light is the answer to fixing E1, EH11, KH12, and KB12 problems.
Hafele Loox5 and Loox4 LED Lighting web page links:
Older Loox4 24v spotlights:
Model 3038