Wood Wine Rack Diamond Lattice
Omega-National section index
Omega-National wood diamond opening wine rack lattice
Wine racks are becoming very popular in kitchens. For over the last 40 years or so. Not only do they provide a convenient way to store many bottles of wine, and store them the correct way on their sides with the neck tilted down, they are attractive. Even when they are not full of bottles, they look very nice in your kitchen. It is an elegant and classy touch to designing a kitchen. And you have great flexibility in their sizing. You can fit them into most any size cabinet box opening, or space between cabinets.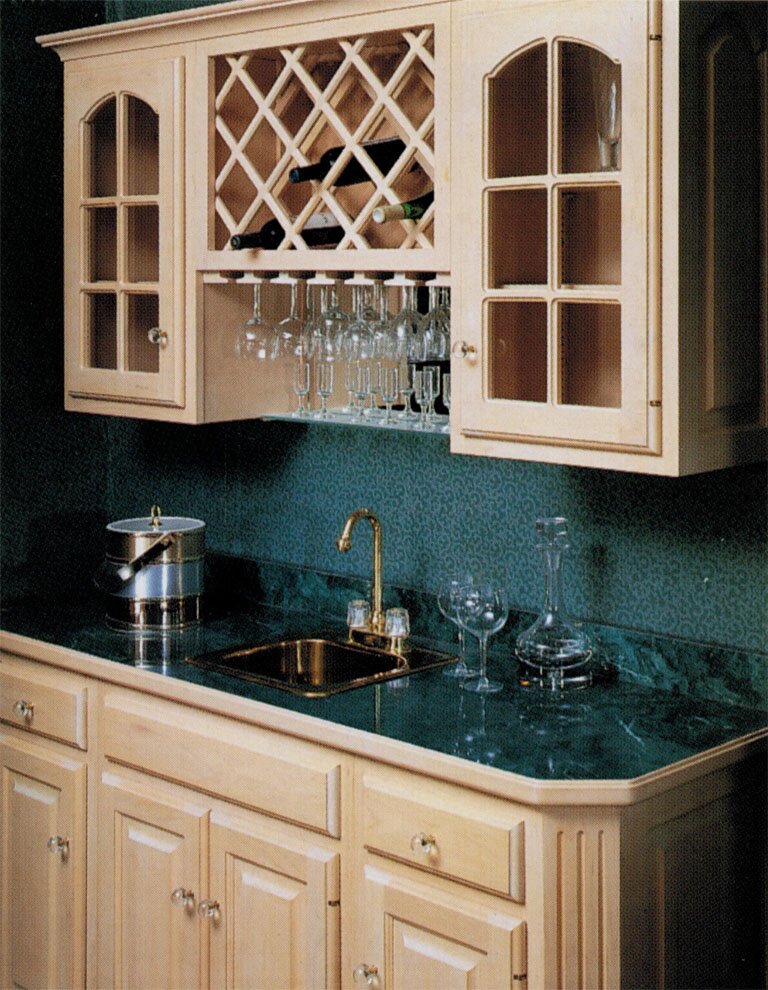 About the wine rack lattice
Fine sanded and unfinished, ready for you to finish.



You can clear coat, stain, glaze, or paint your lattice.

Can be cut down in size to fit your cabinetry.

Two sizes available: 17x29 and 23x42.

Available in standard (square corners) or deluxe (fancy bevel fronts).

Pieces sold in pairs, front and rear piece (which are identical)

Needs to be used in pairs for rear and front support of bottles.

Available in oak, maple, cherry, and hickory.

Some tips about using it
It must be used in pairs, thus it does come boxed as a pair. The 17x29 and 23x42 is the useable size of the lattice. The pieces are approx. 1" larger in height and width than those measurements. As you see in the picture above, the front piece of lattice that supports the bottle necks is mounted behind a face frame. And the rear piece has a mock frame built inside the cabinet in which the rear piece mounts to the front of that frame. This way, the lattice can be attached by every spoke that touches the front and rear frames, giving it maximum support for your bottles. Obviously, you will need to mount the rear piece first. You will be using wood glue and most likely pin nails to mount it. Be cautious about using an air powered brad nailer as it is easier to shoot a nail crooked than straight. Best to pre-drill some very tiny holes first, then nail - gently. And wood glue for tight support makes sense. Also a good idea to finish both pieces first before mounting them so you can get an even finish on both sides of both pieces.
If you do not have face frame cabinetry, you can inset two mock frames into your Eurobox to support rear and front pieces. And you do want the diamonds to line up front to back. This way the bottle necks will all consistantly lean lower than the bases of the bottles. Spacing from front to rear is up to you. You can use a bottle to judge that. You want the rear of the bottle to go through the rear piece with 1-1/2 to 2" of butt room out the backside. Do not mount the pieces too far apart or you could risk some bottles sliding forward and crashing onto those below them. So use a bottle to get an idea of your proper spacing between rack pieces.
Pictures below when clicked or tapped will expand and reveal more picture choices to offer added visual explanations.
Display order below is 23x42 standard first for all 4 wood choices, deluxe next. Then the 17x29 size standard, followed by the deluxe.
Ordering Notes:
Maple and Oak lattice are generally stocked in both sizes and can ship right away.
Cherry is usually stocked in the smaller size (17 x 29).
Hickory is ordered as requested. General lead on cherry and hickory is 10 to 15 business days for us to receive them. Most of the time we will set up orders for Hickory and Cherry as direct ships to get them to you quicker instead of attaching them onto one of our stock orders.
17" x 29" lattice rated for 19 bottle openings. CAN BE CUT DOWN IN SIZE.
23" x 42" lattice rated for 45 bottle openings. CAN BE CUT DOWN IN SIZE.
Please watch where you make your cuts to get maximum bottle usage. Both pieces will be cut identically to line them up in your cabinet space. Check out the various color pictures above on the page.
FOR LARGER APPLICATION CABINETS
When the lattice sizes are not large enough for you application, you can make a double or triple panel look to obtain greater opening coverage. Make any dividers, whether horizontal or vertical, as load bearing.
The larger your entire lattice structure becomes, the more weight it will be supporting. Please keep that in mind. Subdividing openings with load bearing support will keep a top load from resting on a bottom load. Each will have its individual load support.
Omega-National website section pages: