Hafele Hardware Loox LED Lighting Fixtures
Hafele Loox LED Lighting section index
Hafele Loox LED Lighting Products
All Hafele products available in the USA are available through us. And we do fully intend to expand upon our offerings as time permits.
Presently, we show many of the Loox LED 12 volt lights. There are also a few of the 24 volt light choices to help us fill additional needs for sizes and kitchen under cabinet lighting needs. We will offer a brief description of each light, wattages, lumens, finishes, and the reason why we offer the particular lights that we chose. Each page will of course have far more information, pricing, and the ability to order.
This is the light! If you do not look at any other light pages, you won't hurt our feelings. The Loox 2020 light is a champion of under cabinet lights. Why do we have so much praise for it. Well....
Model 2020 LED light is the normal size of under cabinet light, 2-9/16" diameter. It is 3.2 watts and comes in 3 finishes: polished chrome, matte nickel (similar to stainless steel), and matte black. Each finish comes in three light outputs: 3000K, 4000K, and 5000K. Each light is prepackaged as a recessed light, but optional surface mount rings can be used for surface mounting. The light is designed (pre-set) to fit into a 2-3/16" hole, but can fit in a 2-1/8" hole. Since it is 12 volt, it is our ideal light for replacing all 12 volt halogen lights of the past that recessed into a 2-1/8" hole. The light also has an IP44 rating making it far more water resistant than normal puck lights. With all of that said, this is our primo light to use on boats to upgrade from halogen. But it is also great for kitchen and bathroom under cabinet lighting and can work from 12 volt LED power drivers. A mightly little light that fits a lot of needs! This is why we promote it so. And we stock the 3000K version is fair size quanities along with the 12 volt drivers, cables, extenders, and dimmer switches. Some 4000K and 5000K lights are also stocked.
Model 2039 features an IP65 rating for great water resistance. A nice light to use on marine vessels. Comes in polished chrome or matte nickel and is recessed mounted only. Pre-set for 2-1/4" holes, but can be made to fit in 2-1/8" holes. It is 2.5 watt, so not quite as bright. Can be used in household applications too, especially on open patios and balconies. Available only in 3000K warm white.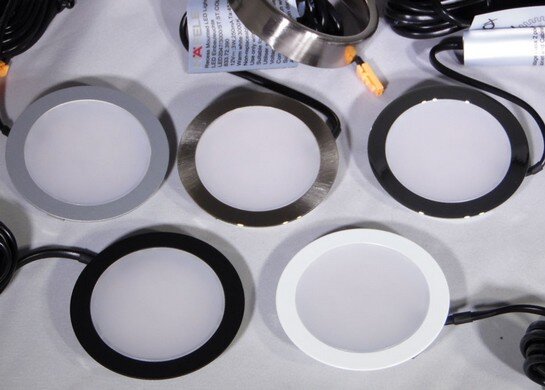 The 2047 carries an IP20 rating for water and contaminant resistance. When used in a home, you really do not need to worry about that unless you are having water ballon parties in the kitchen. It is a 3 watt LED light available in 5 finishes: white, black, chrome, silver, and stainless steel. Four of those options can be surface mounted also. It can be mounted into the 2-1/8" recessed hole, and since it is 12 volt, can work directly from 12Vdc on boats. We brought in this light due to it being available in a white finish. This was popular on boats. When you need a lot of lights, and budget is a concern, this is a good light to choose.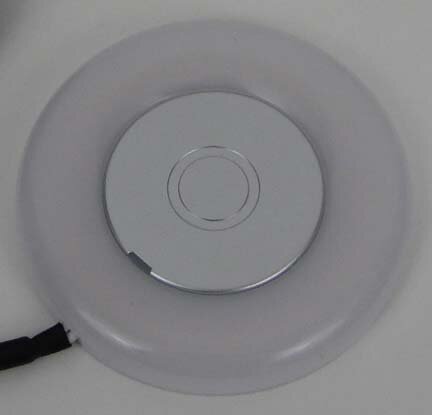 This light is designed a little differently. Instead of the LEDs being concealed under one flat frosted lens, they form a ring around the center of the light in a translucent ring. It is a 2.6 watt LED light that throws light outward as well as downward. Disc in the center is an aluminum finish. Available in 3000K, 4000K, and 5000K. Nice for a display light where you would like to have a wider spread of light. Can be used as an under cabinet light also. 190-218 Lumen. 12 volt.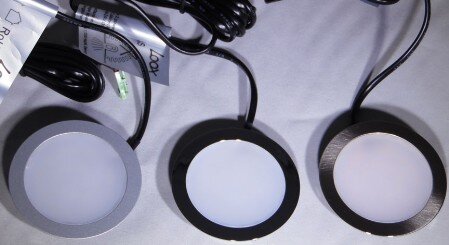 This is the 24 volt version of the model 2047 light. It is 3 watts, but 24 volt, so it will be brighter. Lumen output is 215-245 depending upon the 3000K, 4000K, or 5000K choices. Available in three metallic finishes: polished chrome, silver (matte chrome), and a brushed stainless steel finish. Packaged as recessed, but optional surface mount rings available. Works from the 24 volt Loox LED drivers. Dimmable, which is a nice feature to have if mounting in kitchens or entertainment centers. For under cabinet lighting in your kitchen, a 3 watt 24 volt light is ideal. And in warm white (3000K), they will look nearly identical to 20 watt halogen lights. But with less heat and far less power consumption. Pre-set to fit in a 2-3/16" hole, but can fit in a 2-1/8" hole. Attached 79" lead wire. Nice light for furniture making too.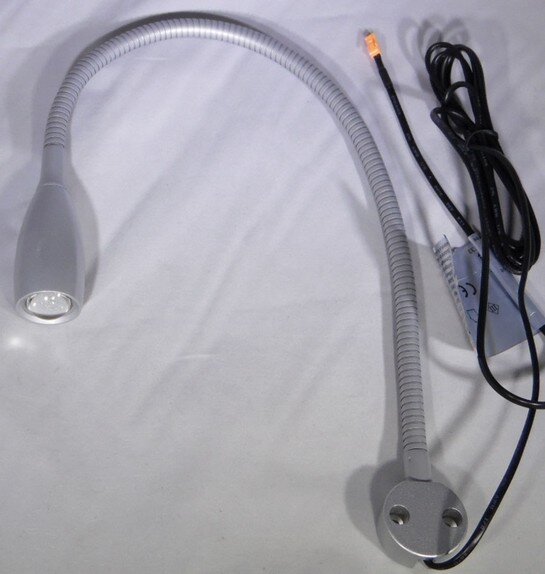 The night time reading light for the bedroom. Flexible arm allows you to pinpoint the light where you want it without disturbing your partner. The on-off switch is controlled by twisting the head gently. Surface mount or through hole mounting methods. Light is a 2 watt LED light in 3000K warm white for ease on the eyes while reading at night. Commonly seen in hotels as a headboard reading light. Works from the Loox 12 volt LED power drivers. Potentially can be used as a private desk light too where low levels of light are desired.
Very similar to model 2018 with the conical head. The 2034 has a round head with a 1.5 watt LED. On-off switch is in the base and has a high/low control. Model 2034 comes in three finishes: polished chrome, matte black, and silver color. Screw hole mounts are hidden to keep a superior finished look. Works from the 12 volt Loox LED power drivers. AND, the light has two USB charging ports in its base. You can connect and charge your devices while using the light. Can be used as a desk light, but it is only 1.5 watts. It is not a bright desk light, more of a personal space desk light.
We show all the 12 volt and 24 volt power drivers on this one page so you can make your selections here. Extension lead wires and terminal block extenders. And then dimmer switches, motion switches, and other switching accessories.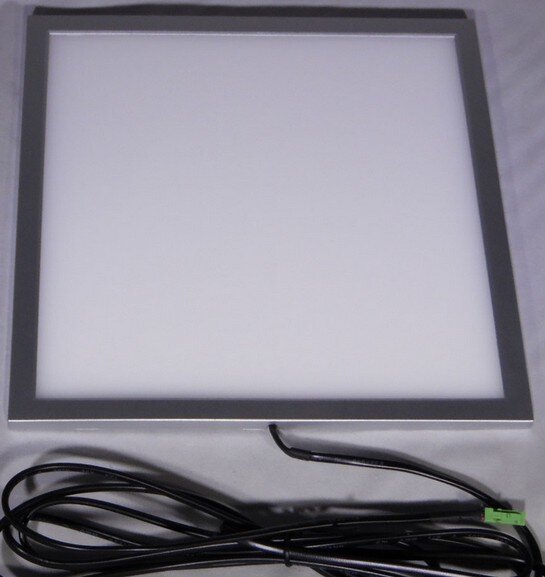 There are four different 24 volt LED lights on this page. Some that are very large, and some normal size. Both round and square selections. These lights are surface mount LED lights but only 6mm tall (1/4"). Thus when mounted they give the appearance of a recess mounted light. Ideal for covering over old light holes where you cannot find a new light to fit in the same size hole. Not a lot of options, but a solution for hiding old holes without having to cut new size holes. Worth a look if you are running into that problem. Can of course be used in brand new applications also as just surface mount LED lights.
For use where lower levels of light are desired. This Luminoso light uses all the same Loox LED power drivers, cables, and dimming accessories. It is just a 1.3 watt LED light, so more suited for accent lighting. Can be used in glass door cabinets to accent accessories that you keep in your cabinets. High efficiency light output. Nice for creating mood lighting in various rooms of the house. Available in polished chrome or brushed steel finishes.
As more Hafele Loox lights capture our attention, we will expand upon our selections.
One of our old press releases from April, 2017: