Closeout Loox 2039 12volt LED Light IP65 rated
Click or Tap the orange menu button to view all Hafele page links
Loox LED model 2039 IP65 rated recessed light
Model 2039 LED is designed with a high degree of protection in mind. They are IP65 rated, which basically means they have a high resistance to contaminants or water getting on the inside of the light. That makes this light great for marine vessels. Still considered an interior light, but water spray and humidity will not bother this light. Lights with IP20 ratings should be kept away from "vicious" wet surroundings. The 2039 comes in a polished chrome or matte nickel finish, and then only in the 3000K warm white light output. They are 2.5 watts each, kind of the equivalent of what a 13-15 watt halogen would be. So brighter than a 10 watt halogen, but far less bright than a 20 watt.
The lens is frosted and the casing is all metal - and sealed.
The light also comes with a 4 meter long attached lead wire (157 inches) to allow you to space it farther away from the LED power drivers if used in a home or office application. On a boat, you would just run them directly from the 12 Vdc on the boat. But in a home with 120 volt current, you will use the 12 volt LED power drivers. So if planning these lights for an outdoor covered patio, or a balcony, the LED drivers can be positioned 10 to 12 feet away from the lights to keep them in a drier place.
The back of the light has 3 friction fit clips. They are pre-set to fit into a 2-1/4" diameter hole. They can compress more. So the light can fit into the ever popular 2-1/8" hole (snugly, it will be a tight fit) if you already have pre-bored holes. The lights protrude off the surface approximately 3/32", and are recessed mounted only.
You would want to select this light for the purpose of its higher water resistance. If that is not a concern, then the Loox 2020, Loox 2047, or Loox 3038 puck style lights would be better options, and have more selections for light color output and finishes. Lights with higher water resistance generally cost more also.
This light is not only for boats or marine applications. You can use it under kitchen cabinets, bathrooms, furniture, and many other applications. They do operate from the Loox 12 volt power drivers when used in the home or office environment. They are dimmable when used with dimming accessories.
Manufacturer: Hafele
Hafele 833.72.091 Loox LED model 2039, 12V, 2.5 watts warm white 3000K, 125 lumen, recessed in 58mm hole, 65x17mm overall, matte nickel, IP65 rated
Add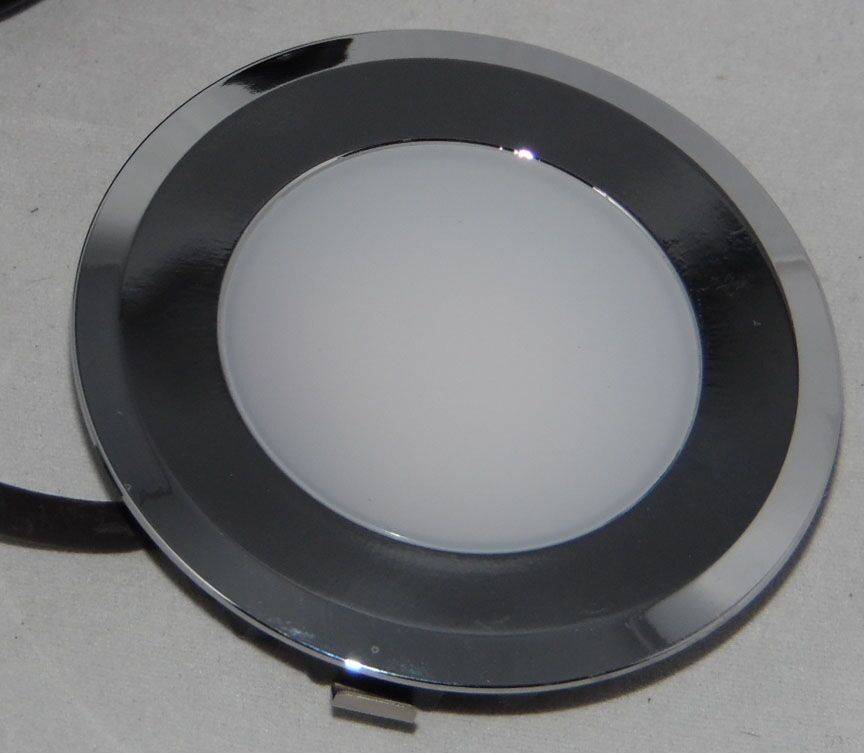 Manufacturer: Hafele
Hafele 833.72.092 Loox LED model 2039, 12V, 2.5 watts warm white 3000K, 125 lumen, recessed in 58mm hole, 65x17mm overall, polished chrome, IP65 rated
Add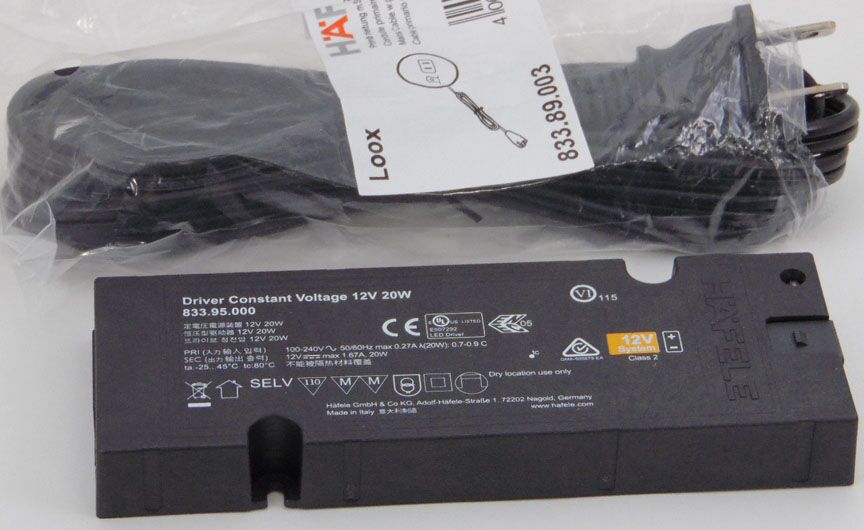 Hafele Loox5 Drivers and Distributors
Hafele 833.95.000 Loox5 LED 12V DC class 2 driver, 0-20 watts, 100-240 V, light-yellow port, 140x50x16mm, overload protection, black plastic casing, 70,000 hour life rating, requires distributor
Add
Hafele Loox5 Drivers and Distributors
Hafele 833.95.749 Loox5/Loox 12v 6-way distributor with switching function, but for connection of older Loox lights to the ports. Used with Loox5 12v drivers, can connect additonal units in series, orange ports, 120mm x 50mm x 16mm.
DIMMABLE AND USED FOR OLDER LIGHTS
Add
For our customer who were use to finding the Loox 833.74.960 20 watt 12 volt driver on this page, our overstock is finally gone. You will now use the HAF-833.95.000 driver with the HAF-833.95.749 distributor. Found on the
12v Loox5 LED Drivers
page.
A
157" attached lead wire is on every light. Extension wires probably would not even be a consideration, or needed.
For accessories, select from these links:
LED power drivers
|
Loox5 12V drivers and distributors
|
switches
|
extension cables
Ordering note:
For replacing or upgrading on boats or motorhomes, friction fit clips are preset for a 2-1/4" hole, but can compress more and fit in a 2-1/8" hole. The opposite is also true. The friction fit clips can be pulled a little bit outward to fit snugly into 2-3/8" holes or even a spec larger. Each light has an attached lead wire which is a twin wire. You can easily splice them into your existing boat wiring and have a nice smooth install.
If you have any questions prior to ordering, please call or
e-mail us
.