Hafele Line Voltage LED Hardwired Driver
Click or Tap the orange menu button to view all Hafele page links
Dimmable E-series LED Power Drivers and distributor blocks
The Loox LED lighting systems have 12 volt and 24 volt lighting options. We offer quite a few of the 12 volt systems and 24 volt systems that we really like, or that fill a need for similar lights that we use to have from Hera Lighting. Our plan is to add more of the Loox LED lighting as time permits. They have much more than what we show, and they are constantly making upgrades to what they produce. Such as the entire Loox5 line for example.
This page has Hafele's 12Vdc and 24Vdc Dimmable E-series Drivers. They are different from the standard Loox and Loox5 LED Drivers.
Purpose of the E-series drivers
If you have a "wall dimmer switch" set up that is controlling the power to the driver down-line, this is why you would use this LED driver. Household current is fed into your dimmer switch. Line voltage is leaving that switch to the driver. Then by use of the 6-way distribution block, you can connect your low voltage lights and control their on/off and dimming function from your wall dimmer. The Loox LED power drivers on our
Loox5 12v drivers
and
Loox5 24v drivers
pages
have optional dimming control performed on the LOW VOLTAGE side, by means of a side port on the driver. The E-series driver is pretty much for customers who are upgrading from older halogen systems that had dimming controlled from a wall dimmer switch on the HIGH VOLTAGE side. Thus dimming control prior to the transformation of power from 120 V to 12 V, or 120 V to 24 V. Or your dimmer was controlling an outlet that your transformers are plugged into, or hardwired from.
It it recommended that the E-series drivers be installed by licensed electricians. 120 V AC current is fed into them from your household wiring. Then 12Vdc or 24Vdc is the output voltage from them for your low voltage LED lights. Whenever you choose to work with your home's electrical wiring, there are precautions that need to be taken, and devices need to be wired properly, and by code. Electricians are trained in these procedures. Experienced homeowners of course will do what they choose to do. We just have to say what is being said in the Hafele catalog. We are not endorsing for anyone to choose to or choose not to install this driver by themselves.
By using the 6-way distribution block, you can easily connect up to 6 lights. If you need to connect more than six lights, as long as you stay under the maximum wattage of the driver, YOU CAN. We show 6-way splitter blocks on the Drivers and Dimmers page that have the convenient coupler attached on their tail. Connect that into one of the ports on the 6-way distributor, and now you are up to 11 available ports. Do that again, and you are up to 16.
Note, we are offering the 40 watt drivers on this page because the 20 watt and 40 watt are priced identically. Seems to make sense to have the 40 watt and ability to connect more lights to it. But there are other drivers which you can request from us. The 12Vdc has a 60 watt version also, slightly more expensive. And then the 24Vdc has 60, 75, and 90 watt versions, each gradually becoming more expensive. But if you have a ton of lights and you need a larger driver,
please inquire with us
.
Hafele E-series Drivers:
Output voltage: 12 Vdc (also 24 Vdc shown lower on page)

Input voltage: 120 V 60 Hz

Degree of protection: Nema 3R enclosure type

Hard wired by licensed electrician only

Dimmable with any standard MLV.CL (Triac) Foward Phase Dimmer Switch

Class 2 low voltage power supply

8 watt minimum load required for smooth operation

Compact size: 6-3/4" long x 2-11/16" wide x 1-1/4" tall
On the 12 volt driver shown directly below, click on the picture. It will expand and give you options of other pictures which will show the wiring diagram and installation instructions, and some close ups.
6-way distributors
We still show what's left in our stock for the distributors with Loox4 connections. And we show the new Loox5 6-way distributors. When the old style runs out, if you have a need to connect older Loox4 lights, there is still a way via using the adapters. For situations like this, call us. Because typing 3 more paragraphs of explanation only to confuse people doesn't always work out too well.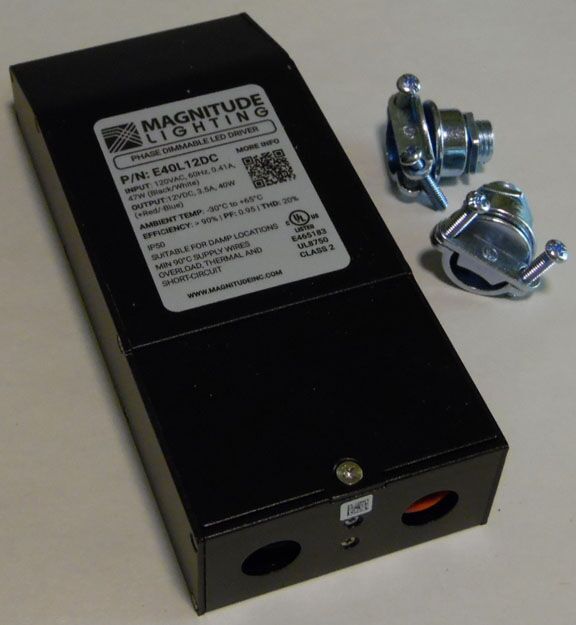 Hafele LED Power Drivers and Switching Accessories
Hafele 833.02.963 Dimmable E-series Driver, 40 watt. Output 12Vdc, input 120V 60Hz, hardwired by licensed electrician, dimmable by MLV/CL (Triac) Forward Phase Dimmer Switch, Class 2, 8 watt min. load required
Add
Hafele LED Power Drivers and Switching Accessories
Hafele 833.02.748 six port distributor block to be used with E-series drivers, used for modular connection of Loox LED lights, polarized, 12 volt
(3 LEFT in stock)
Add
Hafele Loox5 Drivers and Distributors
Hafele 833.95.870 six port LOOX5 distributor block to be used with E-series drivers, used for modular connection of Loox LED lights, polarized, 12 volt, Loox5 yellow ports
Add
Hafele LED Power Drivers and Switching Accessories
Hafele 833.02.969 Dimmable E-series Driver, 40 watt. Output 24Vdc, input 120V 60Hz, hardwired by licensed electrician, dimmable by MLV/CL (Triac) Forward Phase Dimmer Switch, Class 2, 8 watt min. load required
Add
Hafele LED Power Drivers and Switching Accessories
Hafele 833.05.797 six port distributor block to be used with E-series drivers, used for modular connection of Loox LED lights, polarized, 24 volt
(3 LEFT in stock)
Add
Hafele Loox5 Drivers and Distributors
Hafele 833.95.880 six port LOOX5 distributor block to be used with E-series drivers, used for modular connection of Loox LED lights, polarized, 24 volt, Loox5 dark green ports
Add
Hafele Loox5 and Loox4 LED Lighting web page links:
Older Loox4 24v spotlights:
Model 3038