Older Loox4 LED Power Drivers
Click or Tap the orange menu button to view all Hafele page links
LED Power Drivers 12V and 24V Drivers
The Loox LED lighting system has 12 volt and 24 volt systems. This is an OLD page showing what remains of the Loox4 version LED drivers. Loox4 drivers had the 6 light ports built into them.
The OLDER Loox 12 volt LED drivers had orange ports, and the 24 volt drivers had light green ports. All Loox4 LED spotlights have attached lead wires with couplers on the ends. These couplers are color coded too, orange and light green for the lights that we have been familiar with. So if they are orange, you know you have 12 volt lights. And if they are light green, then you have 24 volt lights.
Loox4 Extension cables and terminal block extenders
are color coded the same way.
Dimmer switches
are now shown on a separate web page are not 12V or 24V sensative. They work with both voltage systems.
And now that the 20w, 40w and 60w drivers have sold out in the 12v, the 24v choices are nearly diminished too, we have set up 2 NEW web pages for the Loox5 LED power drivers and distributor choices:
12v Loox5 LED Drivers
|
24v Loox5 LED Drivers
Go to one of those two new web pages to see your Loox5 driver and distributor combination choices. Or continue on down this page to see what is left of the Loox4 choices.
For our customer who were use to finding the popular Loox4 833.74.960 20 watt 12 volt driver on this page, our overstock is gone. You will now use the HAF-833.95.000 driver with the HAF-833.95.749 distributor. Found on the
12v Loox5 LED Drivers
page.
Loox LED Drivers (Loox3 and Loox4):
Suitable for all the World's power systems. (US orders will come with a detatched power cord for US outlets)




Each has an integrated port for a wide selection of switching accessories




Lead length of driver to switch is 6 meters (236 inches). This is if you choose to have an attached switching accessory, it is optional.




Six convenient ports per driver to hook up many lights




Terminal block extenders available to connect more lights without exceeding voltage limit of driver




12 Volt drivers, some left in 20 watt. See

NEW LOOX5 12V drivers

for 20, 40 and 60 watt drivers.




24 Volt drivers some left in 20 watt and 40 watt until gone.

New Loox5 24V drivers

for 20, 40, and 90 watt drivers




Choice of power cord for countries other than the US




Drivers are 100-240 Vac input, so they can be used for 120 volt US current, 230 volt European current, and for other countries in the World.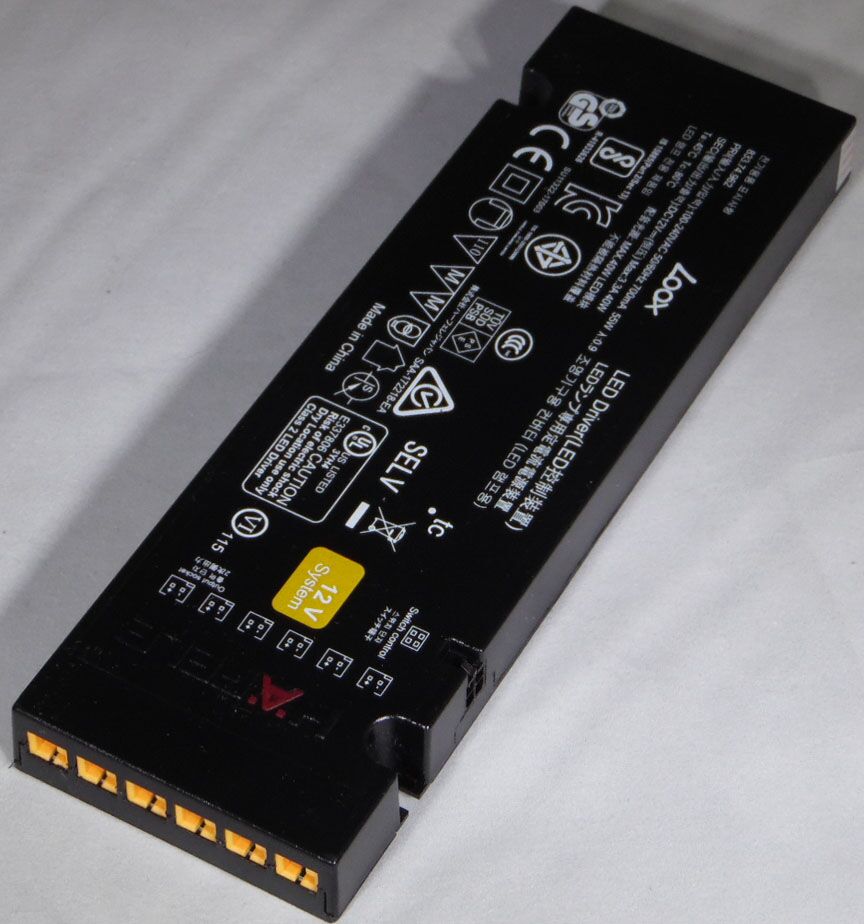 Hafele LED Power Drivers and Switching Accessories
Hafele 833.74.962 Loox LED 12V driver, 0-40 watts, 6 yellow ports, 190x60x16mm, black plastic casing (Can now use Loox5 driver 833.95.002 + 833.95.749 distributor block to achieve same thing.)
(BUT, Hafele says they have 3500 of the 833.74.962 in stock as of April 2023, thus still available.)
Add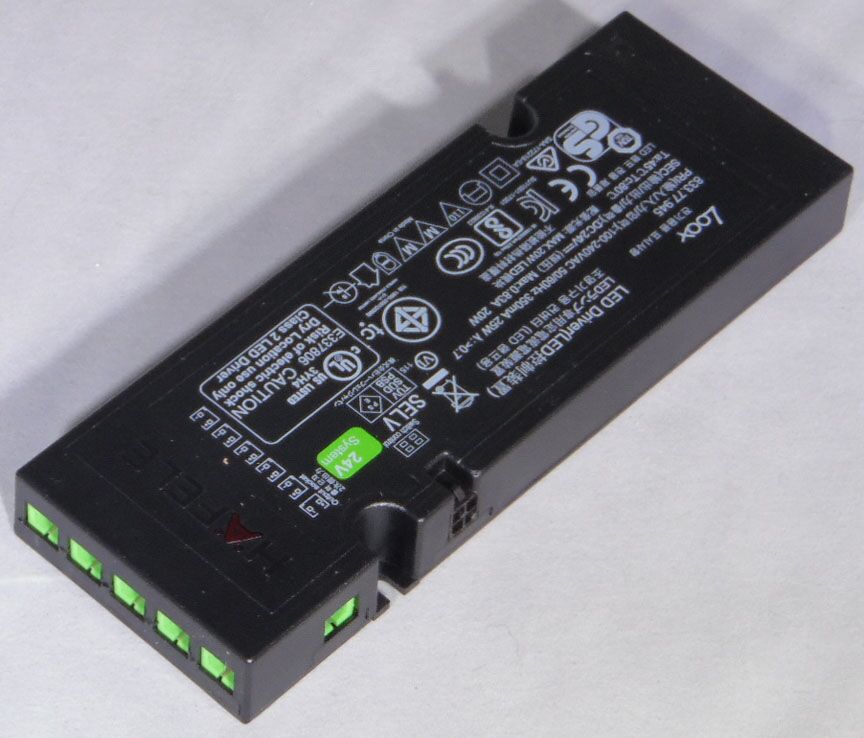 Hafele LED Power Drivers and Switching Accessories
Hafele 833.77.945 Loox LED 24V driver, 0-20 watts, 6 green ports, 140x50x16mm, black plastic casing.
(9 LEFT in stock as of Sept 2023.)
When they run out, you will use the NEW 20 watt driver and distributor combination shown on our new 24V drivers and distributors web page.
Add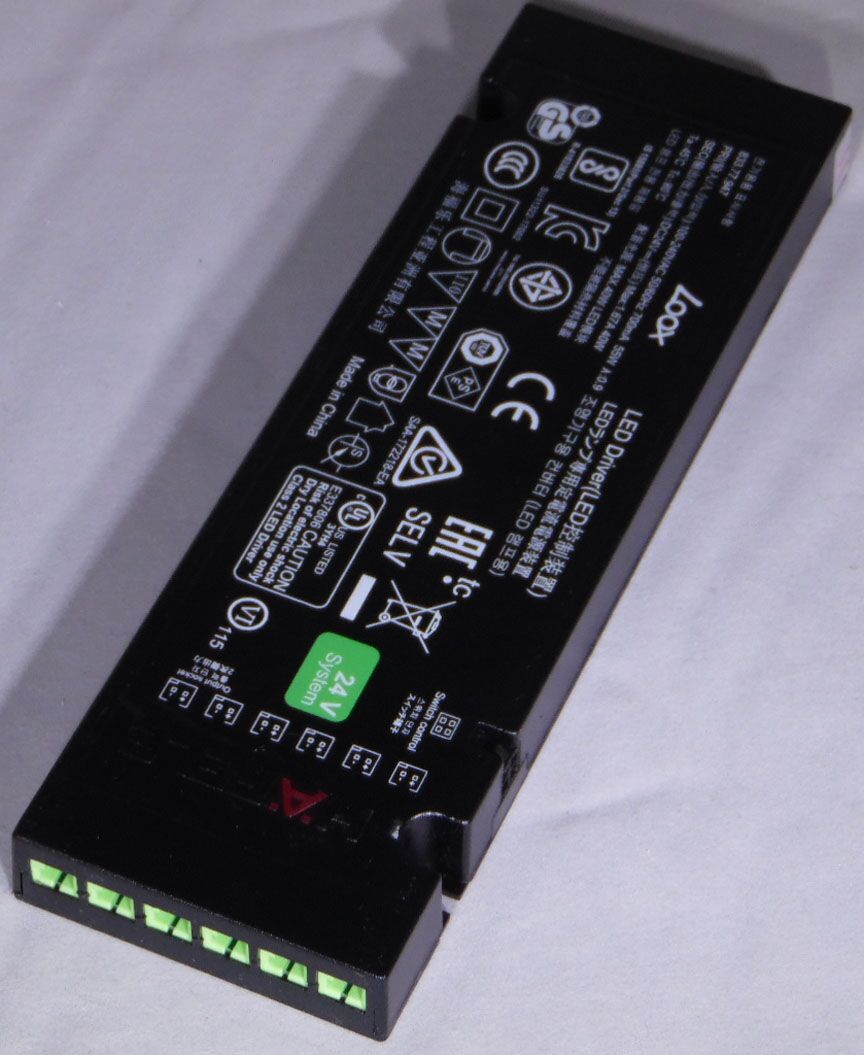 Hafele LED Power Drivers and Switching Accessories
Hafele 833.77.947 Loox LED 24V driver, 0-40 watts, 6 green ports, 190x60x16mm, black plastic casing (24 volt system)
(6 LEFT in stock. Replacement is 833.95.010 plus your distributor choice. New Loox5 40w driver.)
Add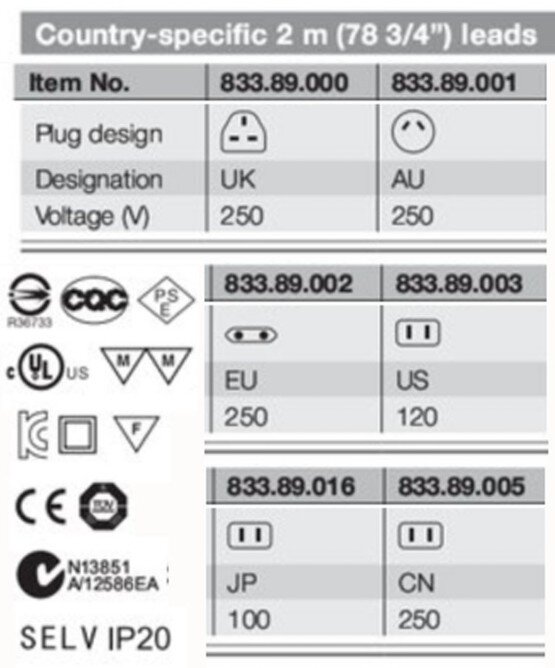 The diagram to the left or above shows the various power cord possiblities. With all orders placed in the US and Canada, with every LED power driver, Hafele will supply one 833.89.003 detatched power cord with the driver.
You do NOT need to order it separately
, it will come with every driver. But if you are outside the US or Canada and need a different power cord to correspond with the outlet choices in your country, you had better tell us. We will have comment fields on our order form, or ordering process, and you can enter such notes about your needs. If you do not state that you need something different, then by default, all orders will come with US based cords.
New Loox5 LED Power Drivers and Distributors
Hafele Loox LED lighting has progressed. Loox5 is their newest addition of powering accessories and lots of new lights, in which we will add many to our website as time permits. We have sold out of the 12V 40 watt older drivers already. And as other older drivers do finally sell out, then your selections will be on the
12V Loox5 Drivers
and
24V Loox5 Drivers
pages. You can use the Loox5 LED power drivers and distributors right now if you like. The new drivers are rated for a
70,000 hour lifespan
. What does that mean? There are 8760 hours in a year. If you turn on the new driver and leave it on 24/7, that would be 8 years. If you have your lights on only 8 hours a day, that is about a 24 year driver lifespan. If you do not use your lights but for a few hours a day, they can last 30 years or more.
The Loox5 drivers work with a connectable distributor. What the distributor does is give you the ports to connect your lights into. Some distributors have a built in switch port. You will use those when you are planning on dimming your lights. There are distributor choices also with older connection ports and newer Loox5 connection ports. Much much more is explained on those two web pages.
Light extension leads and terminal block extenders
Dimmer Switches and Other Switching Accessories
We also use to show them on this page until the Loox5 LED power drivers came out. So we moved them onto their own page too. See the
Hafele Loox Dimmers and Switches
page. There are barrel style and square style switches shown on that page.
Ordering Notes:
When selecting the proper driver(s) for your application, you need to know the plan for your lights. We like using the word 'zones' to imply groups of lights that are set up in multiple locations. If you have just 3 under cabinet lights and all 3 are controlled together, that is just one zone. But if you have 3 to the right of a range hood, and 4 on the other side of a range hood, that might have to be 2 zones. Why we say this is because sometimes you cannot run your light wires or extension wires past a range hood, microwave, window, or island cabinets. So if you cannot wire all 7 of those lights in this case to one location, you would break them up into 2 zones. The zones can still be controlled together if you household wiring was set up to do so, or they can be controlled separately.
Sometimes customers will have a group of lights inside glass front cabinets. And then a bank of lights below the cabinets. The lights in the cabinets are for accent. The lights under the cabinets are work lights to make the countertop glow, or also for accent. Not everyone wants them all on at once. So you would set up zones to please your need and to provide different types of lighting at different times of the day.
So if you have a long L-shaped kitchen and are placing approx. 10 to 15 lights in your L-shape, ten of a 3-watt LED light can operate on one 40 watt driver if you want all 10 to switch on and off or dim together. If you had about 15 lights at 3 watts each, that is 45 watts and you would need to use the 60 or 90 watt drivers, or multiple drivers of the lower capacity. How you set it up is up to you and how your power supplies (outlets) are positioned. Some kitchens will have multiple outlets wired to one wall switch. And most older kitchens may have just one outlet wired to a wall switch. Good to plan it all out in advance and then order the correct size and number of LED power drivers needed.
Navigation of our website:
Right now you are in the Hafele Loox LED Lighting section of our website. Immediately below you will see links to the Hafele pages for quick access to bounce around. The orange menu button toward the top of the page is section sensative. It has links to the Hafele pages. When in other sections, it will have links to pages in those sections. With Hafele Loox LED Lighting, you will need to look at multiple pages. Your light selections, LED power drivers, possibly the dimmers page, and maybe terminal block extenders. These navigation aids will help you get back and forth.
And a Windows OS tip, whenever you encounter a link on a web page, if you right click on the link, it gives you a short context menu where you can choose to "open page in new tab." You can have multiple web pages open without losing your place on the one you were on. Sometimes that makes life easier. Just watch out for the back button. When you open a new tab, you do not get to go backwards in a new tab unless you already opened more pages within that tab. Yes, we give cabinet lighting help and Windows software assistance. I started with Windows 3.1, a very long time ago.
Hafele Loox5 and Loox4 LED Lighting web page links:
Older Loox4 24v spotlights:
Model 3038