How to use LED Lighting Terminal Block Extenders
Eclectic-ware
I need to install a dozen LED under cabinet lights in my kitchen. Can I do it from one low voltage LED power driver?
Excellent question. Class is in session. It will be easier to explain by focusing on just one LED light model, and that will be the
Loox 3038 LED light
. Then everything explained will apply equally to the 12 volt lights as well as the 24 volt.
In this article we are going to cover:
the various LED power drivers

the 6-port terminal block extender

the 4-port cable extender

the various individual extension wires

First, the
terminal block extender
and an extension cable are not the same thing. Words might be similar, but they are for two separate purposes. But sometimes used together. The 6-port terminal block extender converts ONE light port on your LED power driver into SIX. Thus you gain use of 5 additional ports. When using the higher capacity drivers (in wattage), this extender allows you to connect 5 additional lights to the driver. If you use two, you have the ability to connect 10 extra lights. The Loox 3038 LED light is 3 watts. You can conveniently connect 1 to 6 of them on any of the 3 Loox LED power driver choices. All 3 drivers are made with 6 ports on them. So if only using 1 to 6 lights, the 20 watt driver is more than sufficient to handle six of the 3-watt lights. But not all kitchens are the same, don't we know it. Yours need 8 lights, and you want them all controlled together. You could use two of the 20-watt drivers, or use one of the 40 watt drivers with a terminal block extender. Thus 8 of the 3-watt lights is 24 watts used on your 40 watt driver. Room left over for a few more lights if you chose.
The LED power drivers come in 20 watt, 40 watt, and 90 watt for the 24v lights. For the 12 volt lights, you have choices of 20w, 40w, and 60w. They all look pretty much alike. Each has 6 usable ports on them to connect lights to. You can have as little as one light on a driver or as many as you like up to its maximum rated wattage capacity. So the 20 watt drivers are really convenient for smaller applications of 1 to 6 lights. The majority of Hafele Loox LED spotlights are 3.2 watts or less. It makes connecting a lot of lights per driver very easy. All modular connections. Jacks are similar to tiny phone jacks. All plug and play. Each driver also has a black side port called a switching port. Thus, any of the Loox switches: dimmers, on-off, motion detector, or door switch can connect into that side port. This is an important consideration when selecting the capacity of the power driver. If you are setting up 12 lights, and you want all 12 to come on together and dim together, to reduce your cost, using one 40 watt driver with two terminal block extenders will allow you to use just the one dimmer control. If you were to split the lights between two drivers, you would thus be setting up independent zones. With a 0-10v low voltage compatible wall dimmer, you could set it up to split to both drivers. But with the Loox switches, you would need one per driver. We welcome any questions on this. You can call or
e-mail us
.
The terminal block extender with a lot of reach
The 6-port terminal block extender is great when the attached lead wires on the lights are long enough to do the job. You can center your power driver in most cases and run lights both directions. But say you have that island bank of cabinets extending out into the room over a breakfast bar or island cooktop. And it is farther away from where your LED power driver has to be positioned. The 4-port combination terminal block extender and extension wire can really come in handy. It can give you a lot of the reach you need, and allow for some extra lights to be mounted in that outlying area.
It has the one male connection on it which connects into the driver. Then 4 female ports spaced apart along the rest of its extension to allow you to connect light after light still stretching farther out. If you have need of more lights, say two lines of them, possibly 3 lights on the front side of the island and 3 in parallel on the other side, you can add a 6-port extender into one of those ports about halfway down and continue to add lights. Just as long as you stay under the maximum wattage for the driver you are using. Thus terminal block extenders can also connect into themselves. You don't want to get too crazy. If you are mounting 20 or 30 lights in your kitchen, you might want to break them up into zones. Or you might have to break them up in to zones. With all the components and lights available individually, you can create whatever set up you need.
Extension wires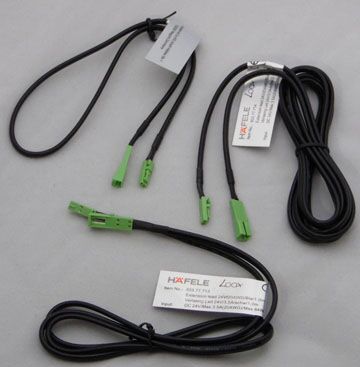 Extension wires are pretty much a one for one extended reach per light. They do not increase the number of lights you can connect onto a driver, they just allow you to put one light way out there. Or many lights way out there by using one per light. They also allow you to add those extra few inches or feet that you need for your last light or two in a line. Most lights have a 79" attached lead. But you cannot always center your LED power driver. Sometimes it is on one end where your outlet is. Thus your last light in the line could be 8 feet away. So what do you do? A 39" extension wire would probably do the trick. The wires come in 19", 39", and 79". Basically, half-meter, one-meter, and two-meter. For those of us who like the metric system. The extension wires can also connect to each other. Should a 79" extension not be enough, you can connect another lead to it to gain more length.
Extension wires can also be used from the terminal block extenders. Or even leading up to an extender. An example of that, we hear about a lot of older halogen light systems being hooked up where the transformer is in the basement. Yep, very common to find the transformers in the attic, the basement, or 5 cabinets over. Thus more wire is needed to reach the lights. So when you mount the LED power driver farther away, you can use an extension lead out of it, connect a 6-port terminal block to that extender, and it would equate to the same thing as putting the six ports that are part of the driver somewhere else. Where they can reach the lights. You can be quite crafty with your hookup.
All of the above is showing the green connections for the 24v light systems. Everything above, including the switching controls out of the side port of the drivers, applies to all the 12v light systems too. The 12v have orange connections. Done on purpose so you do not mix up lights on drivers. Some kitchens could have a mix of 12v and 24v. Or just mixed throughout the house. Under cabinet lights are used in bathroom cornices and cabinets. They are used in hutches, in bars, in desks, even in bedroom furniture. Having the ability to use the number of lights where you want, and the flexibility of various size power drivers, switching controls, and stretching things out farther away, count on the Hafele Loox LED Lighting Systems to fulfill your lighting needs.
The future
Hafele has just launched Loox5. All of the above components are still available. But changes are happening. The drivers will be made without ports on them. You will connect a distributor to the driver which will give you the ports you need. Multiple distributors can be connected to each other per driver. Each could have separate switching control if you like. Extension wires and terminal block extenders can still be used. There will be convenient port convertors to connect the old to the new or the new to the old. So there will be some changes coming. We will have a little rewriting to do on our web pages. Lights will be the same with many more added. And Hafele is not going to leave anyone hanging. With the port convertors, which come in 6-packs, if you ever need to expand upon what you need in your home, or replace a component, you will be able to do so without having to rip everything out and start over. Like a lot of us have been doing with the older halogen lights which are aging. Since halogen is not being produced and the world is switching over to LED, it is important to have an LED manufacturer who takes measures to assure you that you can keep your lights on in the future. Hafele Loox is there for you.
Hafele Loox has a lot more goodies than what we presently show on our website. We do plan to add more web pages and start showing off more of what you can do in your home or office. Lots of display lights too.