Lenape Porcelain Bathroom Hardware [Selection Summary]
Lenape Porcelain Bathroom Hardware collections
Lenape Products, based in New Jersey, has been around a very long time. They produce quality bathroom accessories in porcelain (ceramic). There are vintage style accessories for tile-set installations. And then their other collections are generally clip on mount. The metal mounting clip is attached to wall surface, and then the porcelain piece slides down onto the tapered clip. A very popular way to mount to drywall, green board, sheet rock, and wood surfaces. You can even mount on top of tile using the clip on accessories, just be certain to use a ceramic tile drill bit when preparing the screw holes for the mounting clips.
And though most of their selections are clip mounted, you can still add a small amount of adhesive behind them when mounting to make them a more permanent mount. This is a good precaution on towel bars and TP holders as we have heard many horror stories about them jumping off the wall. Real life, not Hollywood. Towel bar posts are pushed downward onto their mounting clips. The clips are tapered and are supposed to hold the posts in place when you wedge them downward on the clips. But Houdini in the bathroom who is whipping the towel off the towel bar may pull a post with it and send it flying across the room, only to shatter and create the need to grab a broom. So a little adhesive added behind the items from the Classic, Meridian, and Carrousel collections can aid in keeping them in place. A little helpful reminder from the family based Eclectic-ware hardware store.
All collections are available in Lenape's white porcelain color. The Pro Series and Carrousel collections also come in bone. And a few items in the Pro Series are once again available in black gloss. Lenape's white is not a really bright white. It is a bit of a tinted white, there is a faint greyish cast to it. If you need really bright white accessories, we suggest view the
AC Products Stylish 700 Series
. Addtionally, items from ACP come in approx. 80 to 90 colors and multiple mounting methods. Many more choices.
Lenape has a few other accessories and we do offer parts that they make available. One of the most USEFUL parts is the
Lenape Re-Place-A-Bar
. A towel bar with spring loaded ends so you can easily place it between two towel bar posts that you cannot remove from the wall. No need to pay a plumber or handman to take off one post to fit a bar back between them. The Re-Place-A-Bar can be installed by most anyone, and without a huge mess or cost. A great way to restore use to a towel bar that snapped out of its posts.
Tile set pieces, thin-set mount.
The pieces in this collection are thin-set mount ONLY. You will find soap dishes, TP holders, towel bars, toothbrush holders, and corner shelves in both white and bone colors. A few items are available in black gloss finish.
White Oval shape ceramic and Blossoms on White.
Traditional styled oval pieces in a plain white finish, or the Blossom on White. The Blossoms flower is a 3-tone pink flower with green leaves. You have selections of single towel bars, double towel bars, double robe hooks, TP holders, soap dishes, toothbrush holders, and towel rings. ALL items are clip on mount. All items come with the mounting clips.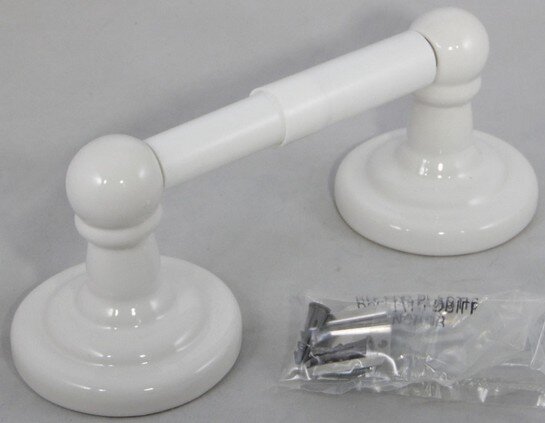 Fully circular base porcelain bath hardware.
The Meridian collection comes in white only. Single and Double towel bars, soap dishes, toothbrush holders, robe hooks, TP holders, and towel rings. All clip on mount.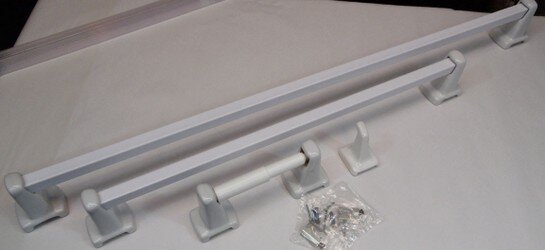 These are the smaller more square shaped pieces. The collection comes in white or bone, and has been slimmed down to towel bars, TP holders, and robe hooks. It was much larger in the past, but towel rings, soap dishes, and toothbrush holders are gone.
The "we are trying to make it famous" easy to use, replacement towel bar rod. To fix a broken square plastic towel bar, use this.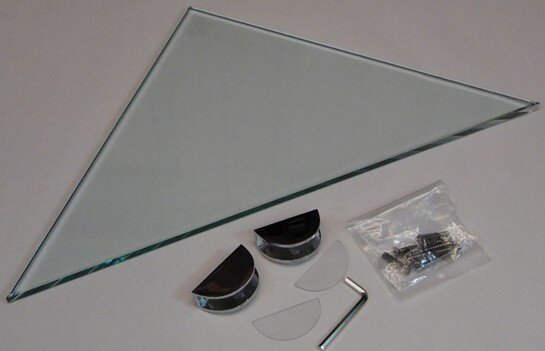 Large triagular glass corner shelves with half moon shaped solid brass mounting brackets. Great for bathrooms and kitchens. Tempered glass, very nicely styled. Mounting brackets are available separately also.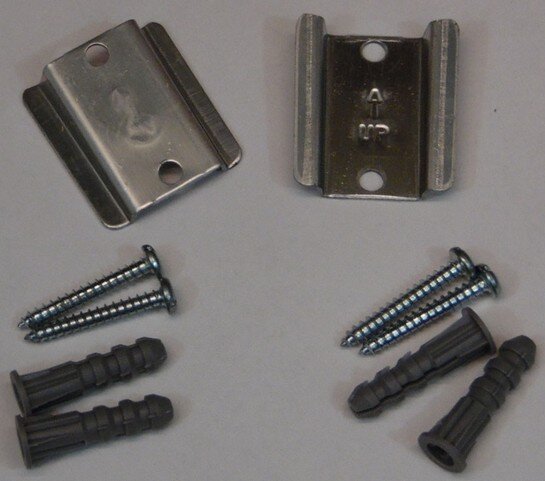 These are the additional requested replacement parts: towel rings, mounting clips, TP rollers, spring loaded ends.
Helpful Links:
Lenape did at one time offer a lot more. They use to have recessed and semi-recessed bath fixtures, switchplates, stoneware items, and knobs and pulls. The following links may be helpful for locating similar items within our website.