Exceptional 900 Series Stoneware Bathroom Hardware
AC Products section index
AC Products Exceptional 900 Series - stoneware finished ceramic bathroom hardware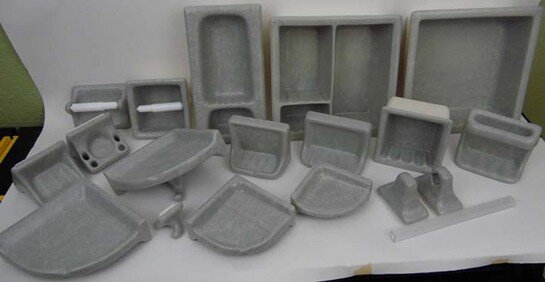 The Exceptional 900 Series, as you can see from the photo above, is loaded. Almost, not all but almost, every item from the 700 Series is transformed in the 900 Series in the various stoneware colors. The items are still made from ceramic. They are the exact same pieces as shown in the 700 Series. (Just a note, the 700 Series is all the pieces above is solid tone gloss and matte colors, a much larger selection of items.)
So all the part number descriptions and dimensions will be the same as those shown in the 700 Series. Because the 700 Series is so large, we have broken it up onto individual pages for similar items. Seven pages in total. This is so we can offer much more specific information in relation to towel bars, soap dishes, corner shelves and the other items. It helps keep the web pages a bit shorter too and easier to read. For the 900 Series on this page, we are going to spare you from our long explanations. Hey, for anyone applauding right now, a lot of people like our long explanations. We do try to offer helpful info when we can. So if you do need any of that helpful info, just go onto the
split up 700 Series pages
and it will apply to the 900 Series in the same respect.
This page will be a bit longer with item pictures. Since several items come in multiple mounting methods, it looks like pictures are repeated, but the descriptions do change. To keep it a bit more simple too, we are just going to list everything in numeric order. So you will find soap dishes all over the list, and then the other items laced between.
If you have any questions about anything, please call or
e-mail us
.

Many items in the 900 Series come in multiple mounting methods.
Stoneware colors for the 900 Series
These six colors are not available on all items. Several restrictions do apply and are noted within the individual drop down color selection menu choices.
Manufacturer: AC Products
AC Products Bar Exchange: All towel bar sets come as a default as 2 posts with a 24" bar. So a 24" bar is already included and you do not need to order it separately. But if you wish to change from clear to white, or white to clear, or to a no bar option, or to a 12", 30", or 36" bar, select from the drop down menu (per towel bar set that you are altering from the default 24" size bar). *For the no-bar option, and reduction to 12" bar, if the dollar deduction does not show up in the shopping cart, fear not. We will make sure it processes correctly when we write up your order.
Add
For model 930 towel bar selections much higher up on the page, you can choose your bar length, and swap colors if you like. In the stoneware selections, all towel bars will automatically come with a 24" clear bar. A white bar is not commonly requested with these items, but it is personal preference. If you would like to switch, use the Bar Exchange part selection to do so. And you can stay with the 24" standard bar, or pick a 12", 30", or 36". All bars are 3/4" square plastic and can be cut shorter. So if you want to make an 18" bar, cut down the 24". If you would like to create a 7 to 9" wide hand towel bar, cut down the 12".
This ceramic bath hardware is MADE IN THE U.S.A.
AC Products website pages, color information pages, and other help