Exceptional 900 Series Stoneware Bathroom Hardware
Click or tap the orange menu button to access all AC Products section page links
AC Products Exceptional 900 Series - stoneware finished ceramic bathroom hardware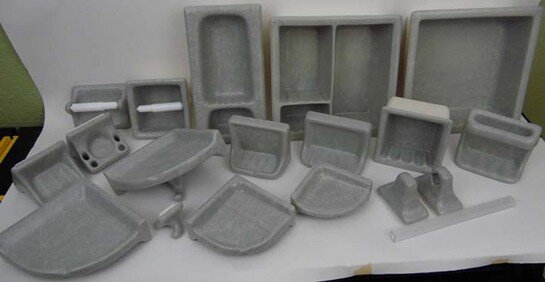 The Exceptional 900 Series, as you can see from the photo above, is loaded. Almost, not all but almost, every item from the 700 Series is transformed in the 900 Series in the various stoneware colors. The items are still made from ceramic. They are the exact same pieces as shown in the 700 Series. (Just a note, the 700 Series is all the pieces above is solid tone gloss and matte colors, a much larger selection of items.)
Now, the Scoop on AC Products.
Yes, they are out of business, as of November, 2022. They announced it, halted production, and only sold off what they had had currently made. We were a "little" lucky. We were able to stock up on some towel bars, TP holders, shower caddies and a few other items. This note is now updated as of Feb. 17, 2023. Stock is selling off. There are some holes already for the items we normally kept in our stock, primarily the 700 Series and 900 Series. We are noting in the product "select your color" drop down menus as to how many of each item we have left in each color. And we have erased options for items that are completely gone. Updating it pretty much every other day. We still have a fair amount of stock on hand. But when it comes to all those wonderful colors, they are pretty much gone. We will continue to sell what we have until it completely runs out. We still offer Lenape Bath Hardware, and hope to find a source to re-invent some of what AC Products had offered. Many of our AC Products web pages still have a lot of older info. This note supercedes everything....
Dec. 18, 2022. This page has been updated to reflect what quantities we have remaining in our stock. As items sell, we will be diligent about updating the counts left. Use the SELECT YOUR COLOR drop down to see what remains for each item.
Thus all the part number descriptions and dimensions below will be the same as those shown in the 700 Series. Recessed items too, and the TP holder from the 800 Series. Because the 700 Series is so large, we broke it up onto individual pages for similar items. Seven pages in total. This is so we can offer much more specific information in relation to towel bars, soap dishes, corner shelves and the other items. It helps keep the web pages a bit shorter too and easier to read. For this 900 Series page, we are going to spare you from our long explanations. Hey, for anyone applauding right now, a lot of people like our long explanations. We do try to offer helpful info when we can. So if you do need any of that helpful info, just go onto the
split up 700 Series pages
and it will apply to the 900 Series in the same respect.
This page will be a bit longer with item pictures. Since several items come in multiple mounting methods, it looks like pictures are repeated, but the descriptions do change. To keep it a bit more simple too, we are just going to list everything in numeric order. So you will find soap dishes all over the list, and then the other items laced between.
If you have any questions about anything, please call or
e-mail us
.

Many items in the 900 Series come in multiple mounting methods.
Note:
The
BAR EXCHANGE
part number to change the size of your towel bar is near the very bottom of this page.
Stoneware colors for the 900 Series
These six colors are NOT available on all items. Several restrictions do apply and are noted within the individual drop down color selection menu choices.
S904, S909, and S910 colors are available on all items. It is the S901, S902, and S906 that have restrictions.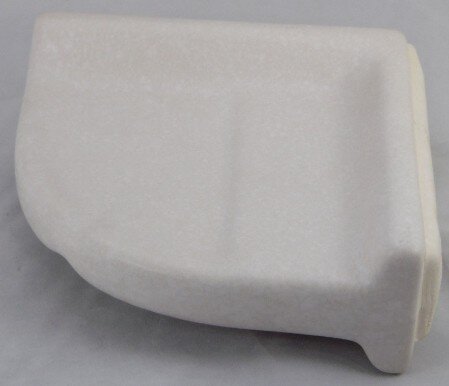 S901 White Marble Stone
A brownish-greyish-white mix,
granular pattern to look like real stone. The main hue is not
white, it is a dingy white to resemble real stone. Matte sheen.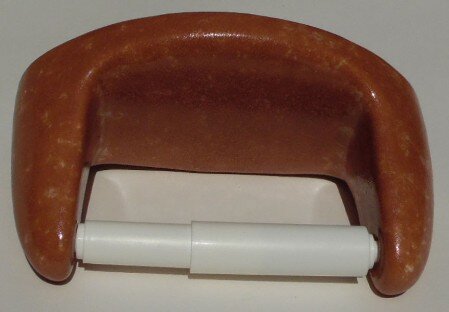 S902 Red Clay Stone
A mix of red, dark orange, and some
light speckles to make a reddish granite look. Semi-gloss sheen.
S904 Smoke Grey Stone
This will have several light greys
mixed together, including a bluish grey, and some cream
tones. Varies, sometimes the bluish-hue grey is a little
more dominate. Matte smooth sheen.
S906 Blue Grey Stone
Predominately darker blue,
but a mix of greys and off cream tones mixed in.
Semi-gloss sheen.
S909 Dark Bone Stone
A mix of browns and lighter tones.
Overall a caramel like appearance. Matte sheen.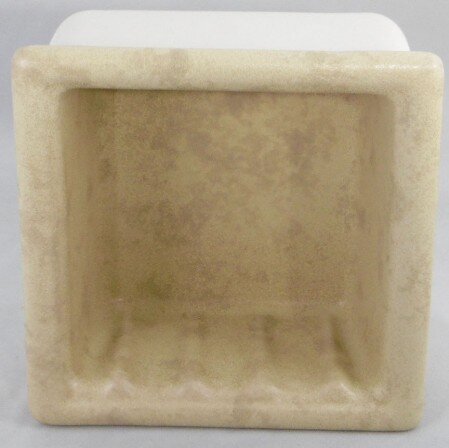 S910 Sandstone
Distinctly a golden dominance.
A mix of brown, gold, yellow, cream. Lighter than the
dark bone stone and much more golden. Matte sheen.
The stoneware finishes are hand applied. There will be a consistancy to the colors, but each piece can vary by a little bit. None will have the exact same pattern, yet they generally do look similar. There are a combination of colors used to achieve the stoneware look. Pieces can come out different when made by different employees or batches. If you order one item now, and one a year from now, they most likely will have a small variance. We just want you to be aware of this.
The S904 has multiple grey and cream tones, with a faint bluish hue. S909 is predominately a caramel type tone in the brown family. And then S910 has a more dominant golden hue. These are the three most popular stoneware colors. We try to keep many items in stock in these three colors. We cannot keep all items in stock, but some of the more popular items are kept on hand.
About the towel bar sets above:
Each model 930 towel bar set comes as 2 posts with a 24" bar. So when selecting a quantity of 1 above, you get two posts and one bar. With the clip on sets, a pair of mounting clips comes with the set too. The BAR EXCHANGE part number shown next is for changing the bar option. You can switch the color of the bar, or choose to go with a longer or shorter bar. You can even order a pair of posts with no bar by choosing the no bar option. Posts always come as a pair. We cannot sell just one post. So they all come as a set and by default with the 24" bar.
How do we decide the default color if you do not choose to change?
This is how:
All 6 stoneware colors by default will come with the clear 24" bar. Even the White Marble Stone.
White and Clear bars come in 12", 24", 30", and 36". All bars are plastic and can be cut easily with a fine tooth saw such as a hack saw.
Use the BAR EXCHANGE part number as many times as you need for the changes that you need. The clear bars generally look the best with the stoneware colors. But it is your option to decide on a white or even black bar if you have a special theme going. You can mix it up however you like. We also have a comments field if you need to add any notes for clarity.
All bars are 3/4" square plastic and can be cut shorter. So if you want to make an 18" bar, cut down the 24". If you would like to create a 7 to 9" wide hand towel bar, cut down the 12".

Manufacturer: AC Products
AC Products Bar Exchange: Use this part number AS MANY times as you need to change from the default 24" bar included to a different bar color or size. Or even the option of no bar.
[36" CLEAR bars completely sold out]
*For the no-bar option, and reduction to 12" bar, if the dollar deduction does not show up in the shopping cart, fear not. We will make sure it processes correctly when we write up your order.
Add
This ceramic bath hardware is MADE IN THE U.S.A.
Stock and Lead times:
In the 900 Series, here is what we usually try to keep in stock in small quantities, usually just 3 to 6 of each:
BA925, BF925 in S904, S909, and S910 colors




BA928 in S904 and S909 colors



BA930 and BF930 in S904, S909, and S910 colors

BA964 in S904, S909 colors


BA965 and BF965 in S904, S909, and S910 colors



BA980 and BF980 in S904, S909, and S910 colors

BA981 and BF981 in S904, S909, and S910 colors

BA977 and BF977 in S904, S909, and S910 colors


BR991 and BR993 in S904, S909, and S910 colors (just 1 or 2 of each)




BR994 and BR996 in S904, S909, and S910 colors




BR997 in S904, S909, and S910 colors
Why the above? Certain items prove to be a little more popular. And many items sell just one or two at a time, sometimes in conjunction with other items. So we keep some on hand for quicker shipments to avoid the normal 3 week lead time. The S904 and S909 are the more popular colors, followed by S910. So we try to accommodate customers needing small orders faster. Even if you need a full bathroom set of most of the items, we could possibly fill the order right away. The odd items that are not requested often, we may have some in stock. When we have a customer order a BA768 or other item, sometimes we order two to keep one for stock. It varies. You can always check stock and lead times in advance of ordering. Just contact us.
All non-stock items take us approx. 3 to 3-1/2 weeks to receive. Generally 2 to 2-1/2 weeks for AC Products to make them, and then a week for us to receive them. Please plan that into your installation timing. The stoneware finishes are hand applied, so they can take a couple days longer than normal gloss and matte finishes.
AC Products website pages, color information pages, and other help