Shell Shape Ceramic Bathroom Accessories
Click or tap the orange menu button to access all AC Products section page links
AC Products Inspired 500 Series - shell shaped ceramic bathroom fixtures
The Inspired 500 Series has scallop shell pattern soap dishes, TP holders, and towel bars. All items but the AR151 are Thin-Set mounted. The AR151 is a flat-back mount only. Each item comes in only one mounting method and is available in the
14 standard colors
.
In the standard colors, you can order any item one at a time, or in whatever quantity that you require.
The extended color choices have quantity requirements per piece (min. of 20 pieces of a single item to be made). To view color images of the
standard colors
, please select that link.
The drop down lists for the part numbers will only contain the 14 standard colors, choices in gloss and matte finishes. If you do require a quotation on any of the extended color selections, the minimum order is 20 pieces per piece, not mix and match, we will gladly quote it for you. Best to submit your request via
e-mail
. For the most part, the average homeowner would not need 20 of any item, unless you are building a dormatory. So the extended colors primarily would be for business customers needing a lot of a single item. We also have volume discounts for larger orders, and that discount increase as the volume meets greater tiers.
For the homeowner, the following items are available in individual quantities in the standard colors. We stock this collection in C1 gloss white. That is by far the most popular color requested. All the other colors we order as requested, and that generally takes us 3 weeks to receive once ordered. (Usually 2 weeks for production time, then a week travel time to reach us.) Direct ship orders are possible, but ACP does require a minimum size order, and it still generally takes them 2 weeks to produce them. They do not stock too many items in advance except for highly popular items and colors.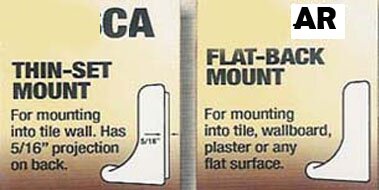 Thin-set mounting for the CA525, CA530, and CA577. And flat back mount for the AR151.
Our standard colors, group photo shown here, are available for all 500 Series ceramic pieces. To view each color individually and with its description, please go to our main
ceramic colors page
.
About the towel bar sets above:
Each set comes as 2 posts with a 24" bar. So when selecting a quantity of 1 above, you get two posts and one bar. The BAR EXCHANGE part number above is for changing the bar option. You can switch the color of the bar, or choose to go with a longer or shorter bar. You can even order a pair of posts with no bar by choosing the no bar option. Posts always come as a pair. We cannot sell just one post. So they all come as a set and by default with the 24" bar.
How do we decide the default color if you do not choose to change?
This is how:
White colors C1, C34, M66, and M84 by default will come with the white bar.




Black color C5 will now come as a default with a black bar.




Every other color comes with a clear bar.



White and Clear bars come in 12", 24", 30", and 36". Black bars are available in 12", 24", and 36". All bars are plastic and can be cut easily with a fine tooth saw such as a hack saw. Or even a powered mitre saw. So if your application requires a 33-1/8" long black bar, order the 36" and cut it down to size.
Use that part number as many times as you need for the changes that you need. Say you need 4 sets. Order the 4 sets from above. But for two of them you want 30" bars and for one a 12" bar. Thus use the BAR EXCHANGE part number twice. Once to switch to the 30" bar for qty 2, and then once for the 12" bar at qty 1. Or if you want clear bars with your white posts, use it to change to any length of the clear bars. You can mix it up however you like. We also have a comments field if you need to add any notes for clarity.
This ceramic bath hardware is MADE IN THE U.S.A.
Stock and Lead times:
In the 500 Series, we do stock all items in C1 gloss white in small quantities.
All other colors take us approx. 3 weeks to receive. Generally 2 weeks for AC Products to make them, and then a week for us to receive them. Please plan that into your installation timing.
AC Products website pages, color information pages, and other help