ACP 600 Series Towel Bars and TP Holders
Click or tap the orange menu button to access all AC Products section page links
600 Series Small base towel bars and matching TP holders
There are only two items to select from in this series. Both are clip on mount only. And they are available only in the 14 standard color choices. We do get requests for a near square shape base for towel bars. This is the answer for that. But, only in the clip on mounting method. The towel bar posts have a square opening to receive the bar, and the bar will rest in them with a flat side up, not the typical diamond formation.
The TP holder posts have a small round opening to allow the tiny 3/8" end nubs of the roller to snap into. These pieces are ideal for smaller bathrooms, and even for a towel bar in the laundry room. Their smaller footprints allow them to not look bulky on the wall in smaller rooms.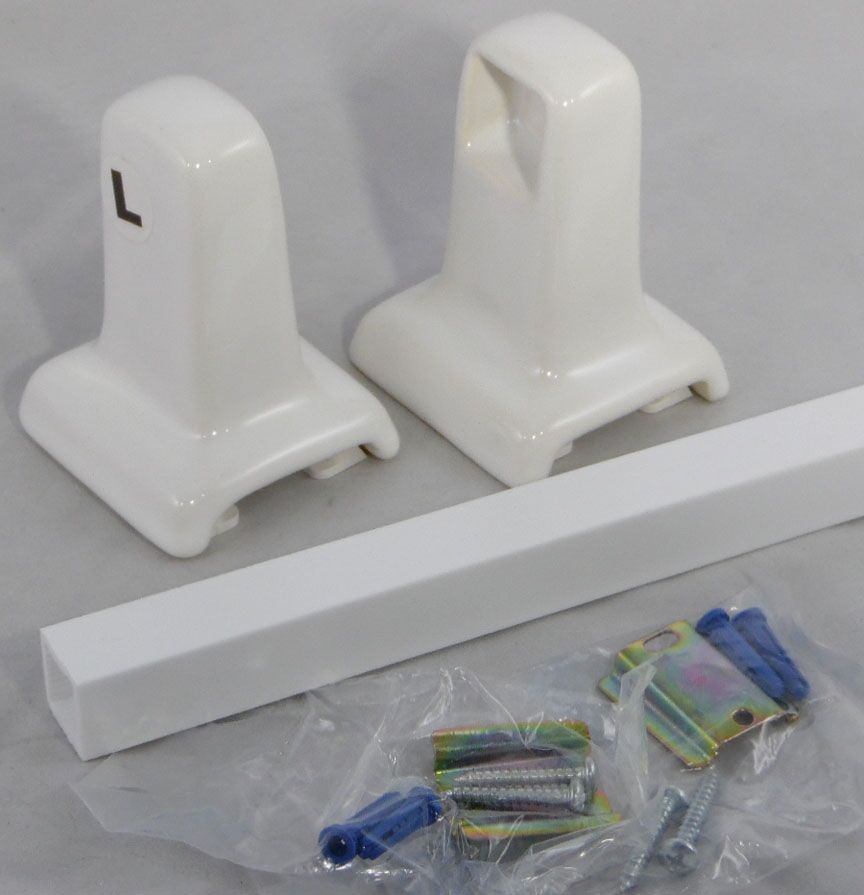 AC Products 600 Series
AC Products AC625 pair towel bar brackets w/ 24'' bar, CLIP-ON 2-3/8" w x 2-1/2" h x 3-5/8" proj. - SELECT YOUR COLOR
Add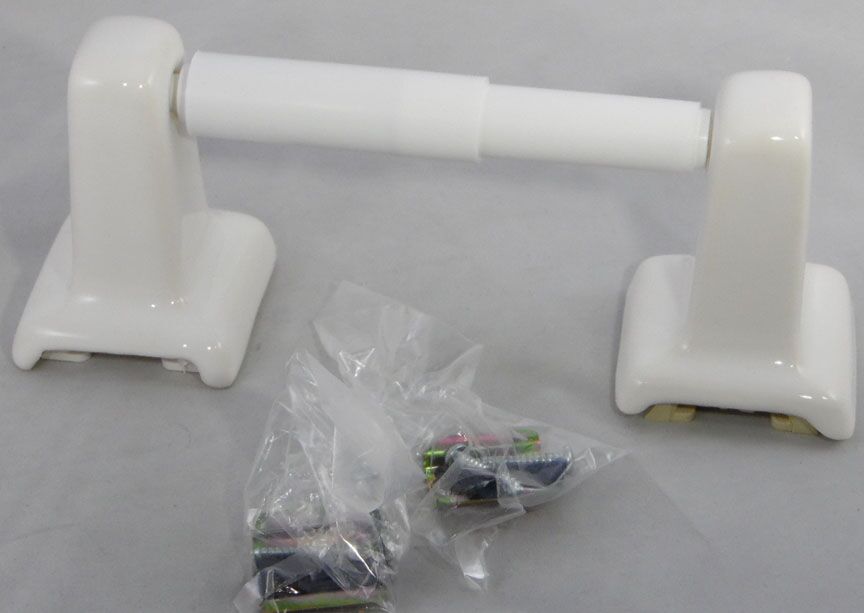 AC Products 600 Series
AC Products AC624 two-piece toilet paper holder w/roller, CLIP-ON 2-1/2" w x 2-1/2" h x 3-1/2" proj. - SELECT YOUR COLOR
Add

Manufacturer: AC Products
AC Products Bar Exchange: Use this part number AS MANY times as you need to change from the default 24" bar included to a different bar color or size. Or even the option of no bar.
*For the no-bar option, and reduction to 12" bar, if the dollar deduction does not show up in the shopping cart, fear not. We will make sure it processes correctly when we write up your order.
Add
About the towel bar set:
Each 600 Series towel bar set comes as 2 posts, 2 mounting clips, and a 24" bar. So when selecting a quantity of 1 above, you get two posts, two clips, and one bar. The BAR EXCHANGE part number is for changing the bar option. You can switch the color of the bar, or choose to go with a longer or shorter bar. You can even order a pair of posts with no bar by choosing the no bar option. Posts always come as a pair. We cannot sell just one post. So they all come as a set and by default with the 24" bar.
How do we decide the default color if you do not choose to change? This is how:
White colors C1, C34, M66, and M84 by default will come with the white bar.
Every other color comes with a clear bar.


NOTE:

the ACP-AC625-C5 gloss black set will come with a CLEAR 24" bar. If you would like a black bar with the set, select it from the bar exchange part number. See added note below:
For a while we were by default including a black bar with the black towel bar set. But we found out that the black bar is approx. 1/32" bigger and makes for a tight fit into the post ends - some of the time. Thus, sometimes the bar does not go in very far. There are ways to manipulate this by filing the corners of the bar down, but it will be a tiny bit of work on your part. ACP tends to grind out the glaze on the AC625 posts if it is too thick. But some pieces do make it out to distributors with thicker glaze in the holes. Since the black bar is approx. 1/32" bigger than the clear bar, we are sending clear bars with this particular black towel bar set. But you do have the option to select the black bar if you like. Use the Bar Exchange part number to do so.
When we added the above note, we felt further instruction could be helpful. Visit our blog post to learn more: How do I Make my Towel Bar Rod fit in the Ends
White and Clear bars come in 12", 24", 30", and 36". Black bars are available in 12", 24", and 36". All bars are plastic and can be cut easily with a fine tooth saw such as a hack saw. Or even a powered mitre saw. So if your application requires a 18" long black bar, order the 24" and cut it down to size.
Use this part number as many times as you need for the changes you need. Thus using it multiple times on the same order for various sizes or color changes is fine. You can mix it up however you like. Change to a black bar in white posts for black and white themes, or change to a clear bar for anything. We also have a comments field if you need to add any notes for clarity.
Our standard colors, group photo shown here, are available for the AC624 and AC625. To view each color individually and with its description, please go to our main
ceramic colors page
.
This ceramic bath hardware is MADE IN THE U.S.A.
Stock and Lead times:
This is a simple collection with 2 items available in 14 colors each. What we stock is:
Both in C1 white and C5 black in larger quantities.
Both in C3, C16, C34, C70, and M66 in small quantities.
And sometimes the C256, just 1 or 2 of each item.
All other colors take us approx. 3 weeks to receive. Generally 2 weeks for AC Products to make them, and then a week for us to receive them. Please plan that into your installation timing.
AC Products website pages, color information pages, and other help