Color Cross Reference Chart Ceramic Tile [Report]
Click or tap the orange menu button to access all AC Products section page links
AC Products Color Cross References to Major Brand Name Tile Colors:
AC Products has never created a pictorial chart of their colors, but they do have a brand name by color number reference for the 80-some gloss and matte colors that they make. So if you are doing a new install or a remodel, and you purchased tiles from Dal Tile, US Ceramic, American Olean, or a few others, the following two charts could be of assistance. Please realize, there are hundreds if not a couple thousand tile colors out there from dozens of manufacturers. AC Products has just over 80 colors, and their own stoneware color creations.
These two charts are Excel spreadsheets converted to PDF files, and then converted to JPEG images. So they are going to scale down per device and get a bit hard to read on a smart phone. If you have access to printing from your smartphone, you can print the picture(s) and print it to fit media for your printer setting. If not, the two finger squeeze and expand will be your friend.
As for a pictorial reference, we have created one for most of the colors. You can view it on our
Color Choices for Ceramic Bathroom Hardware
page. We do show all of the popular colors, more of the expanded colors, and for the colors we really have not had requests for over the years, well, many of those we are still ignoring (but they are listed in the two charts below). On the color images page you can view color pictures one at a time. Most every item in the Stylish 700 Series comes in every color. The 500 and 800 Series have limited options.
** December 27, 2022:
On November 2, we posted notes on our 3 color reference pages about AC Products going out of business. They are completely shut down now. We cannot order anything further from them. During the month of November, we stocked up on everything we could for popular items for us. Some series like the 500 and 800 series, we did not sell much of, so we have extremely little stock in those two collections. We have a fair number of items in the Stoneware 900 series, and modest quantities in the 600 series. And then for the 700 series, we were lucky to stock up on the majority of items in gloss white and gloss black, for what AC Products had left. We also have many items in gloss bone, gloss biscuit, ice white, matte white and a few other colors for some items.
What we had been doing for the first few weeks of December was double checking our inventory on hand. And then, beside each item where it says SELECT YOUR COLOR, we have noted the quantities left for each item in colors in our stock. So for many items in the 700 series, we have a few months worth of stock. But most of the extended colors and colors that were barely requested, those are gone. We are leaving ACP's color cross reference charts below for reference.
We have updated our part numbers so only items within our stock can be ordered. We are updating these quantites as they sell, basically every 2nd or 3rd day we update a few. We are keeping close track of it, especially for items that there are only one or two remaining. So pretty much 99% of the counts we have posted can be trusted day to day.
It is our goal to find a new ceramics producer, hopefully one that makes many colors and items like ACP did. So far, luck is not with us. But we will keep trying. If you have any questions about any items, you can
e-mail us
.
Additionally, you can e-mail us pictures of your color for us to compare. But options are severely limited now.
FIRST CHART: glossy colors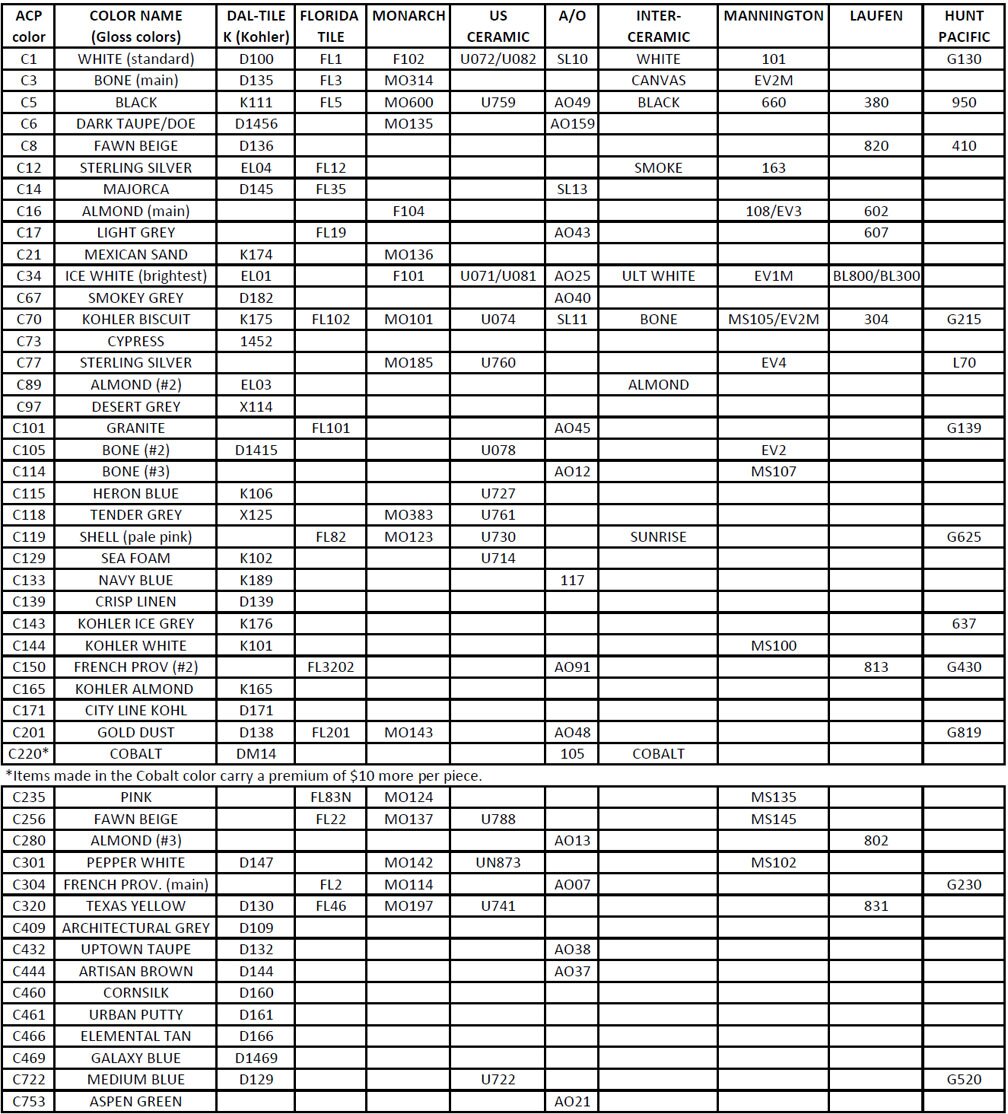 We have been offering AC Products since 2009. At that time, there were approximately 140 to 150 colors available. As colors prove to be obsolete for them, they remove them from their availability list. There have been many red-tones, blues, and greens that they have deleted in the last 10 years. The browns, greys, and lighter tones prove to be more popular. When a color has been discontinued, it is completely discontinued. And AC Products had generally made items in the expanded colors as they received orders. Not many products were made in advance outside of the standard colors. White, bone, biscuit, and black, very commonly stocked. These colors are requested daily.
About Bisque:
AC Products upon request will offer all their bath hardware in bisque. This is the Unglazed state. All the hardware will be fired in their kiln and hardened properly, they will just skip the glazing and firing step that comes next and offer the pieces bare. For those familiar with pottery and ceramics, and for those whom have the means, you can custom glaze the bathroom hardware in your own colors. This is not requested often, but it has been requested enough for us to mention it here. If planning on ordering anything in bisque, best to place the order via the phone with us. Or you can e-mail us, corresponding via e-mail is convenient and we always welcome it.
AC Products website pages, color information pages, and other help