Ceramic Toothbrush Holders
AC Products section index
Stylish 700 Series Ceramic Toothbrush Holders
The model 770 toothbrush and tumbler holder is the complement to model 768 soap dish. They are both square and meant for mounting above your bathroom sink. The toothbrush holder is available in 2 mounting methods and the same 80+ colors as all the other items in the 700 Series. The center has a flat bottom round recess to accommodate a small bathroom tumbler.
For new installs, it is common to match it up with model 768 soap dish. If you are repairing a broken one, you might have to consider the matching soap dish to go with it if you have a set. There have been many manufacturers of ceramic bathroom hardware in the United States over the past 80 years. All have had their own design preferences. Some even made the half height toothbrush holders. The only choices available to us now are this one, and a similar styled one from Lenape. The model 770 definitely offers the most choices when it comes to colors and the multiple mounting methods.
To view model 768 soap dish in the same 3 mounting methods and colors, please go to the
ceramic soap dishes
page.
The 3 mounting methods are explained below the pictures:
AC Products Stylish 700 Series
AC Products BA770 toothbrush-tumbler holder, THIN-SET mount 4-3/4'' w x 4-3/4'' h x 4" proj., tile inset is 4"x4" - SELECT YOUR COLOR
Add
AC Products Stylish 700 Series
AC Products BF770 toothbrush-tumbler holder, FLAT BACK mount 4-3/4'' w x 5'' h x 4" proj., - SELECT YOUR COLOR
Add
AC Products Stylish 700 Series
AC Products BC770 toothbrush-tumbler holder, CLIP ON mount 4-3/4'' w x 4-7/8'' h x 4" proj., - SELECT YOUR COLOR
Add
The BA770 thin-set mount:

It must set into a 1/4" deep or slightly greater depth. Thin-set is the popular choice for new tile walls. Fits in a 4x4 tile opening, and then does overlap adjacent tiles because is it approx. 4-7/8" square overall. If you are looking for a smaller version where the whole toothbrush holder fits into the 4x4 opening, we do not have that. Ours is almost 5x5 overall. You can adhere it using the same tile mastic. The BA768 soap dish is the same dimensions.
The BF770 flat back mount:
Designed to be glued onto ANY flat surface. Glue them over existing tile or sheet rock. Flat back does not require an opening to set into. Flat back is great for a currently tiled wall surface. You can glue the flat back to any position on the tile. Be aware that super smooth glossy tile like glass, may need to be scuffed up a little in the bonding area for a greater hold with the adhesive.
The BC770 clip on mount:
Designed for drywall, greenboard, and wood paneled walls. Can be used on tile too if you wish. Each BC770 ceramic toothbrush holder will come with one mounting clip, plastic anchors, and screws. The clip goes on the wall first, the holder slides down onto it. Very easy installation.
Clicking or tapping on any of the 3 images above will allow you to see expanded photos of the back sides so you can see how the mounting methods change. When mounted, all 3 methods look alike from the surface.
AC Products also publishes a
color cross reference chart
of how their colors coincide with some popular brand colors. If you know your tile brand and color code, you can see if there is a reference in that chart. There use to be over 140 color choices, now that has been reduced to around 80ish. Some colors are just way out of date and not as popular anymore. Keeping glaze made in obsolete colors just does not work. Glaze dries out over the years and becomes unuseable. So some colors just have to be deleted.
Then we have a third help page set up for colors. Our
color comparing and selection help page
. We have taken group photos of the whites, light tones, greys, browns, blues, greens, etc. For the greys and browns this is helpful since there are about a dozen choices each in those tones. And telling the difference between white, biscuit, and bone is sometimes tough when you have no reference to go by. So that page can be very helpful when trying to match to tiles in your bathroom.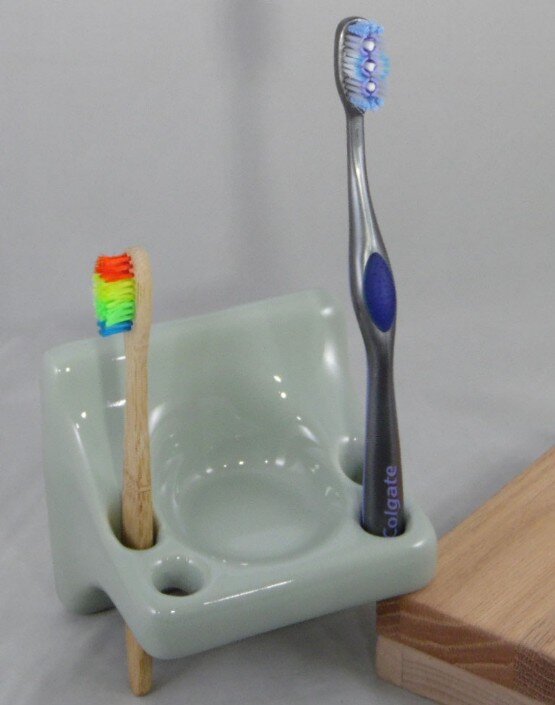 A popular question we receive is:
Are the holes large enough for today's toothbrushes?
Well ... no. We have asked if they could be redesigned to accommodate today's ergonomic toothbrushes. No luck so far. So toothbrushes with smaller tails can fit into them, but then stick up in the air. Bigger toothbrushes do not fit at all. And paddle style brushes, which are still common, do slide down into the holes. There are many bamboo handle brushes that fit nicely into the toothbrush holder. And then there are people like me who will lay my fancy ergonomic toothbrush just across the top of the holder. What else can you do.
We like answering questions thoroughly, and honestly. In our picture, the toothbrush holder was not mounted to the wall, it was just on our photo table. So the bamboo brush will fall all the way down into it when it is mounted to the wall - with enough clearance under it.
What we stock, and what we order as requested:
Since C1 gloss white and C5 gloss black are the two most popular colors, we stock these two colors in all 3 mounting methods. We keep some of the thin-set and flat back in stock in C3 gloss bone. Then a set or two of the C70 gloss biscuit are kept on hand for quicker shipments. The toothbrush holder is not a super popular item. Especially when many people use electric toothbrushes nowadays.
All other colors we order as we receive requests for them. Normal lead time is 3 weeks for us to receive them.
The Stylish 700 Series is large. We have divided it upon several pages. For a complete summary, view the
Stylish 700 summary page
For a quick overview of the 700 Series towel bars,
soap dishes
(matching model 768 soap dish), corner shelves and more, you can select from the below thumbnail images.
If you are looking for these same items in the stoneware colors, please go to the
Exceptional 900 Series
page.
This ceramic bath hardware is MADE IN THE U.S.A.
And for other toothbrush holder choices, check out the below.
AC Products website pages, color information pages, and other help