What AC Products items will remain available
Click or tap the orange menu button to access all AC Products section page links
What AC Products item will continue to be made? Good Question.
In early November, 2022, AC Products announced that they were going out of business. They ceased taking new orders. Their goal was to complete all current orders that they had for new product, and to sell off as much of existing items that they could. There was no fore warning. Eclectic-ware had always kept good amounts of stock on items that sold well in the more popular colors. We were also lucky to stock up a bit more before the surplus was drained dry.
It is now June 23, 2023, as we create this web page. There are many many holes in our current stock. Many items are completely sold out, and many items still do exist. We have place inventory counts next to the color names in our drop down menu lists for each item still shown. The 700 Series and 900 Series by far were the two more popular series, and this is why we have maintained stock on many of these items even through today. Eventually, most everything will disappear.
BUT THERE IS SOME GOOD NEWS!
What will live on for AC Products
Lenape Products
, also a producer of ceramic / porcelain bathroom hardware is going to produce a "select few" of the AC Products items. Lenape already has their own product line up and will continue to offer it. They are adding to their own. Two of AC Products molds were acquired by them. The BR796 recessed toilet paper holder, and the BR794 recessed soap dish. Both matching in size, about 6-3/8" square overall. Both fit into 6x6 openings about 3-1/2" deep. These two items will still be made in:
Gloss White
Gloss Black
Gloss Bone/Almond
Now, AC Products did make them in near 100 colors. Sorry to say, those days are gone. We will have just these 3 colors.
Production has started on these two items, they are expected to be available in mid July. We will post them on a new page in the
Lenape section of our website
as they become closer to arriving at our door. BR796 and BR794 shown below: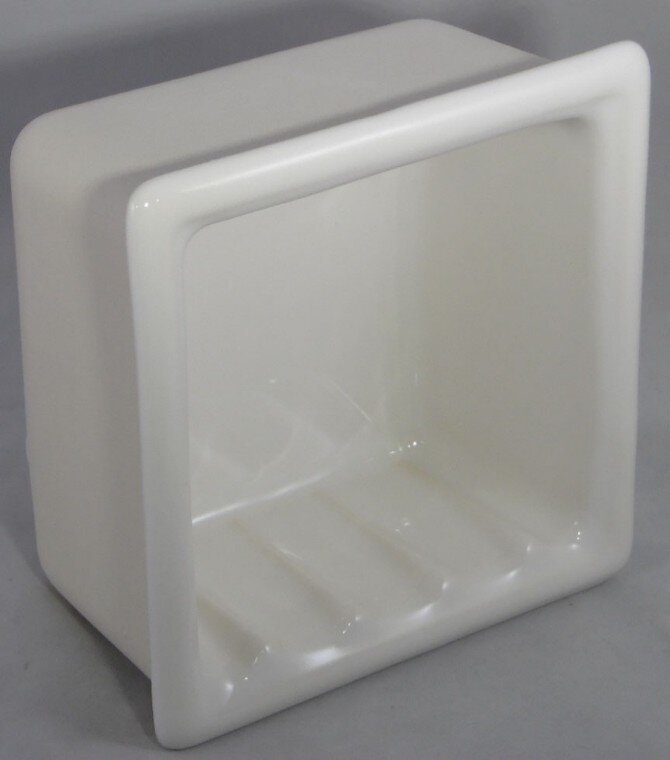 What else is coming back?
Well, we asked Lenape about the model 730 towel bar and the 753 robe hook. Both very popular items over the years. They are having their factory work up samples right now. And since they did a wonderful job on the BR796 and BR794, we have no doubt that they will do well with the towel bars and robe hooks. We asked them to make them in the thin-set mount and the clip on mount since these were the two most requested mounting methods.
So the BA730 and BC730 towel bars will return. And the BA753 and BC753 robe hooks will return. Also in just the 3 popular colors of white, black, and bone. Lenape's bone is more of an almond bone. So we will call it bone/almond from here forward.
Pictures of the BA730, BC730, BA753, and BC753 below: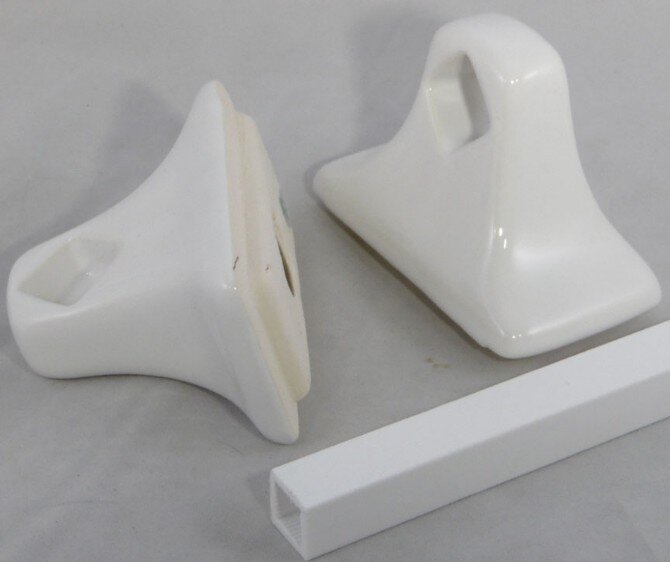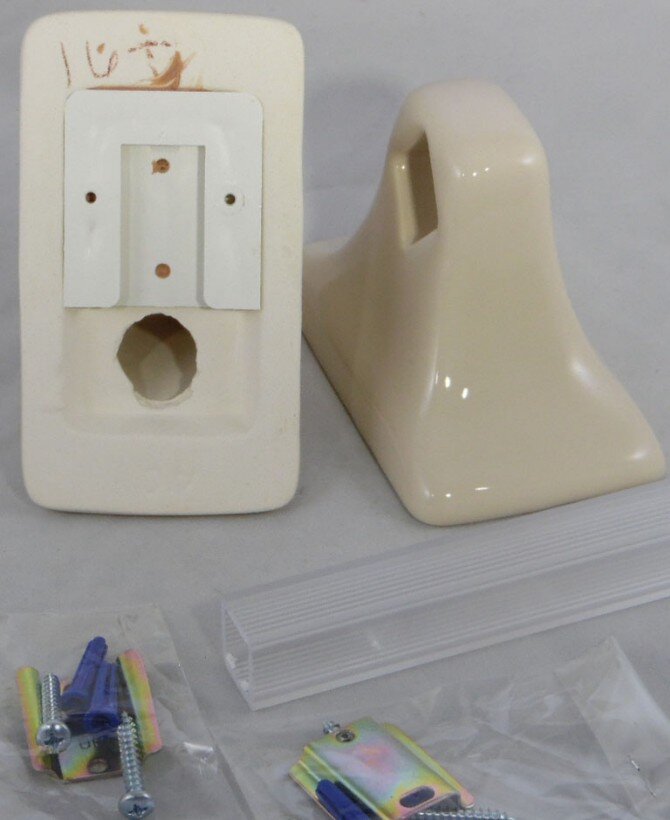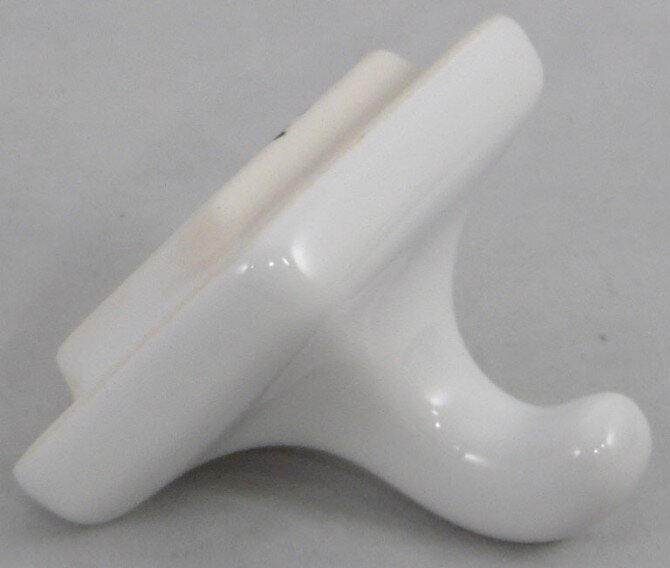 The towel bars and robe hooks are yet to make it into production. Our samples for approval will happen soon. So the availability of the towel bars and robe hooks might not be till much later this year. When the items do become available:
We will take current pictures of each in all 3 colors
We will create a web page for each so you can order them
And we will be grateful to Lenape for stepping up and keeping much needed products available.
That is all that is presently being considered. When it comes to all the various soap dishes that AC Products made, and in the multiple mounting methods, and the shower caddies, and all their other great items, those might be lost for good. To create all new molds and attempt to resurrect most of what AC Products had would require a new business start up, and a lot of funding.
But we can tell ya this....
Lenape has been around for a very long time. Prior to 2009, Lenape produced most of their products in New Jersey, in a super huge kiln. That housing mortgage crisis that the US went through in 2008-10 hurt a lot of US based businesses. The demand for bathroom hardware sank as the demand for new houses and construction crumbled. So Lenape downsized. They shut down their New Jersey factory and relied solely on their factory in Thailand.
Now their factory in Thailand is adding to their product line again. With the AC Products items we just mentioned above, and expanding on their own Pro Series. The
Lenape Pro Series
will be available in gloss white, gloss black, and gloss bone/almond. This is great news that most every item will now be available in black again. So the Lenape Pro Series is very similar to the thin-set items from the AC Products 700 Series. Not as extensive, but all the needed products for a bathroom.
Then Lenape has their
Carrousel Collection
. This is very similar to the AC Products 600 Series. A simple small towel bar, TP holder, and robe hook. All Clip-on mount only, just as the 600 series was. Currently available in white and bone, but black is coming back.
Lenape kept their
Classic Series
alive, available in white, and also the floral pattern of Blossoms on White. Watercolors on White is also available and we will work on getting some pictures posted of the Watercolors. These are larger oval shaped pieces, clip-on mount also. A great choice similar to the 800 Series that AC Products had.
Lenape also has their
Meridian Collection
. Once exclusive to The Home Depot, but now available through us and other Lenape distributors. These are the round base items, available in white only, and only clip-on mount. But great for period homes.
There are a few other goodies available from Lenape like the Re-Place-A-Bar and some glass triangular bathroom corner shelves. Eclectic-ware has offered Lenape Products since 2001.
AC Products website pages, color information pages, and other help