Color Comparing and Selection Help [Bathroom Hardware]
Click or tap the orange menu button to access all AC Products section page links
Color Comparisons to Show You how Some Vary From the Others:
This first photo is just to show you what we are getting into. This picture showing 66 of the gloss and matte colors, in numeric order, was taken in the sunlight. Natural light tends to protray colors more accurately. And when photographed together, the camera seems to pick up on the individual colors better.
NOTE: This is a help page, not a product page. Thus the colors shown below are for reference for the bathroom hardware items. To order any of the available items, you will need to be on one of the
AC Products collection pages
. Access to these pages is in the top Orange menu button or the text menu toward the bottom of each page.
** November 13, 2022:
On Nov. 2nd, AC Products announced that they will be going out of business. Thus we will be limited on the colors below. We can still order anything that they "might" have in stock for the month of November. And in our own stock we have a LOT of the gloss white and gloss black, and then many items in gloss bone, gloss biscuit, gloss ice white, some almond, fawn beige, medium blue, a few matte colors, some of the stoneware colors, and other items that were popular with us on sporadic items. We will be updating our web pages to show more specifically what remains in stock. This will take a while. For now, you can continue to order, and we will respond with options for anything that no longer exists. Bear with us as we count stock and attempt to make our web pages in this section of our website reflect what is left.
** November 27, 2022:
We have started to show on the various series pages what remains in OUR stock. We have a lot in C1 gloss white and C5 gloss black, and then many other odds and ends.
Now for some group and specific comparisons to help you choose your color.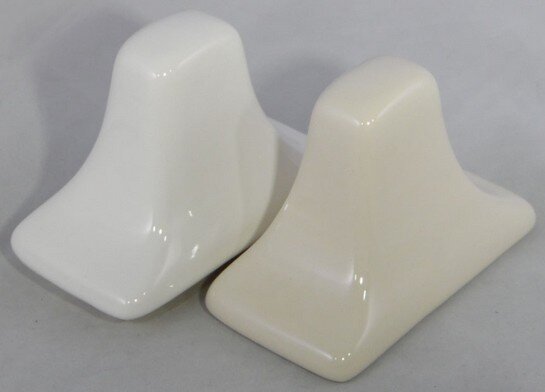 Compared: C1 gloss white to C3 gloss bone.
Very difficult sometimes to know which you have since you would not have both to compare to. Bone is sometimes confused as an off white, which it is, but it is not white.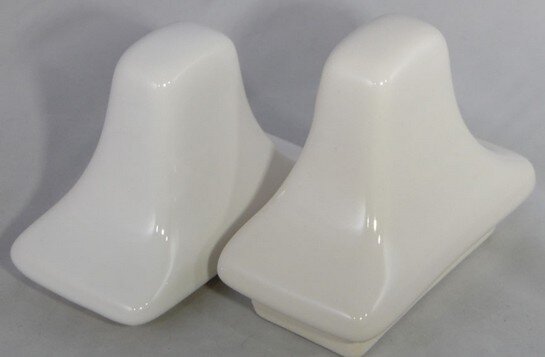 C1 gloss white compared to C70 gloss biscuit. Biscuit is a very faint yellowish white, creamy or light ivory tone. But there is a difference when you can see it next to white.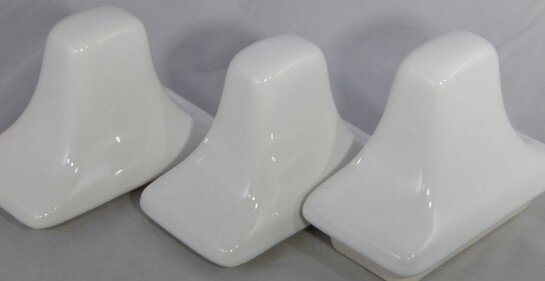 Comparing C1 gloss white, C34 gloss ice white, and C144 gloss Kohler white (left to right). The ice white is the whitest of the glossy whites offered. If you have bright white tile, or your tile is named Snow White, Glacier White, Ice White, or anything that implies a bright bright white, go with the C34 ice white color.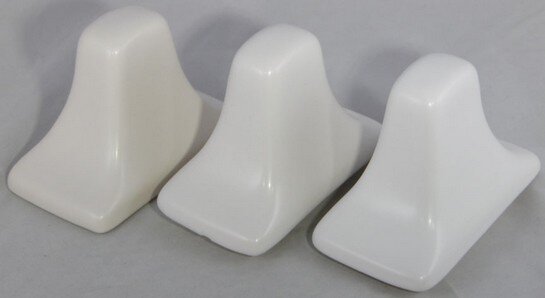 Now the Matte Whites: left to right M23 matte mocha, M66 matte white, M84 matte ice white. The M66 is the most commonly requested matte white, it is milky looking. The M84 matte ice white is a very bright pure white. And M23 matte mocha is like an antique white color, has a faint muting to it. Notice how the shine changed when compared to the glossy white photo.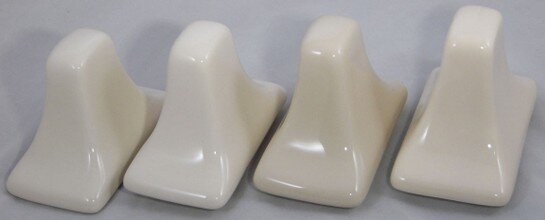 Left to right: C3 gloss bone; C150 gloss French provincial; C16 gloss almond; C165 gloss Kohler almond. All very close to each other. This picture was taken in our photo booth with cool white LED lights on the white tent. The photo shown after this will be these colors and more, but taken outdoors in the shade. Notice how they look different in a different light. Thus the colors in your bathroom change from daytime to night time, especially if you have a window in the bathroom. This is one of the aspects that makes it very difficult for you to take a picture of your light tone tiles in your bathroom. The lighting at the time really can alter a photo, sometimes drastically.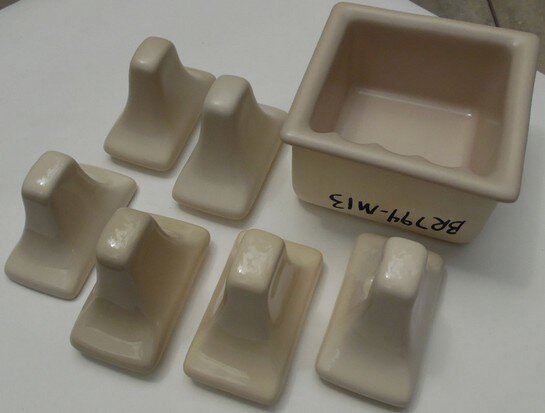 Then, the bone and almond tones compared in a picture taken outdoors in the shade. Top row starting on left: M27 matte bone; M81 matte almond; M13 matte almond recessed soap dish. Then the bottom row from left: C3 gloss bone; C16 gloss almond; C165 gloss Kohler almond; and C150 gloss French provincial.
Compared: C304 gloss French Provincial to C3 gloss bone (on right).
Very difficult sometimes to know which you have since you would not have both to compare to. Bone is a real good match to French Provincial. Amazing what the light color can do. Under cool white LED light, the French Provincial is a hint more brown, not by much. Under warm white LED light, the bone looks lighter and picks up a yellowish hue. This photo was taken in our photo tent with CW LED light on it.
Space reserved for a future photo.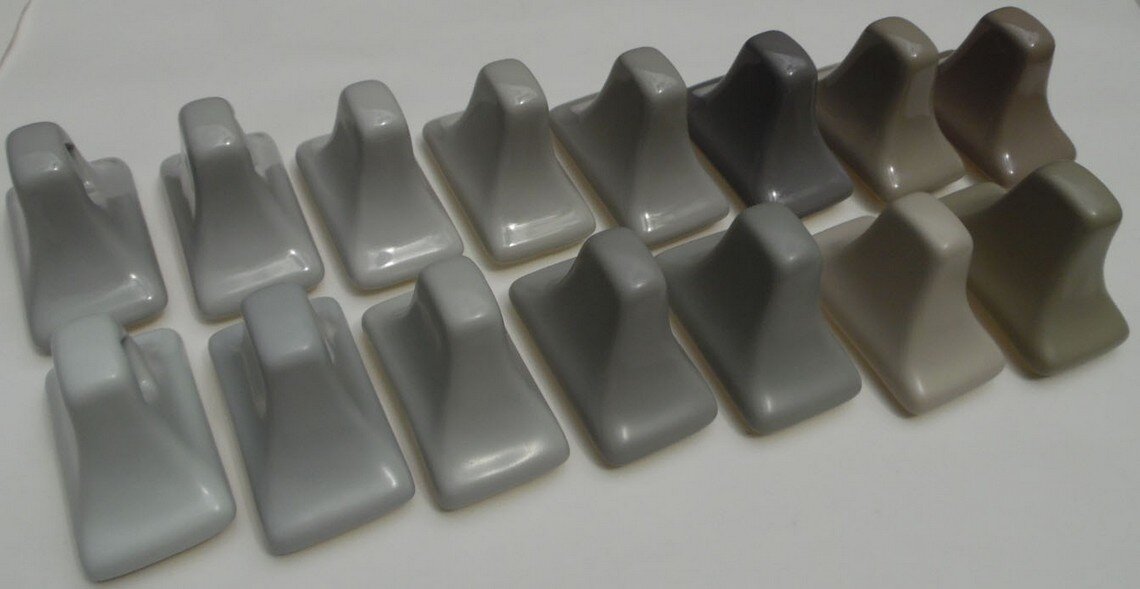 Here's our Grey Group photo. Top row are gloss colors, left to right: C12 sterling silver; C143 Kohler ice grey; C17 light grey; C118 tender grey; C97 desert grey; C67 smokey grey; C409 architectural grey; and C432 uptown taupe. Then the bottom row are Matte colors: M57 matte pearl grey; M99 matte sterling silver; M69 matte smokey grey; M53 matte steel grey; M704 matte light smoke; M128 matte dove; M709 matte architectural grey. Photo taken outside in the shade.
Now the brown group photo: The far left by itself is C6 gloss dark taupe. Then the full top row starts with Gloss colors C461 urban putty; C256 fawn beige; C21 Mexican sand; C466 elemental tan; C444 artisan brown; C171 city line Kohl. The bottom full row are Matte colors starting with M732 matte uptown taupe; M736 matte fawn beige; M79 matte Mexican sand; M766 matte elemental tan; M944 matte artisan brown; M771 matte city line Kohl.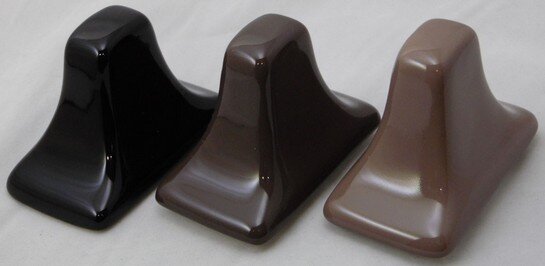 Here's how C5 gloss black, C171 gloss city line Kohl, and C444 gloss artisan brown compare. Black is a distinct dark black. City Line Kohl is the darkest of the browns.
And then the corresponding Matte tones: M137 matte black; M771 matte city line Kohl; and M944 matte artisan brown.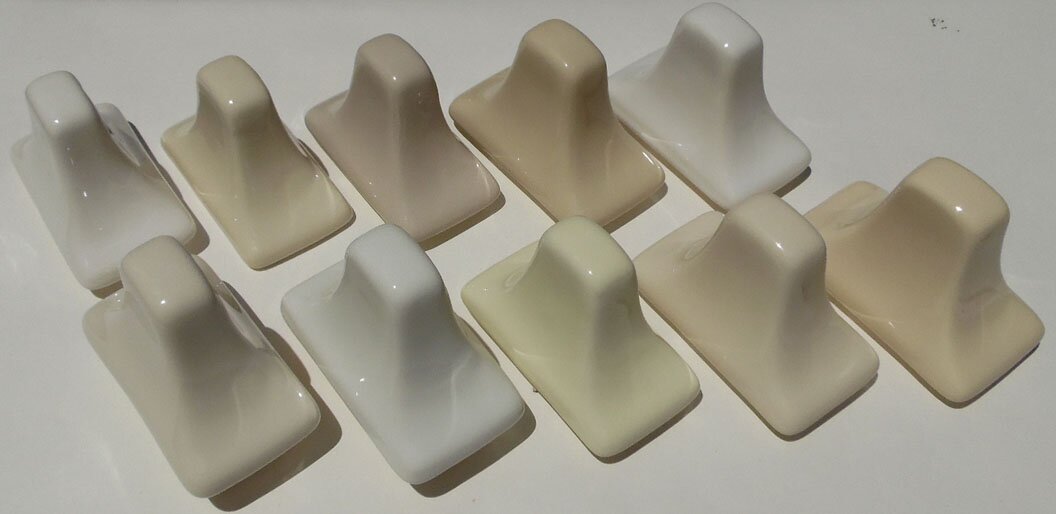 Jumping back to the lighter tones. Photo taken in direct sunlight. Top row: C1 gloss white; C3 gloss bone; C14 gloss majorca; C16 gloss almond; C34 gloss ice white. Then the bottom row is: C70 gloss Kohler biscuit; C144 gloss Kohler white; C139 gloss crisp linen; C150 gloss French provincial; C165 gloss Kohler almond. The sunlight does pull out more depth of color. Indoors, all of these will appear lighter.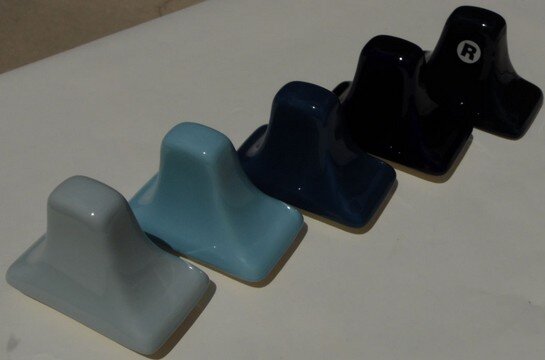 Blue tone colors, taken in direct sunlight: C115 gloss heron blue; C722 gloss medium blue; C469 gloss galaxy blue; C220 gloss cobalt; C133 gloss navy blue.

Green shades compared, photo taken in shade outdoors: C73 gloss cypress; C753 gloss aspen green; C129 gloss seafoam; M76 Matte seafoam green.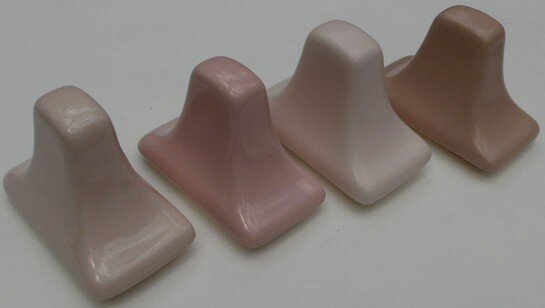 Pink tones compared: C119 gloss shell; C235 gloss pink; M98 matte shell; M736 matte fawn beige (because of its rosiness).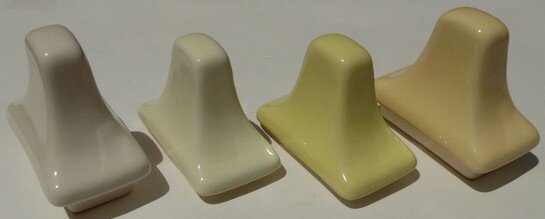 Yellow tones compared, photo taken in direct sunlight: C70 gloss biscuit; C139 gloss crisp linen; C320 gloss Texas yellow; C460 gloss cornsilk.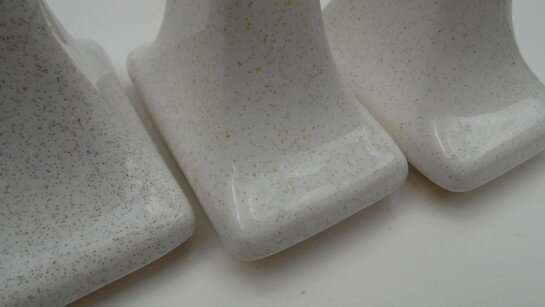 Speckled colors, from left: C101 gloss granite; C201 gloss gold dust; C301 gloss pepper white.
These are the six stoneware colors available only in the
Exceptional 900 Series
and for some of the recessed bath hardware.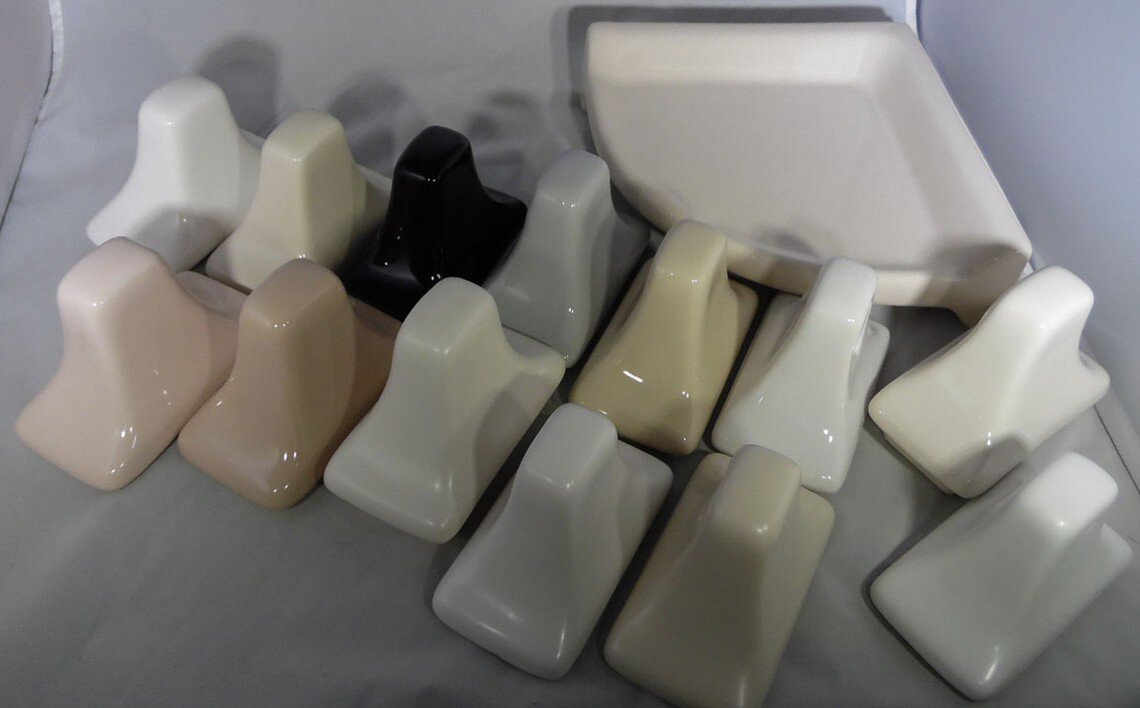 Above is a group photo of the Standard colors, there are 14 of them. The 500, 600, and 800 series are available in all of these colors, and in quantities of 1 or greater. The 700 Series is available in these and all the other colors also. We just wanted to show a group of the 14 basic colors. And the black and white diagram below is an index of the colors above.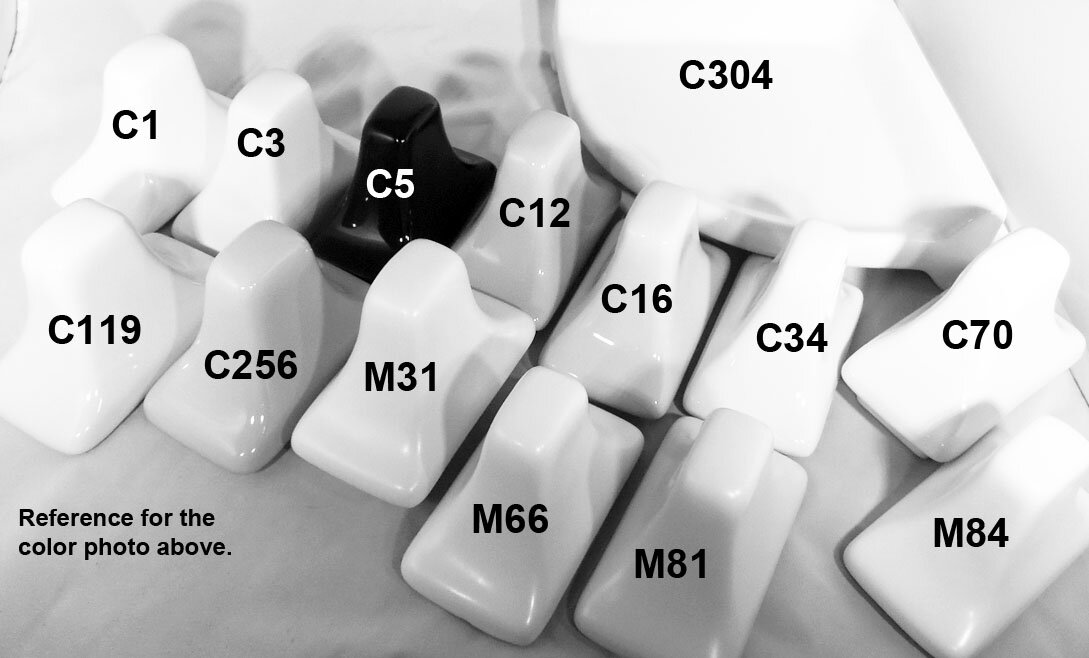 If you wish to send us a piece of the color that you are trying to match, you can mail your tile pieces or broken shards to:
attn: John, Eclectic-ware, 3110 Turkey Walk Lane, Wimauma, FL 33598.
Make sure to include a note with your
name, phone number, and e-mail address
. And a brief description of what you are looking for. We will get back to you.
If you write in big letters COLOR MATCH on the outside of the box, that is helpful too.
If you wish to
e-mail us GOOD photos
of your colors first, before sending anything in the mail, you can. Note: taking accurate pictures of colors, especially within your bathroom, is not always easy. Bones can look like greys or peach colors. Whites can look like all sorts of tones. Picture taking of light colors, or any color in an odd indoor light, or with a flash, can really distort colors. We can try to offer explanations to e-mailed images. And we will comment on any we are completely unsure about. Best pictures are in naturual outdoor light, but not direct sunlight.
Our e-mail address to use for this is
bathroomhardware@verizon.net
We will help to the best of our ability, and to the limited number of color selections. There definitely are a thousand or more tile colors available from lots of manufacturers. AC Products offers some of the more popular tones. It's much better than just plain white like you find with most imported ceramics.
AC Products makes their bathroom hardware in the USA.
AC Products website pages, color information pages, and other help