Recessed Ceramic Bathroom Hardware
Click or tap the orange menu button to access all AC Products section page links
AC Products Recessed Bathroom Hardware
The recessed bathroom hardware is shown on several other web pages. And because we have it scattered on the soap dishes page, TP holders page, shower niche page, and then on the 900 Series stoneware page, we decided to round it all up and show it altogether on this page. This will give you a better representation of which pieces are actually available in recessed mounting.
Recessed mount means: your soap dish, TP holder, or shower caddy set deep into your wall. Generally about a 3-1/2 inch depth. This provides for the smallest possible surface projection and then tucks the accessory into the wall. Thus, it is important to know if your wall can accept the depth needed. Sometimes electrical wiring or even plumbing could be in the way. So if you are cutting a new hole in the wall without knowing what is within the wall, cut a smaller hole first and take a peek in the wall. You might even run into a wall stud in that perfect place to set a shower caddy. Thus a little to the left or the right may become the new perfect place.
Now, the Scoop on AC Products.
Yes, they are out of business, as of November, 2022. They announced it, halted production, and only sold off what they had had currently made. We were a "little" lucky. We were able to stock up on some towel bars, TP holders, shower caddies and a few other items. This note is now updated as of Feb. 17, 2023. Stock is selling off. There are some holes already for the items we normally kept in our stock, primarily the 700 Series and 900 Series. We are noting in the product "select your color" drop down menus as to how many of each item we have left in each color. And we have erased options for items that are completely gone. Updating it pretty much every other day. We still have a fair amount of stock on hand. But when it comes to all those wonderful colors, they are pretty much gone. We will continue to sell what we have until it completely runs out. We still offer Lenape Bath Hardware, and hope to find a source to re-invent some of what AC Products had offered. Many of our AC Products web pages still have a lot of older info. This note supercedes everything....
ALSO NOTE:
Be aware of bathroom walls which are an exterior wall of the house, they may also create some challenges, such as concrete block that you might have to cut into.
Color availability for the recessed items has some restrictions. The drop down color selections for each item will list the available colors for that piece. Some like the BR791 and BR793 large shower caddies are restricted to limited standard colors and a few of the stoneware colors. All colors: standard, extended, and stoneware can be viewed on the
Color Choices page
. Additionally, if you are not quite certain about which color to pick, especially in the extended colors, we have two other helpful color selection pages:
Color comparing selection help
and
Color cross reference charts
.
Our ceramic bathroom hardware is available to everyone, homeowners and contractors. For hotel renovators or commercial customers who require larger volume of items, we do offer volume discount. Please
e-mail us
with your requirements.
Color shuffling tips:
We have run out of the BR796-C5 gloss black, but we have some of the BR796-M137 matte black. We have run out of the BR794-C1 and C34, but we have many BR794-M66 matte white. So look at our color drop down menus on other items. At the moment, some subtitutes exist. But not for long.
Stock and Lead times:

For the recessed 700 Series items, here is what we usually try to keep in stock:
BR791 and BR7993 in C1, C5, C34 (several of each in these popular colors)

BR791 and BR793 sometimes one or two in M66 and C70 colors

BR794 and BR796 in C1, C5, C34, C70, and M66 in modest to large quantities




BR794 and BR796 in C3, C12, C16, C144, M31, and M81 in small quantities (2 to 5 of each)

BR795 in C1 and C5 in modest quantities

BR797 generally a dozen in C1, then in C3, C5, C16, C34, C70, M31, M66, and M81 a couple of each
All non-stock items take us approx. 3 weeks to receive. Generally 2 weeks for AC Products to make them, and then a week for us to receive them. Please plan that into your installation timing.
Why do we stock a few of the lesser popular colors on the larger items. When we place bigger stock orders with AC Products, we pad them with some of the larger shower caddies because they are big and cost more money to ship via UPS. So when added onto a pallet shipment, they travel very safely to us and it cost us less in inbound shipping to bring them in. Just makes sense to hold onto some in our stock, even when they potentially sit on the shelf for a year or two. Yet, when non-stock colors are requested, we do add those onto our various weekly orders with ACP and bring them in quickly. Generally a 3 week lead time.
And a commonly asked question:
The BR796 and BR996 recessed toilet paper holders will hold normal double size rolls.
The new roll shown right or below is the double roll POM tissue from Sam's Club.
This TP roll measured 4-3/4" in diameter and there was still a little room left over in the TP holder.
If you use super jumbo rolls and triple rolls, they will NOT fit into this holder.
Rolls up to 4-7/8" in diameter will work fine. Anything just over 4-7/8" will drag when attempting to unroll some paper.
UPDATE to the above sizing note: It seems that the width of the roll is important too. We conducted more tests. The POM tissue from Sam's Club has undergone a few packaging / size changes. We have two versions we just tested. One roll is 4.6" in dia. and 4.7" in width. It hangs up in the holder and does not want to roll well, because of the width. The second roll we have is 4.75" (4-3/4) in diameter and 4.07" (4-1/16) in width. It spins freely with no problem. What is causing this is that the TP holder starts to curve inward toward the farthest inside depth. So a wider roll pushes on the back inside of the holder and jams itself on the roller.
So our updated advisement is, you can use rolls up to 4-7/8" in dia. BUT they should not exceed 4-1/4" in width if that big of a diameter. So various rolls can work. If slightly wider, then important that the dia. be slightly less.
Take a ruler with you the next time you buy TP. No harm in measuring a roll in the store through the packaging.
Stoneware finished recessed bath hardware:
The same recessed items from the 700 Series are also available in some of the stoneware colors. Thus they become the 900 Series. Part numbers change from BR796 to BR996, the 7 changed to a 9. The items are identical in description and dimensions. When they are in the stoneware finishes, they just receive a 9 in the part number. The BR795 short height soap dish is the only recessed item currently not available in stoneware finishes.
This graphic help shows the size differences and how much larger the BR991 and BR993 shower caddies are in comparison to their smaller counterparts. Same sizing difference apply to the 700 Series shown first on the page. Color above is the S904 Smoke Grey Stone.
This ceramic bath hardware is MADE IN THE U.S.A.
Stock and Lead times:
For the recessed 900 Series items, here is what we usually try to keep in stock in small quantities, usually just 3 to 6 of each:
BR991 and BR993 in S904, S909, and S910 colors (just 1 or 2 of each)


BR994 and BR996 in S904, S909, and S910 colors




BR997 in S904, S909, and S910 colors
All non-stock stoneware finished items take us approx. 3 to 3-1/2 weeks to receive. Generally 2 to 2-1/2 weeks for AC Products to make them, and then a week for us to receive them. Please plan that into your installation timing. The stoneware finishes are hand applied, so they can take a couple days longer than normal gloss and matte finishes.
To give you an idea of what can fit in the shower caddies, please view these images.
Tbe BR991 single compartment large niche
shown with the BR994 square soap dish.
The BR791 and BR991 are the same thing. The 7 changes to a 9 just to reflect the stoneware colors.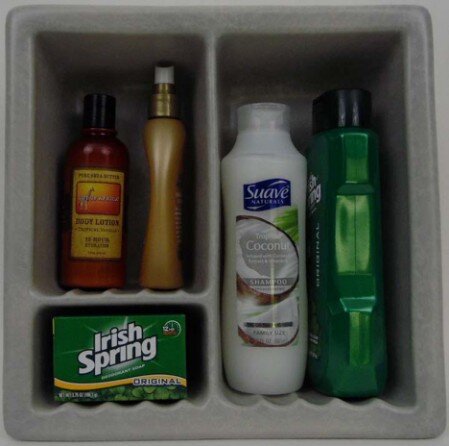 The BR993 3-compartment shower niche
fully loaded.
The BR793 and BR993 are the same thing. The 7 changes to a 9 for the color series change.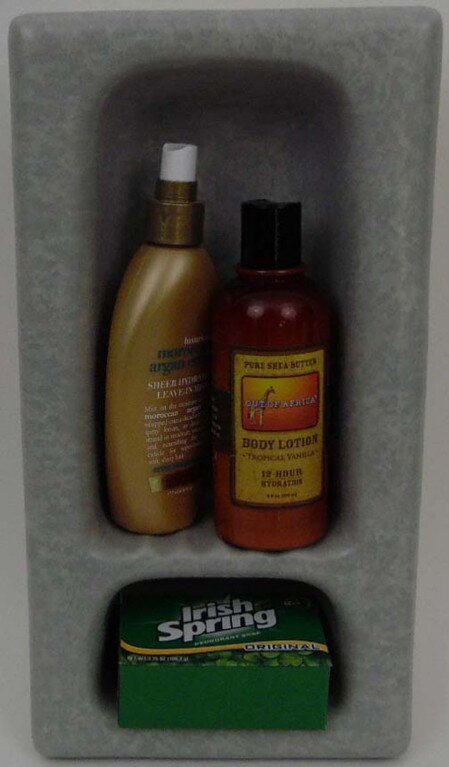 The BR997 shower caddy.
Bottles on top, soap on bottom.
The BR797 and BR997 are the same thing. The 7 changes to a 9 just to reflect the stoneware colors.
Just an example of how items can fit on the
Jumbo Corner Shelf
. Using 1, 2, or 3 in a corner, and you can create a corner caddy.
Mud-set items
Below is what they look like.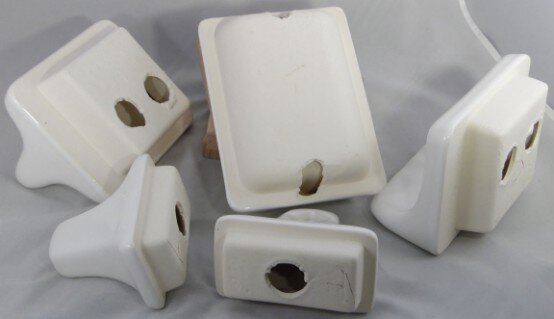 AC Products website pages, color information pages, and other help