Pro-Series Tile Set Porcelain Bath Accessories
Lenape Pro Series thin-set mounted porcelain bathroom hardware
The Pro Series, once called the Professional Series, are tile set pieces only. Thus, no mounting clips. These pieces are glued into the openings where you omit tiles. They have a protrusion on their backside which must be fit into a tile opening, or other divot created within the wall surface. We have taken measurements and list that info beside each piece. When you click on the pictures, many will open to display additional pictures to show the backsides of the pieces.
The Pro Series comes in white or bone, and then a few select items have been brought back in black. At one time, prior to 2009, this series did come in over a dozen colors, and had matching bar colors at that time. Now, it is much more limited and shower caddies and towel rings are completely discontinued. The pieces can be applied to your wall surface with the same adhesive used to mount your tiles. It is not mandatory for these to be applied to a tile wall. That is just their more common application. They can be applied to sheet rock as long as you create a divot for the backer to sink into. Waterproof construction grade adhesive also can be used to mount these, such as Loctite Power Grab Ultimate.
If you are in need of similar style items, and in a much larger array of color choices, please read our
AC Products Stylish 700 Series
page. You will be amazed. And if you do require a recessed shower caddy or other recessed items, please check out our
AC Products recessed bathtoom hardware
page. The terms recessed and thin-set mean two completely different things. Many people refer to these pieces as recessed. That is not correct. The backer does recess into a very shallow depth hole, but that is
Thin-Set Mount
. Recessed piece actually recess into the wall about 3-1/2". That is much different from the 1/4" that thin-set fits into.
First shown, the gloss white items:
Now the Bone colored items:
And now the limited choices in black:
Manufacturer: Lenape
Lenape 1704-02 black large corner shelf - Professional by NJP series. Measurements: sides come out 7-1/4", 7-1/8" corner to center arch, 3-1/4" tall, tile inset is 6-3/4" out both wall faces by 2-1/16" tall.
Add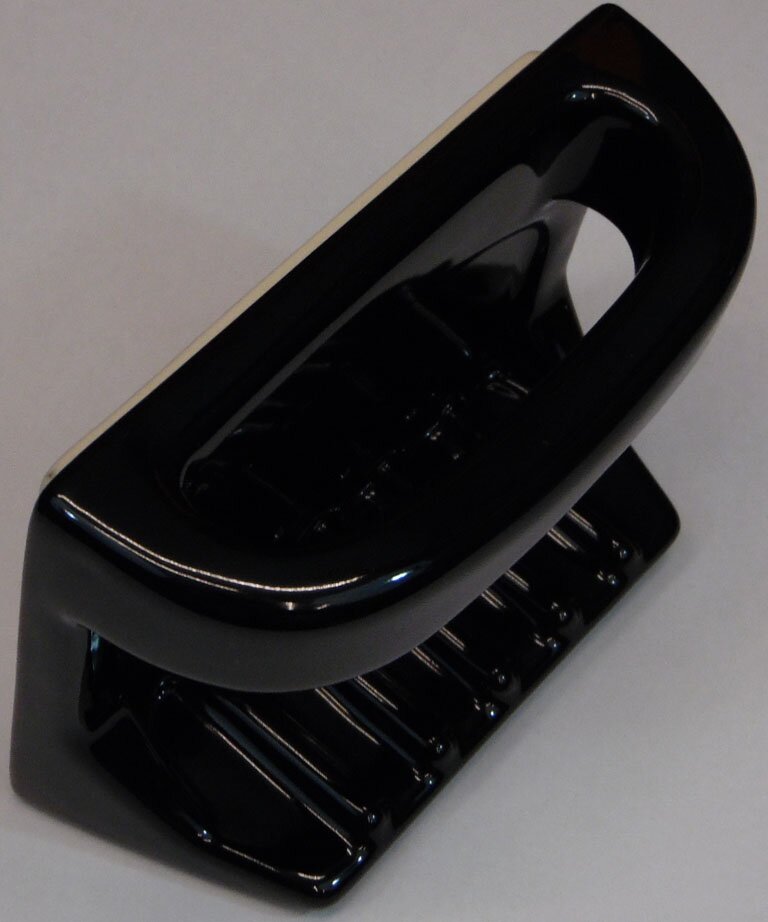 Manufacturer: Lenape
Lenape 1787-02 black tub soap dish - Professional by NJP. Measurements: 6-15/16" wide by 5-3/16" high by 3" projection, tile inlay 6" wide by 4" high
Add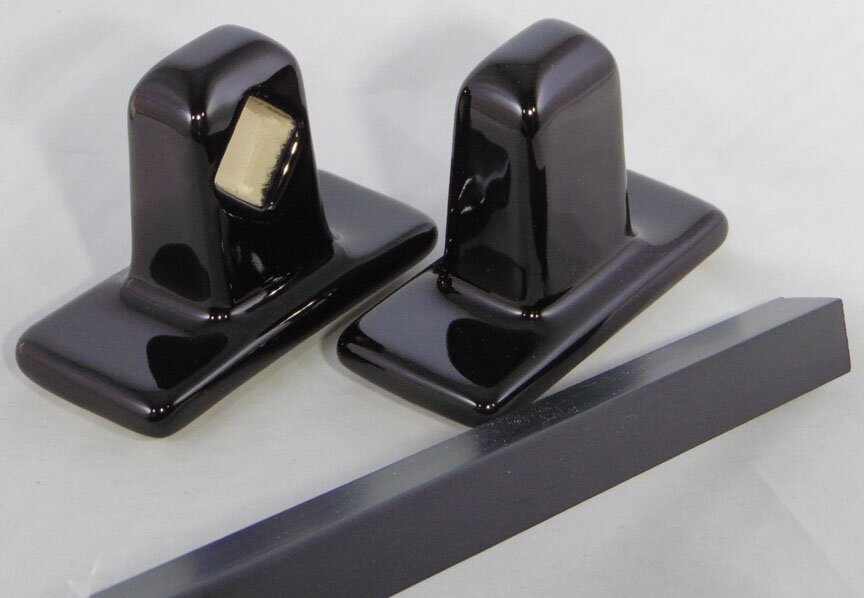 Manufacturer: Lenape
Lenape 1800-02 black towel bar assembly 24'' - Professional by NJP. Measurements for posts: 2-1/4" wide by 4-9/16" high by 3-1/4" projection, tile inlay 1-9/16" wide by 4-3/16" tall, comes with BLACK bar
Add
For Those Needing More....
The
AC Products Stylish 700 Series
contains all of the items you just viewed above, AND A LOT MORE. The items from ACP have more rounded corners to them. They are similar in size, all of them are availble in the thin-set mount as above. But, many of the same items come in clip on mount, flat back mounting, and a few in a mud set mount. And there are additional choices in soap dishes and corner shelves. There are actually quite a few more corner shelf choices to include jumbo size and jumbo size with a hook below it. And probably the best thing about the 700 Series, it is not restricted to just 3 colors. You have a choice of approx. 80 colors. So you will have many more products to choose from there.
We have offered Lenape since 2001. And we started offering AC Products in 2009. Both are great brands. We will advise caution if mixing the brands. The ACP gloss white is whiter than Lenape's white. And ACP has near a dozen bone and almond shades to choose from. So their standard bone does not match the Lenape bone. So if you mix pieces from both brands, you will not get a consitant color. Best to choose one or the other.