Carrousel Ceramic Clip On Towel Bars
Lenape Carrousel Collection small near-square style bathroom hardware
The Carrousel Collection has slimmed down over the years. And it is still on a diet. One day the bone colored items will be unavailable. But for now, what is shown on this page is still available. You can get a 24" or 36" towel bar. The rod is plastic and you can cut it down to size. So any width under the 24 or 36" can be made by whomever is installing it. So if you need a 12", 14", or 18" towel bar, you will just cut down the 24". The TP holder posts are the same as the towel bar posts. The TP roller fits nicely into the round holes molded into the posts. The rollers do have those tiny 3/8" nubs on the ends of them. The robe hook, not much to say. Picture tells it all. The Carrousel collection is clip mounted only, and mounting clips come with all the pieces.
At one time there was a soap dish, a toothbrush holder, a towel ring, some tumblers, and some sink top items. And the Carrousel collection prior to 2009 use to come in approx. a dozen colors. Soon it will be reduced to the white color only. The reason being is that Lenape chose to stop production of these pieces in New Jersey and them import them from their factory in Thailand. And lesser popular items have just been phased out. For complete bathroom sets, please view the
Classic Series
or
Meridian collection
. The Lenape Pro Series is tile set pieces only, not clip on. So those generally do not work in place of these clip on items. And if you want to be really dazzled with choices, check out the
AC Products Stylish 700 Series
on our website. That is where you will find colors galore and a lot to choose from.
The Carrousel items below will first be displayed in white, and then the bone color:
Here's a group photo of the bone items shown together: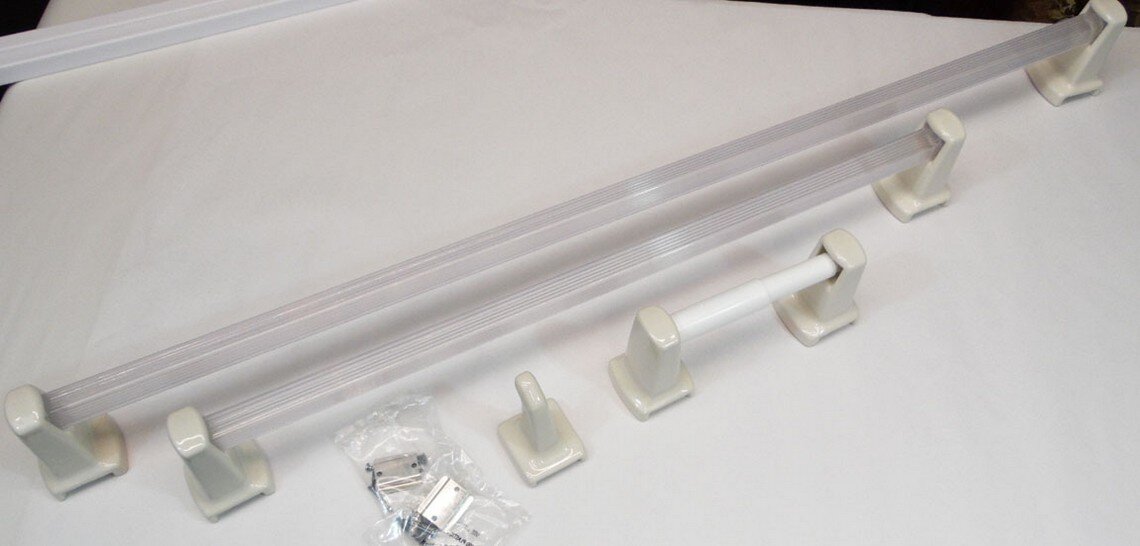 An Additional Solution
AC Products also makes a very similar towel bar and toilet paper holder. From ACP, they are closer to being more square on the base portion that touches the wall. They are clip on only, just like the Lenape Carrousel Series has alway been. BUT, AC Products actively makes this combo in over a dozen colors. We do get customers asking for black, almond, beige. Those are just a few of the available colors. To see more on the
ACP 600 Series towel bars and TP holders
, please select that link. And the AC Products brand is Made in the USA.